Note: Supplemental materials are not guaranteed with Rental or Used book purchases.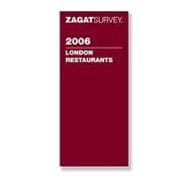 Summary
For over twenty-five years, ZAGAT has reported on the shared experiences of diners. Here are the results of the 2006 LONDON RESTAURANT SURVEY, covering nearly 1000 restaurants to fit all budgets. No matter the economic climate, London's appetite for lively dining destinations continues unabated, inspiring ever bolder ventures. For every notable closing, there's another restaurateur waiting in the wings, often joined by an expensive team of architects and designers and ZAGATSURVEY is always there to note the changes. So whether you are looking for the hippest restaurant, where to dine with celebs or find a London lunch bargain, the new ZAGATSURVEY 2006 London Restaurant guide rates and reviews 977 of the city's best restaurants. The newest guide delivers ZAGAT'S signature comprehensive coverage, rating each restaurant on appeal, decor, service and cost. In the 2005 edition Nobu was voted the most popular restaurant in London. Who will be the winner in the 2006 edition?
Table of Contents
About This Survey
p. 5
What's New
p. 6
Ratings & Symbols
p. 7
Most Popular
p. 9
Top Ratings
Food: Cuisines, Features, Locations
p. 10
Decor: Outdoors, Romance, Rooms, Views
p. 15
Service
p. 16
Best Buys
p. 17
Restaurant Directory
Names, Addresses, Phone Numbers, Web Sites, Ratings and Reviews
p. 19
Indexes
Cuisines
p. 174
Locations
p. 185
Special Features
All-Day Dining
p. 197
Breakfast
p. 198
Brunch
p. 198
Business Dining
p. 199
Celebrity Chefs
p. 201
Cheese Boards
p. 202
Child-Friendly
p. 203
Delivery/Takeaway
p. 205
Dining Alone
p. 207
Entertainment
p. 207
Fireplaces
p. 208
Game in Season
p. 209
Historic Places
p. 210
Hotel Dining
p. 211
Late Dining
p. 212
No-Smoking Sections
p. 213
Noteworthy Newcomers
p. 215
Offbeat
p. 215
Outdoor Dining
p. 216
People-Watching
p. 217
Power Scenes
p. 218
Pre-Theatre Menus
p. 219
Private Rooms
p. 220
Pubs/Microbreweries
p. 222
Pudding Specialists
p. 222
Quiet Conversation
p. 223
Romantic Places
p. 223
Senior Appeal
p. 224
Set-Price Menus
p. 225
Singles Scenes
p. 227
Sleepers
p. 228
Smoking Prohibited
p. 229
Special Occasions
p. 230
Tea Service
p. 231
Trendy
p. 231
Views
p. 233
Visitors on Expense Account
p. 233
Winning Wine Lists
p. 235
Wine Chart
p. 236
Table of Contents provided by Ingram. All Rights Reserved.