Note: Supplemental materials are not guaranteed with Rental or Used book purchases.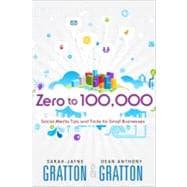 Questions About This Book?
What version or edition is this?
This is the 1st edition with a publication date of 9/30/2011.
What is included with this book?
The New copy of this book will include any supplemental materials advertised. Please check the title of the book to determine if it should include any CDs, lab manuals, study guides, etc.
The eBook copy of this book is not guaranteed to include any supplemental materials. Typically only the book itself is included.
Summary
Zero to 100,000is the first practical social media guide specifically designed for millions of small businesses who want fast results without complexity or high cost. The easy how-to reference for all aspects of social media, it rewards each reader with a uniquely personalized journey to success. Packed with case studies, tips, tricks, user tools, and hard-won secrets, this book guides readers through quickly building a social medial presence that will improve customer satisfaction and profitability. You will learn how to: Employ "listening" devices such as Google Alerts and Twitter Search Use simple tools to track competitors and uncover your unique advantage Create a "test" presence across several social networks Get involved in existing dialogues, establish an online persona, and build trust Define goals, objectives, and values - and reflect them in social media conversations Rapidly source ideas and foster innovation Avoid the mistake of "talking without listening" Become your own "social architect" Supercharge any company's presence through cross-platform promotion And much more
Author Biography
Sarah-Jayne Gratton is an author, television presenter, and former theatre performer. She is European correspondent for the television show You Are the Supermodel, where she hosts a weekly segment on personal branding.
A former actress, Sarah-Jayne is an influential social media persona, speaker, and writer, regularly featured in Social Media Today and other publications including In-Spire Lifestyle Magazine (in-spirelsmagazine.co.uk) and blogcritics.org. She was nominated for a Shorty Award in social media and is one of "Twitter's Top 75 Badass Women" (bitrebels.com). She is also listed in the Top 50 of The Sunday Times "Social List."
Sarah-Jayne studied at Cardiff University, where she received a Bachelor of Arts in Educational Psychology and later a Doctorate in Psychology.You can find out more about Sarah-Jayne at sarahjaynegratton.com and can follow her on Twitter (@grattongirl).
Dr. Dean Anthony Gratton is a bestselling author and columnist.
Dean has worked extensively within the wireless telecommunications R&D industry and has an accomplished career in software engineering. He has enjoyed a variety of roles and responsibilities in addition to being an Editor of the Specification of the Bluetooth System: Profiles, v1.1 (the original specification). He has participated in defining the initial Bluetooth Personal Area Networking profile and was active in the Near Field Communication (NFC) technology and marketing committees. His wireless research work has been patented.
Dean has developed, architected, and led teams across several new product developments for mobile phones, DigitalTV, broadband, Femtocells, Bluetooth,Wi-Fi, ZigBee, NFC, and Private Mobile Radio.
Dean is a columnist for Incisor.TV, where he has written a number of contentious articles sharing his thoughts and challenges on industry news, opinions, and gossip. He continues to make an authoritative published and vocal presence within the wireless telecommunications industry.
Dean holds a B.Sc. (Hons.) in Psychology and a Doctorate in Telecommunications. You can contact Dean at books@deangratton.com and follow him on Twitter (@grattonboy) to enjoy his witty shenanigans and his social media and technologyrelated tweets. Dean is an influential social media persona and was listed in the 50 "Top Dogs" of Twitter (bullsandbeavers.com).You can also read more about his work at deangratton.com.

Table of Contents
About the Authors xvii
Acknowledgements xix
Before You Begin xx
What You Will Find In This Book xxii
Part I: You're Anything but Small 1
Chapter 1: Welcome to the Big Wide Social Media Stage 3
A Shift in Worlds That Works for You 4
It All Starts with Personality 4
A Sneak Peek at What's to Come 4
The Whole Social Media World's a Stage 8
Chapter 2: The Changing Social Landscape of Communication 9
Now for the Science Part 10
The Zuckerberg Revolution: Communication 2.0 11
Put Away the Megaphone and Put On Your Thinking Cap 12
There's No One Size Fits All in Social Media 12
From Scattered to Unified Customer Bases 13
The Power of Listening 14
Part II: Social Media Networking Basics 17
Chapter 3: Twitter: 140 Characters to Success 19
A Little History 20
Getting Started: Creating a Great Twitter Account 20
Customizing Your Twitter Profile 25
Chapter 4: Facebook Pages: The Public Face of Your Brand 29
A Little History 30
Show Me the Money 30
A Constant Flow of New Features 30
Why a Page and Not a Profile? 30
Creating Your Facebook Page 31
Using Discussions 36
Chapter 5: LinkedIn: Adding Your Link to the Chain of Success 37
A Little History 38
What's It All About? 38
LinkedIn Answers and Groups 39
Getting Started on LinkedIn 39
To Upgrade or Not to Upgrade 42
Chapter 6: YouTube: Your Brand Channel 43
A Little History 44
It's Big 44
Getting Started 45
Customizing Your Channel 47
Your First YouTube Video 52
Basic Rules for YouTube Success 53
Customizing Your Display of Videos and Playlists 54
Chapter 7: Foursquare: Putting Your Brand on the Map 55
A Little History 56
What Makes Foursquare Different? 56
Getting Started with Foursquare 56
How to Get the Best Out of Foursquare 59
Chapter 8: Blogging Your Way to Business Success 63
In Blogging We Trust 64
Using Your Head and Your Resources 65
Moving Forward 68
Sourcing and Building Great and Original Content 73
Chapter 9: The Secrets to a Successful Blog 75
Be a Font of Knowledge 76
Remember It's a Two-way Street 76
Keep Consumer Problems in Mind 76
Keep Them Wanting More 76
Make Headlines 77
A Picture Paints a Thousand Words 77
Reinvention Is the Key to Longevity 77
How to Presell Your Blog Content 78
Value-Added Blogging Tools 81
Embedding a YouTube Video into Your Blog 88
Part III: The 10-Step Method to Building a Fast and Effective Online Presence 91
Chapter 10: Step 1: Listen First, Engage Second 93
Monologue Versus Interactive Communication 94
Learning How to Listen 95
Organizing Your Findings for Maximum Benefit 100
Chapter 11: Step 2: Understand and Build Your Social Media Voice 101
Understanding Share of Voice and Sentiment 102
Calculating and Monitoring 102
Building Awareness 104
Signs of Engagement 104
Find Your Brand Evangelists 105
Spotting and Optimizing Trends 106
Brand Versus Social Voice: Making Them One and the Same 106
Chapter 12: Step 3: It's Who You Know—Finding and Attracting the Influencers 109
All That Glitters Isn't Gold 110
What Makes an Influencer? 111
Key Factors to Help You Identify Influencers Important to You 112
A Valuable Audience Awaits 115
Attracting Engagement for Long-Term Social Media Success 116
Chapter 13: Step 4: Don't Get Too Big for Your Social Media Boots! 117
Dealing with Social Media Narcissists 120
Chapter 14: Step 5: Instilling a Sense of Community 121
Content Curation 123
Your Online Focus Group 123
Discovering the Nerve Center of Your Community 124
Let It Develop Its Own Personality 125
Chapter 15: Step 6: Do You Need a Brand Makeover? 127
Why Change Is Necessary 128
Embracing Change in Social Media 129
Keeping It Fresh 129
Be the Change You Wish to See 132
Chapter 16: Step 7: Become a Social Conductor 133
So, What Is a Social Conductor, Exactly? 134
How to Conduct Your Social Media Traffic 134
The Five Elements That Make a Great Social Conductor 136
Campaigning for Votes 138
Employ an Influencer 139
How Long Will the Traffic Last? 139
Chapter 17: Step 8: Introducing Cross Platform Promotion 141
A Synergetic Way of Thinking 142
Start with Your Strategy 142
Advertise Without Advertising 143
Time-Saving CPP Tools 144
Planning a CPP Schedule for Success 145
Using CPP to Create a Response Buzz 145
Chapter 18: Step 9: Social Media Darwinism—Survival of the Fittest 147
Shifting Customer Service into Social Media 148
Offering Cross Platform Choice 149
Maintaining Online Ethics 150
Utilizing Social Media Metrics 151
Adapting and Evolving 151
Chapter 19: Step 10: Knowing You've Made It and Measuring Your Success 153
How to Get a High-Definition Picture of Your Success to Date 155
Track Audience Duration and Discover Their Preferences 155
And We Made It 159
Part IV: AN EXPERT IN YOUR POCKET 161
Chapter 20: Jeff Bullas 163
About Jeff Bullas 164
Expert Answers to Key Social Media Questions 164
Jeff 's Top Tips for Social Media Success 168
Chapter 21: Lori McNee 169
About Lori McNee 170
Expert Answers to Key Social Media Questions 171
Lori's Top Tips for Social Media Success 174
Chapter 22: Paul Steele 175
About Paul Steele 176
Expert Answers to Key Social Media Questions 177
Paul's Top Tips for Social Media Success 179
Chapter 23: Jessica Northey 181
About Jessica Northey 182
Expert Answers to Key Social Media Questions 183
Jessica's Top Tips for Social Media Success 186
Chapter 24: Danny Devriendt 189
About Danny Devriendt 190
Expert Answers to Key Social Media Questions 191
Danny's Top Tips for Social Media Success 194
Index 195