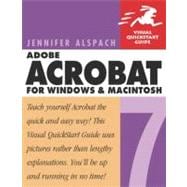 Adobe Acrobat 7 for Windows and Macintosh : Visual QuickStart Guide
by
Alspach, Jennifer
List Price: $19.99
Currently Available, Usually Ships in 24-48 Hours
Questions About This Book?
What version or edition is this?
This is the 1st edition with a publication date of 1/6/2005.
What is included with this book?
The New copy of this book will include any supplemental materials advertised. Please check the title of the book to determine if it should include any CDs, lab manuals, study guides, etc.
Summary
With improved security, tighter integration with Microsoft Office and Outlook, a tool for creating and embedding 3D data, and much more, Adobe Acrobat 7 is the productivity tool you've been dreaming of. This thoroughly updated, task-based guide ensures that you can turn your dream productivity tool into a reality with Acrobat 7. Veteran authorJennifer Alspachsteps you through all the Acrobat 7 Professional essentials. From the basics of creating, organizing, and viewing electronic documents; streamlining document reviews; and using the program's editing and reviewing tools to more advanced functions like using digital signatures, creating interactive forms, using Acrobat's engineering and prepress tools, and protecting sensitive documents, this guide's got it covered! Both beginners and more advanced users who are looking for a convenient reference will find what they need here in straightforward language, clear steps, and practical tips peppered by loads of visual aids.
Table of Contents
1
(26)

| | |
| --- | --- |
| | Starting and Quitting Acrobat |

2
(1)

| | |
| --- | --- |
| | Understanding the Acrobat Screen |

3
(2)
5
(3)
8
(3)

| | |
| --- | --- |
| | Exploring Acrobat's Panes |

11
(6)
17
(1)

| | |
| --- | --- |
| | Opening and Closing PDF Files |

18
(1)
19
(1)
20
(3)

| | |
| --- | --- |
| | Arranging Multiple Windows |

23
(2)

| | |
| --- | --- |
| | Navigating in a Document Page |

25
(1)

| | |
| --- | --- |
| | Moving Between Document Pages |

26
(1)
27
(32)

| | |
| --- | --- |
| | Looking at Document Properties |

28
(3)

| | |
| --- | --- |
| | Setting Acrobat Preferences |

31
(4)

| | |
| --- | --- |
| | Setting Magnification Preferences |

35
(1)
36
(1)
37
(2)
39
(2)
41
(3)
44
(2)
46
(2)

| | |
| --- | --- |
| | Purchasing and Organizing eBooks |

48
(2)
50
(2)
52
(3)
55
(2)
57
(2)
59
(8)

| | |
| --- | --- |
| | Saving PDF Files in Other Formats |

60
(2)
62
(1)
63
(1)
64
(1)
65
(2)
67
(18)
68
(1)

| | |
| --- | --- |
| | Creating a PDF from Multiple Files |

69
(2)

| | |
| --- | --- |
| | Creating PDFs from Web Pages |

71
(4)

| | |
| --- | --- |
| | Creating PDFs from Clipboard Images |

75
(1)

| | |
| --- | --- |
| | Creating PDFs in Microsoft Office Applications |

76
(2)

| | |
| --- | --- |
| | Creating PDFs in Other Applications |

78
(2)
80
(3)
83
(2)

| | |
| --- | --- |
| | Structuring PDF Documents |

85
(22)
86
(2)
88
(2)

| | |
| --- | --- |
| | Changing Page Order and Numbers |

90
(2)

| | |
| --- | --- |
| | Inserting and Replacing PDF Pages |

92
(5)
97
(2)

| | |
| --- | --- |
| | Rotating and Cropping Pages |

99
(3)

| | |
| --- | --- |
| | Adding Headers and Footers |

102
(3)

| | |
| --- | --- |
| | Working with Watermarks and Backgrounds |

105
(2)

| | |
| --- | --- |
| | Making PDFs Easy to Navigate |

107
(20)
108
(3)
111
(2)

| | |
| --- | --- |
| | Changing Bookmark Properties |

113
(1)
114
(2)
116
(2)
118
(1)
119
(2)
121
(3)
124
(3)
127
(22)

| | |
| --- | --- |
| | Understanding Types of Comments |

128
(2)

| | |
| --- | --- |
| | Enabling Reader Users to Add Comments |

130
(1)

| | |
| --- | --- |
| | Creating and Editing Notes |

131
(3)
134
(3)
137
(1)
138
(2)
140
(2)
142
(4)

| | |
| --- | --- |
| | Creating a File Attachment |

146
(3)
149
(10)

| | |
| --- | --- |
| | Editing with the Drawing Markups Tools |

150
(3)
153
(2)
155
(1)

| | |
| --- | --- |
| | Using the Snap to Grid Option |

156
(1)

| | |
| --- | --- |
| | Working with the Measuring Tools |

157
(1)

| | |
| --- | --- |
| | Using Dimensioning Markup |

158
(1)
159
(22)

| | |
| --- | --- |
| | Initiating a Document Review |

160
(4)

| | |
| --- | --- |
| | Participating in a PDF Review |

164
(2)
166
(3)

| | |
| --- | --- |
| | Changing the Status of a Comment |

169
(1)
170
(2)
172
(1)

| | |
| --- | --- |
| | Exporting and Importing Comments |

173
(3)

| | |
| --- | --- |
| | Export Comments from Acrobat into Word (Windows) |

176
(2)

| | |
| --- | --- |
| | Managing a Review with Tracker |

178
(1)
179
(1)

| | |
| --- | --- |
| | Printing a Comments Summary |

180
(1)
181
(28)

| | |
| --- | --- |
| | Creating Form Documents and Fields |

182
(4)
186
(3)
189
(2)
191
(3)

| | |
| --- | --- |
| | Creating Combo Box Fields |

194
(2)

| | |
| --- | --- |
| | Creating Check Box Fields |

196
(1)

| | |
| --- | --- |
| | Creating a Digital Signature Field |

197
(2)
199
(1)
200
(1)

| | |
| --- | --- |
| | Setting Advanced Form Options |

201
(2)
203
(2)
205
(1)

| | |
| --- | --- |
| | Using Designer to Create Your Form (Windows) |

206
(3)

| | |
| --- | --- |
| | Adding Multimedia to PDFs |

209
(12)
210
(3)
213
(2)

| | |
| --- | --- |
| | Creating a Slideshow with Acrobat |

215
(2)

| | |
| --- | --- |
| | Adding Sounds or Movies to PDFs |

217
(2)

| | |
| --- | --- |
| | Using Page Actions with Movies |

219
(2)

| | |
| --- | --- |
| | Catalog, Indexes, and Searches |

221
(12)
222
(1)
223
(3)

| | |
| --- | --- |
| | Making Changes to Indexes |

226
(2)
228
(2)

| | |
| --- | --- |
| | Setting Catalog Preferences |

230
(3)
233
(10)

| | |
| --- | --- |
| | Scanning a Document into Acrobat |

234
(3)

| | |
| --- | --- |
| | Capturing and Editing Images and Text |

237
(1)
238
(1)

| | |
| --- | --- |
| | Working with Scanned Text |

239
(3)
242
(1)
243
(8)
244
(4)
248
(3)
251
(10)

| | |
| --- | --- |
| | Using Batch Processing in Acrobat |

252
(3)

| | |
| --- | --- |
| | Creating and Editing Sequences |

255
(4)

| | |
| --- | --- |
| | Setting Batch Preferences |

259
(2)
261
(8)
262
(2)
264
(1)

| | |
| --- | --- |
| | Linking a Web Page to a PDF |

265
(1)

| | |
| --- | --- |
| | Optimizing PDF Files for Online Viewing |

266
(1)

| | |
| --- | --- |
| | Removing Optimization from PDF Files |

267
(2)
269
(12)
270
(1)
271
(2)
273
(1)
274
(1)
275
(1)

| | |
| --- | --- |
| | Using Other Help Menu Items |

276
(3)
279
(2)

| | |
| --- | --- |
| | Appendix B: Document Security |

281
(6)
282
(3)
285
(1)

| | |
| --- | --- |
| | Checking Security Settings |

286
(1)

| | |
| --- | --- |
| | Appendix C: Accessibility |

287
(12)
288
(1)
289
(2)

| | |
| --- | --- |
| | Other Accessibility Options |

291
(2)

| | |
| --- | --- |
| | Checking the Accessibility of Your PDF |

293
(1)

| | |
| --- | --- |
| | Creating an Accessibility Report |

294
(2)
296
(1)

| | |
| --- | --- |
| | Using the Setup Assistant |

297
(2)
Index
299