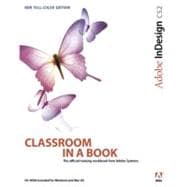 List Price: $55.00
Usually Ships in 2-3 Business Days
Questions About This Book?
What version or edition is this?
This is the 1st edition with a publication date of 1/1/2006.
What is included with this book?
The Used copy of this book is not guaranteed to inclue any supplemental materials. Typically, only the book itself is included.
Summary
Classroom in a Book, the best-selling series of hands-on software training workbooks, helps you learn the features of Adobe software quickly and easily. Classroom in a Book offers what no other book or training program does-an official training series from Adobe Systems Incorporated, developed with the support of Adobe product experts.
Table of Contents
| | |
| --- | --- |
| | About Classroom in a Book |

1
(1)
1
(1)
2
(1)

| | |
| --- | --- |
| | Copying the Classroom in a Book files |

2
(1)

| | |
| --- | --- |
| | Restoring default preferences |

2
(1)

| | |
| --- | --- |
| | To delete your preferences |

3
(1)
4
(1)
4
(3)

| | |
| --- | --- |
| | What's New in Adobe InDesign CS2 |

7
(1)

| | |
| --- | --- |
| | Adobe Bridge and Creative Suite integration |

8
(1)
9
(1)

| | |
| --- | --- |
| | Enhanced graphics handling |

10
(1)
11
(2)

| | |
| --- | --- |
| | A Quick Tour of Adobe InDesign CS2 |

13
(5)

| | |
| --- | --- |
| | Changing the viewing mode |

18
(1)
19
(1)
20
(1)
21
(1)
21
(2)
23
(3)
26
(1)

| | |
| --- | --- |
| | Wrapping text around an object |

27
(1)

| | |
| --- | --- |
| | Adding a stroke to the frame |

28
(1)

| | |
| --- | --- |
| | Changing the frame and text position |

29
(1)

| | |
| --- | --- |
| | Adjusting the size of an image |

30
(1)
31
(1)

| | |
| --- | --- |
| | Applying paragraph styles |

31
(2)

| | |
| --- | --- |
| | Formatting text for the character style |

33
(1)

| | |
| --- | --- |
| | Creating and applying a character style |

34
(1)
35
(1)
36
(1)

| | |
| --- | --- |
| | Positioning graphics within a frame |

37
(1)
38
(1)

| | |
| --- | --- |
| | Targeting layers when placing |

39
(2)

| | |
| --- | --- |
| | Cropping and moving the photograph |

41
(1)
42
(3)

| | |
| --- | --- |
| | Getting to Know the Work Area |

45
(1)
46
(1)
47
(3)
50
(2)
52
(1)

| | |
| --- | --- |
| | Viewing and arranging palettes |

53
(3)

| | |
| --- | --- |
| | Customizing your workspace |

56
(1)
56
(2)

| | |
| --- | --- |
| | Changing the magnification of your document |

58
(2)

| | |
| --- | --- |
| | Navigating through your document |

60
(1)
60
(4)

| | |
| --- | --- |
| | Scrolling through a document |

64
(1)

| | |
| --- | --- |
| | Using the Navigator palette |

65
(1)
66
(2)
68
(1)
69
(1)
70
(2)
72
(1)
73
(1)
73
(2)
75
(2)

| | |
| --- | --- |
| | Creating and saving a custom page size |

77
(1)
78
(1)
79
(1)

| | |
| --- | --- |
| | Adding guides to the master |

80
(1)
81
(1)

| | |
| --- | --- |
| | Creating a master page for footers |

81
(2)

| | |
| --- | --- |
| | Dragging guides from rulers |

83
(2)

| | |
| --- | --- |
| | Creating a footer text frame in the master page |

85
(3)

| | |
| --- | --- |
| | Creating a placeholder master |

88
(1)

| | |
| --- | --- |
| | Adding a title placeholder frame |

89
(2)

| | |
| --- | --- |
| | Adding a placeholder frame for graphics |

91
(2)
93
(2)

| | |
| --- | --- |
| | Creating text frames with columns |

95
(2)

| | |
| --- | --- |
| | Applying the masters to document pages |

97
(2)

| | |
| --- | --- |
| | Adding sections to change page numbering |

99
(2)
101
(1)

| | |
| --- | --- |
| | Deleting and arranging pages |

102
(1)

| | |
| --- | --- |
| | Placing text and graphics on the document pages |

102
(3)

| | |
| --- | --- |
| | Overriding master page items on document pages |

105
(2)
107
(3)
110
(1)
111
(1)
111
(2)
113
(2)
115
(1)
115
(3)

| | |
| --- | --- |
| | Using anchor points to reshape a text frame |

118
(2)

| | |
| --- | --- |
| | Modifying graphics frames |

120
(2)

| | |
| --- | --- |
| | Resizing a graphics frame |

122
(1)

| | |
| --- | --- |
| | Resizing and moving an image within a frame |

122
(2)

| | |
| --- | --- |
| | Changing the shape of the frame |

124
(1)

| | |
| --- | --- |
| | Modifying a frame within grouped objects |

125
(1)

| | |
| --- | --- |
| | Wrapping text around a graphic |

126
(2)

| | |
| --- | --- |
| | Creating new frames and adjusting the contents |

128
(1)

| | |
| --- | --- |
| | Duplicating a frame and its contents |

128
(1)

| | |
| --- | --- |
| | Replacing the contents of graphics frames |

129
(1)
130
(1)
131
(2)

| | |
| --- | --- |
| | Drawing a new graphics frame |

133
(2)

| | |
| --- | --- |
| | Placing and coloring text in a color-filled frame |

135
(1)

| | |
| --- | --- |
| | Orienting objects in space |

136
(1)

| | |
| --- | --- |
| | Adjusting text inset within a frame |

136
(1)
137
(1)

| | |
| --- | --- |
| | Aligning multiple objects |

138
(1)

| | |
| --- | --- |
| | Rotating an image within its frame |

138
(1)
139
(1)
140
(1)
141
(1)
141
(1)
141
(2)

| | |
| --- | --- |
| | Importing and Editing Text |

143
(1)
144
(1)

| | |
| --- | --- |
| | Creating and entering text |

145
(1)

| | |
| --- | --- |
| | Creating a headline and applying a style |

145
(2)
147
(1)
147
(2)

| | |
| --- | --- |
| | Flowing text automatically |

149
(1)
150
(1)

| | |
| --- | --- |
| | Flowing text into an existing frame |

151
(1)
152
(1)
152
(1)

| | |
| --- | --- |
| | Loading styles from another document |

153
(2)
155
(1)
155
(3)

| | |
| --- | --- |
| | Changing the number of columns on a page |

158
(1)

| | |
| --- | --- |
| | Using semi-autoflow to place text frames |

159
(1)

| | |
| --- | --- |
| | Applying and editing the sidebar styles |

160
(2)

| | |
| --- | --- |
| | Adding a page continuation note |

162
(1)

| | |
| --- | --- |
| | Changing horizontal and vertical text alignment |

163
(1)
164
(3)

| | |
| --- | --- |
| | Finding and changing special characters |

167
(1)

| | |
| --- | --- |
| | Finding and changing a missing font |

168
(1)

| | |
| --- | --- |
| | Checking Spelling of a story |

169
(1)

| | |
| --- | --- |
| | Adding words to a dictionary |

170
(2)

| | |
| --- | --- |
| | Checking Spelling dynamically |

172
(1)

| | |
| --- | --- |
| | Automatically correcting misspelled words |

172
(2)

| | |
| --- | --- |
| | Checking Spelling with other languages |

174
(1)

| | |
| --- | --- |
| | Drag and drop text editing |

175
(1)
176
(1)
177
(2)
179
(2)
181
(1)
181
(2)
183
(2)

| | |
| --- | --- |
| | Adjusting vertical spacing |

185
(1)

| | |
| --- | --- |
| | Using a baseline grid to align text |

185
(2)

| | |
| --- | --- |
| | Viewing the baseline grid |

187
(2)

| | |
| --- | --- |
| | Changing the spacing above and below paragraphs |

189
(2)

| | |
| --- | --- |
| | Changing fonts and type style |

191
(2)

| | |
| --- | --- |
| | Changing paragraph alignment |

193
(1)

| | |
| --- | --- |
| | Adding a decorative font and special character |

193
(2)

| | |
| --- | --- |
| | Applying special font features |

195
(1)

| | |
| --- | --- |
| | Applying a gradient to text |

195
(2)
197
(1)

| | |
| --- | --- |
| | Applying a fill and stroke to text |

198
(1)

| | |
| --- | --- |
| | Adjusting the kerning and tracking |

199
(2)

| | |
| --- | --- |
| | Applying the paragraph and single-line composers |

201
(2)
203
(3)

| | |
| --- | --- |
| | Creating a hanging indent |

206
(1)

| | |
| --- | --- |
| | Adding a rule below a paragraph |

207
(2)
209
(1)
210
(1)
210
(3)
213
(2)

| | |
| --- | --- |
| | Defining printing requirements |

215
(1)

| | |
| --- | --- |
| | Adding colors to the Swatches palette |

216
(1)

| | |
| --- | --- |
| | Applying colors to objects |

217
(3)
220
(1)
221
(1)

| | |
| --- | --- |
| | Creating and applying a gradient swatch |

222
(2)

| | |
| --- | --- |
| | Adjusting the direction of the gradient blend |

224
(1)
225
(2)
227
(1)
228
(1)

| | |
| --- | --- |
| | Applying colors to additional objects |

228
(2)
230
(1)

| | |
| --- | --- |
| | Using advanced gradient techniques |

231
(1)

| | |
| --- | --- |
| | Creating a gradient swatch with multiple colors |

231
(1)

| | |
| --- | --- |
| | Applying the gradient to an object |

232
(1)

| | |
| --- | --- |
| | Applying a gradient to multiple objects |

233
(3)

| | |
| --- | --- |
| | Color management: An overview |

236
(1)

| | |
| --- | --- |
| | About the device-independent color space |

237
(1)
238
(1)

| | |
| --- | --- |
| | About color management engines |

238
(1)

| | |
| --- | --- |
| | Components of a CMYK press-oriented workflow |

239
(1)

| | |
| --- | --- |
| | Setting up color management in InDesign CS2 |

239
(1)
240
(1)

| | |
| --- | --- |
| | Specifying the Adobe ACE engine |

240
(2)

| | |
| --- | --- |
| | Setting up default working spaces |

242
(1)

| | |
| --- | --- |
| | Assigning source profiles |

243
(1)

| | |
| --- | --- |
| | Specifying the rendering intent |

244
(1)

| | |
| --- | --- |
| | Color-managing imported graphics |

245
(1)

| | |
| --- | --- |
| | Assigning a profile after importing an image |

246
(1)

| | |
| --- | --- |
| | Embedding a profile in a Photoshop image |

247
(1)

| | |
| --- | --- |
| | Setting up color management in Photoshop CS2 |

248
(3)

| | |
| --- | --- |
| | Assigning a profile while importing a graphic |

251
(1)

| | |
| --- | --- |
| | Embedding a profile in an Illustrator graphic |

252
(1)

| | |
| --- | --- |
| | Setting up color management in Illustrator CS2 |

253
(1)

| | |
| --- | --- |
| | Embedding a profile in a graphic from Illustrator |

254
(1)

| | |
| --- | --- |
| | Placing a color-managed Illustrator file into InDesign CS2 |

255
(3)

| | |
| --- | --- |
| | Other information resources for color management |

258
(1)
259
(1)
260
(1)
260
(1)
260
(3)
263
(2)

| | |
| --- | --- |
| | Creating and applying object styles |

265
(1)
265
(3)
268
(1)

| | |
| --- | --- |
| | Creating and applying character styles |

269
(1)

| | |
| --- | --- |
| | Creating a character style |

270
(3)

| | |
| --- | --- |
| | Applying a character style |

273
(1)

| | |
| --- | --- |
| | Creating and applying paragraph styles |

274
(1)

| | |
| --- | --- |
| | Creating a paragraph style |

274
(3)

| | |
| --- | --- |
| | Applying a paragraph style |

277
(1)

| | |
| --- | --- |
| | Nesting character styles inside paragraph styles |

278
(1)

| | |
| --- | --- |
| | Creating a paragraph style for nesting |

278
(4)
282
(4)
286
(2)

| | |
| --- | --- |
| | Loading styles from another document |

288
(2)
290
(1)
291
(1)

| | |
| --- | --- |
| | Modifying an object style |

292
(1)
293
(1)
293
(2)

| | |
| --- | --- |
| | Importing and Linking Graphics |

295
(2)

| | |
| --- | --- |
| | Adding graphics from other programs |

297
(1)

| | |
| --- | --- |
| | Comparing vector and bitmap graphics |

297
(1)

| | |
| --- | --- |
| | Managing links to imported files |

298
(1)

| | |
| --- | --- |
| | Identifying imported images |

299
(1)

| | |
| --- | --- |
| | Viewing information about linked files |

300
(1)

| | |
| --- | --- |
| | Showing Files in the Explorer (PC) or Finder (Mac OS) |

301
(1)

| | |
| --- | --- |
| | Updating revised graphics |

301
(3)
304
(1)

| | |
| --- | --- |
| | Working with clipping paths |

305
(1)

| | |
| --- | --- |
| | Removing a white background using InDesign |

305
(3)

| | |
| --- | --- |
| | Working with alpha channels |

308
(1)

| | |
| --- | --- |
| | Importing a Photoshop file and alpha channels |

309
(1)

| | |
| --- | --- |
| | Examining Photoshop paths and alpha channels |

310
(2)

| | |
| --- | --- |
| | Using Photoshop alpha channels in InDesign |

312
(2)
314
(1)

| | |
| --- | --- |
| | Importing a Photoshop file with layers and layer comps |

314
(2)
316
(2)

| | |
| --- | --- |
| | Adding text wrap to an inline graphic |

318
(1)

| | |
| --- | --- |
| | Importing an Illustrator file |

319
(1)

| | |
| --- | --- |
| | Importing an Illustrator file with layers |

320
(2)

| | |
| --- | --- |
| | Using a library to manage objects |

322
(2)
324
(1)

| | |
| --- | --- |
| | Using Adobe Bridge to import graphics |

325
(1)
326
(1)
327
(1)
327
(2)
329
(3)

| | |
| --- | --- |
| | Importing and formatting a table |

332
(1)

| | |
| --- | --- |
| | Formatting borders and alternating row colors |

333
(3)
336
(1)

| | |
| --- | --- |
| | Formatting the heading cells |

336
(3)
339
(1)

| | |
| --- | --- |
| | Using graphics within tables |

340
(1)

| | |
| --- | --- |
| | Setting fixed column and row dimensions |

340
(1)

| | |
| --- | --- |
| | Placing graphics in table cells |

341
(2)

| | |
| --- | --- |
| | Placing multiple graphics in a cell |

343
(2)

| | |
| --- | --- |
| | Formatting text within a table |

345
(1)

| | |
| --- | --- |
| | Applying character styles to text in a table |

345
(1)

| | |
| --- | --- |
| | Dragging to adjust column size |

346
(2)

| | |
| --- | --- |
| | Working with tables within existing text frames |

348
(1)
349
(1)
350
(1)
351
(1)
351
(2)

| | |
| --- | --- |
| | Working with Transparency |

353
(2)

| | |
| --- | --- |
| | Importing and colorizing a black-and-white image |

355
(1)

| | |
| --- | --- |
| | Applying transparency settings |

356
(1)

| | |
| --- | --- |
| | Changing the opacity of solid-color objects |

357
(1)

| | |
| --- | --- |
| | Applying the Multiply blending mode |

358
(2)

| | |
| --- | --- |
| | Applying feathering to the margins of an image |

360
(1)

| | |
| --- | --- |
| | Adjusting the transparency settings for EPS images |

361
(2)

| | |
| --- | --- |
| | Adjusting transparency for Photoshop images |

363
(1)

| | |
| --- | --- |
| | Importing and adjusting Illustrator files that use transparency |

364
(2)

| | |
| --- | --- |
| | Applying transparency settings to text |

366
(1)
367
(2)
369
(1)
370
(1)
370
(3)

| | |
| --- | --- |
| | Working with Long Documents |

373
(1)
374
(1)
374
(1)

| | |
| --- | --- |
| | Setting the order and pagination |

375
(2)

| | |
| --- | --- |
| | Working with a table of contents |

377
(1)

| | |
| --- | --- |
| | Adding the table of contents file |

377
(1)

| | |
| --- | --- |
| | Generating a table of contents for the book |

378
(2)

| | |
| --- | --- |
| | Maintaining consistency across book files |

380
(1)

| | |
| --- | --- |
| | Reassigning the style source |

380
(1)

| | |
| --- | --- |
| | Synchronizing book documents |

380
(2)
382
(1)

| | |
| --- | --- |
| | Creating index references |

382
(2)

| | |
| --- | --- |
| | Creating index cross-references |

384
(1)
385
(2)
387
(1)
388
(1)
388
(3)

| | |
| --- | --- |
| | Printing and PDF Exporting |

391
(2)
393
(3)
396
(2)

| | |
| --- | --- |
| | Creating an Adobe PDF proof |

398
(1)
399
(1)

| | |
| --- | --- |
| | Transparency flattener preview |

400
(2)
402
(1)

| | |
| --- | --- |
| | Printing a laser or inkjet proof |

402
(8)
410
(1)
411
(1)
411
(2)
413
(1)
414
(1)
415
(2)

| | |
| --- | --- |
| | Importing and applying XML tags |

417
(3)
420
(1)

| | |
| --- | --- |
| | Viewing and organizing structure |

421
(2)

| | |
| --- | --- |
| | Viewing and applying attributes |

423
(1)
424
(2)
426
(2)
428
(1)
429
(1)
430
(1)
431
(1)
431
(2)

| | |
| --- | --- |
| | Working with Adobe Bridge and Version Cue |

433
(1)
434
(1)

| | |
| --- | --- |
| | Navigating and viewing files |

434
(1)
435
(1)
436
(1)

| | |
| --- | --- |
| | Creating a new project and adding files |

437
(2)

| | |
| --- | --- |
| | Working with file versions |

439
(2)

| | |
| --- | --- |
| | Version Cue Workspace Administration |

441
(1)

| | |
| --- | --- |
| | Organizing and locating files |

442
(2)
444
(1)
445
(1)
445