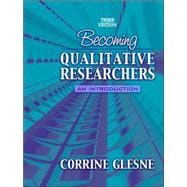 List Price: $80.40
In Stock Usually Ships in 24-48 Hours
Questions About This Book?
What version or edition is this?
This is the 4th edition with a publication date of 1/1/2011.
What is included with this book?
The Used copy of this book is not guaranteed to inclue any supplemental materials. Typically, only the book itself is included.
Summary
This text offers a brief but comprehensive overview of qualitative research that balances the practicalities of conducting research and the theory and debates that keep qualitative inquiry vibrant. As faculty and students increasingly turn to qualitative inquiry, they need a text that will not only provide them with an understanding of qualitative research methods, but also open them to the diverse possibilities within this inquiry approach. This text covers the range of possibilities along with numerous exercises that offer beginning students the opportunity to practice and refine the skills of being a qualitative researcher. The wealth of examples in the text is exceptional, as is the accessible writing style.
Table of Contents
Introduction: A Sense of Things to Come
viii
Acknowledgments
x

| | |
| --- | --- |
| | Meeting Qualitative Inquiry |

1
(20)
1
(2)
3
(1)
4
(4)

| | |
| --- | --- |
| | A Bit of Historical Context |

8
(3)
11
(2)

| | |
| --- | --- |
| | Participant-Oriented Research |

13
(5)
18
(1)
19
(1)
20
(1)

| | |
| --- | --- |
| | Prestudy Tasks: Doing What Is Good for You |

21
(28)
22
(2)
24
(3)
27
(2)

| | |
| --- | --- |
| | Research Statement and Questions |

29
(2)
31
(3)

| | |
| --- | --- |
| | Selection of Study Participants |

34
(2)

| | |
| --- | --- |
| | Selection of Research Techniques |

36
(1)
37
(1)
38
(2)
40
(3)
43
(1)
44
(2)
46
(2)
48
(1)

| | |
| --- | --- |
| | Being There: Developing Understanding through Participant Observation |

49
(30)

| | |
| --- | --- |
| | The Participant-Observation Continuum |

49
(2)

| | |
| --- | --- |
| | Participant-Observation Goals |

51
(1)

| | |
| --- | --- |
| | The Participant-Observation Process |

52
(11)

| | |
| --- | --- |
| | Other Fieldwork Allies: Photographs, Documents, and Artifacts |

63
(6)

| | |
| --- | --- |
| | The Participant Observer's Role |

69
(7)
76
(1)
77
(2)

| | |
| --- | --- |
| | Making Words Fly: Developing Understanding through Interviewing |

79
(30)

| | |
| --- | --- |
| | Interviewing: An Interaction |

79
(2)
81
(5)
86
(4)

| | |
| --- | --- |
| | The Nature of Interviewing |

90
(3)
93
(7)
100
(2)
102
(2)
104
(3)
107
(2)

| | |
| --- | --- |
| | The Personal Dimension: Rapport, Subjectivity, and Reflexivity |

109
(20)
109
(1)

| | |
| --- | --- |
| | Factors Bearing on Rapport |

110
(2)

| | |
| --- | --- |
| | Developing and Maintaining Rapport |

112
(4)
116
(3)
119
(4)

| | |
| --- | --- |
| | Monitoring and Using Subjectivity |

123
(2)
125
(2)

| | |
| --- | --- |
| | Rapport, Subjectivity, and Reflexivity |

127
(1)
127
(2)

| | |
| --- | --- |
| | But Is It Ethical? Learning to Do Right |

129
(18)
130
(2)
132
(1)

| | |
| --- | --- |
| | Researcher Roles and Ethical Dilemmas |

133
(5)

| | |
| --- | --- |
| | The Researcher-Researched Relationship |

138
(7)
145
(1)
146
(1)

| | |
| --- | --- |
| | Finding Your Story: Data Analysis |

147
(26)
148
(4)

| | |
| --- | --- |
| | Later Data Analysis: Entering the Code Mines |

152
(3)
155
(5)
160
(4)
164
(2)

| | |
| --- | --- |
| | Trustworthiness of Your Interpretations |

166
(3)
169
(1)
170
(1)
171
(2)

| | |
| --- | --- |
| | Writing Your Story: What Your Data Say |

173
(20)
173
(3)
176
(6)

| | |
| --- | --- |
| | The Text: Questions of Style |

182
(9)

| | |
| --- | --- |
| | Responsibilities of the Writer |

191
(1)
192
(1)

| | |
| --- | --- |
| | Improvising a Song of the World: Language and Representation |

193
(18)
194
(1)

| | |
| --- | --- |
| | The Researcher's Language |

195
(1)

| | |
| --- | --- |
| | The Researcher's Representations |

196
(1)

| | |
| --- | --- |
| | The Art of Re-presentation |

197
(2)
199
(1)
200
(5)
205
(2)
207
(1)
208
(2)
210
(1)
211
(10)

| | |
| --- | --- |
| | Becoming Qualitative Researchers: The Personal Context |

211
(2)

| | |
| --- | --- |
| | Applications of Qualitative Research: The Research Manuscript |

213
(3)

| | |
| --- | --- |
| | Using the Research Process |

216
(1)

| | |
| --- | --- |
| | Using Qualitative Research to Learn About Yourself |

217
(1)

| | |
| --- | --- |
| | Creating and Deepening Relationships |

218
(2)
220
(1)
220
(1)
Appendix: Guide for Developing a Qualitative Research Proposal
221
(2)
References
223
(18)
Name Index
241
(2)
Subject Index
243