Note: Supplemental materials are not guaranteed with Rental or Used book purchases.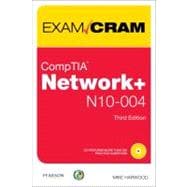 CompTIA Network+ N10-004 Exam Cram
ISBN13:
9780789737960
by
Harwood, Mike
Summary
The new version of the #1 Network+ late stage guide: the smartest, fastest preparation for CompTIA's 2009 Network+ Exam. bull; Fully reflects major changes in the new 2009 Network+ exam - including more coverage of security, wireless, and voice networking. bull; Designed to help candidates rapidly assess where they stand - and quickly master what they need to learn. bull; Includes test-taking strategies, time-saving tips, Exam Notes, and two sample exams delivered by the state-of-the-art MeasureUp test engine. CompTIA's Network+ is the #1 international vendor-neutral baseline Network certification. In early 2009, CompTIA is releasing a thoroughly revised certification exam. CompTIA Network+ Exam Cram, Second Edition has been thoroughly updated to prepare candidates for the new exam, using the proven Exam Cram method of study. Like all Exam Cram books, it includes: ' Chapters that map directly to the exam objectives ' Comprehensive foundational learning on all topics covered on the exam ' An extensive collection of practice questions (including two full practice exams) ' A state-of-the-art CD-ROM test engine that provides real-time practice and feedback ' Notes, tips, sidebars, cautions, test-taking strategies, and time-saving tips that make studying as effective and time-efficient as possible ' The Cram Sheet tear-out card including tips, acronyms, and memory joggers not available anywhere else - perfect for last-minute study Topics covered in this book range from identifying vulnerabilities to implementing communications and infrastructure Network; cryptography concepts and deployment techniques to Network management; forensics to internal Network education and documentation. CompTIA Network+ Exam Cram, Third Edition brings together all the knowledge professionals need to walk into the exam room with confidence - and pass their Network+ exams with flying colors.
Author Biography
Mike Harwood (MCSE, A+, Network+, Server+, Linux+) has more than 10 years of experience in information technology and related fields. He has held a number of roles in the IT field, including network administrator, instructor, technical writer, website designer, consultant, and online marketing strategist. He has been a regular on-air technology contributor for CBC radio and has coauthored numerous computer books, including the Network+ Exam Prep from Que Publishing. When not working, Harwood plans to explore his new hometown of Castlegar in the Kootenays and hopes to one day again fit into the pants he wore before his writing career began.
Table of Contents
Table of Contents
Introduction
Self-Assessment
Introduction to Networking
Cabling and Connectors
Networking Devices
OSI Model and Network Protocols
TCP/IP (Transmission Control Protocol/Internet Protocol)
WAN Technologies, Internet Access, and Security Protocols
Network Operating Systems and Clients
Configuring Network Security
VLANs, Antivirus, Fault Tolerance and Disaster Recovery
Troubleshooting Connectivity
Troubleshooting and Supporting the Network
Practice Exam 1
Answers to Practice Exam 1
Practice Exam 2
Answers to Practice Exam 2
What's on the CD
Glossary
Table of Contents provided by Publisher. All Rights Reserved.
Excerpts
Introduction IntroductionWelcome to the Network+ Exam Cram . This book is designed to prepare you to takeand passthe CompTIA Network+ exam. The Network+ exam has become the leading introductory-level network certification available today. It is recognized by both employers and industry giants (such as Microsoft and Novell) as providing candidates with a solid foundation of networking concepts, terminology, and skills. The Network+ exam covers a broad range of networking concepts to prepare candidates for the technologies they are likely to work with in today's network environments. About Network+ Exam CramExam Crams are designed to give you the information you need to know to prepare for the Network+ exam. They cut through the extra information, focusing on the areas you need to get through the exam. With this in mind, the elements within the Exam Cram titles are aimed at providing the exam information you need in the most succinct and accessible manner.In this light, this book is organized to closely follow the actual CompTIA objectives. As such, it is easy to find the information required for each of the specified CompTIA Network+ objectives. The objective focus design used by this Exam Cram is an important feature because the information you need to know is easily identifiable and accessible. To see what we mean, compare the CompTIA objectives to the book's layout, and you will see that the facts are right where you would expect them to be.Within the chapters themselves, potential exam hot spots are clearly highlighted with Exam Alerts. They have been carefully placed to let you know that the surrounding discussion is an important area for the exam. To further help you prepare for the exam, a Cram Sheet is included that can be used in the final stages of test preparation. Be sure to pay close attention to the bulleted points on the Cram Sheet, because they pinpoint the technologies and facts you probably will encounter on the test.Finally, great effort has gone into the end-of-chapter questions and practice tests to ensure that they accurately represent the look and feel of the ones you will see on the real Network+ exam. Be sure, before taking the exam, that you are comfortable with both the format and content of the questions provided in this book. About the Network+ ExamThe Network+ (2009 Edition) exam is a revised version of the original exam. The new Network+ objectives are aimed toward those who have nine months of experience in network support and administration. CompTIA believes that new Network+ candidates will require more hands-on experience in network administration and troubleshooting, but this should not discourage those who do not. Quite simply, the nature of the questions on the new exam is not dissimilar to the old, and you can get by without actual hands-on experience. Still, a little hands-on experience never hurt anyone and will certainly add to your confidence going into the exam.You will have a maximum of 90 minutes to answer the 72 questions on the exam. The allotted time is quite generous, so when you are finished, you probably will have time to double-check a few of the answers you were unsure of. By the time the dust settles, you will need a minimum score of 646 to pass the Network+ exam. This is on a scale of 100 to 900.One of the best things about the Network+