Note: Supplemental materials are not guaranteed with Rental or Used book purchases.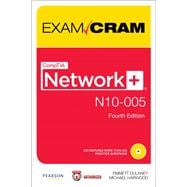 Questions About This Book?
What version or edition is this?
This is the 4th edition with a publication date of 12/29/2011.
What is included with this book?
The New copy of this book will include any supplemental materials advertised. Please check the title of the book to determine if it should include any CDs, lab manuals, study guides, etc.
The eBook copy of this book is not guaranteed to include any supplemental materials. Typically only the book itself is included.
Summary
CompTIA Network+ Exam Cram, 4/ehas been thoroughly revised to prepare candidates for the 2011 Network+ exam (N10-005) - the new version of the world's #1 vendor-neutral baseline networking certification exam. Fully aligned with the new exam's objectives, this edition presents extensive new coverage of security, wireless, and voice networking. Reflecting the attractive new Exam Cram design, it provides Cram Savers, quizzes, and all these proven features: * Chapters that map directly to the official exam objectives: complete foundational learning for all exam topics * An extensive collection of practice questions, including two full practice exams in the book, and another on CD * A state-of-the-art test engine providing real-time practice and feedback * Notes, tips, sidebars, cautions, test-taking strategies, and tips to make studying more effective and time-efficient * Exclusive Cram Sheet tear-out card with last-minute study tips, acronyms, and memory joggers available nowhere else This book brings together all the knowledge professionals need to walk into the exam room with confidence - and pass the Network+ exam.
Author Biography
Emmett Dulaney (Network+, A+, Security+, ManyOthers+) is the author of numerous books on certifications and operating systems. He is a columnist for CertCities and an associate professor at Anderson University. In addition to the Network+ Exam Cram, he is the author of the CompTIA A+ Complete Study Guide and the CompTIA Security+ Study Guide.
Mike Harwood (MCSE, A+, Network+, Server+, Linux+) has more than 14 years experience in information technology and related fields. He has held a number of roles in the IT field including network administrator, instructor, technical writer, website designer, consultant, and online marketing strategist. Mike has been a regular on air technology contributor for CBC radio and has coauthored numerous computer books, including the Network+ Exam Cram published by Pearson.
Table of Contents
Introduction. . . . . . . . . . . . . . . . . . . . . . . . . . . . . . . . . . . . . . . . . . . . . 1
About Network+ Exam Cram. . . . . . . . . . . . . . . . . . . . . . . . . . . . . . 1
About the Network+ Exam . . . . . . . . . . . . . . . . . . . . . . . . . . . . . . . 2
CompTIA Network+ Exam Topics . . . . . . . . . . . . . . . . . . . . . . 2
Booking and Taking the Network+ Certification Exam . . . . . . . . . 4
What to Expect from the Exam . . . . . . . . . . . . . . . . . . . . . . . . 5
A Few Exam Day Details. . . . . . . . . . . . . . . . . . . . . . . . . . . . . 5
After the Test . . . . . . . . . . . . . . . . . . . . . . . . . . . . . . . . . . . . 6
Last-Minute Exam Tips . . . . . . . . . . . . . . . . . . . . . . . . . . . . . 6
CHAPTER 1:
Introduction to Networking . . . . . . . . . . . . . . . . . . . . . . . . . . . . . . . . . . 9
LANs, WANs, and Network Models . . . . . . . . . . . . . . . . . . . . . . . . 10
LANs . . . . . . . . . . . . . . . . . . . . . . . . . . . . . . . . . . . . . . . . 10
WANs . . . . . . . . . . . . . . . . . . . . . . . . . . . . . . . . . . . . . . . . 11
Network Models . . . . . . . . . . . . . . . . . . . . . . . . . . . . . . . . . 12
Centralized Computing versus Distributed Computing . . . . . . . . 14
Cram Quiz Answers . . . . . . . . . . . . . . . . . . . . . . . . . . . . . . . 15
Network Topologies . . . . . . . . . . . . . . . . . . . . . . . . . . . . . . . . . . . 16
Bus Topology . . . . . . . . . . . . . . . . . . . . . . . . . . . . . . . . . . . 16
Ring Topology. . . . . . . . . . . . . . . . . . . . . . . . . . . . . . . . . . . 18
Star Topology . . . . . . . . . . . . . . . . . . . . . . . . . . . . . . . . . . . 19
Mesh Topology . . . . . . . . . . . . . . . . . . . . . . . . . . . . . . . . . . 20
Wireless Topologies . . . . . . . . . . . . . . . . . . . . . . . . . . . . . . . 22
Point-to-Point, Point-to-Multipoint, and Wireless Mesh
Topologies . . . . . . . . . . . . . . . . . . . . . . . . . . . . . . . . . . . . 24
Hybrid Topologies . . . . . . . . . . . . . . . . . . . . . . . . . . . . . . . . 27
Cram Quiz Answers . . . . . . . . . . . . . . . . . . . . . . . . . . . . . . . 31
Going Virtual . . . . . . . . . . . . . . . . . . . . . . . . . . . . . . . . . . . . . . . 32
Virtual Private Networks (VPNs) . . . . . . . . . . . . . . . . . . . . . . 32
Virtual Local Area Networks (VLANs) . . . . . . . . . . . . . . . . . . . 35
Cram Quiz Answers . . . . . . . . . . . . . . . . . . . . . . . . . . . . . . . 40
What Next? . . . . . . . . . . . . . . . . . . . . . . . . . . . . . . . . . . . . . . . . 41
CHAPTER 2:
OSI and TCP/IP Models and Network Protocols . . . . . . . . . . . . . . . . . . . 43
The Networking Models . . . . . . . . . . . . . . . . . . . . . . . . . . . . . . . . 44
The OSI Seven-Layer Model . . . . . . . . . . . . . . . . . . . . . . . . . 44
The TCP/IP Four-Layer Model . . . . . . . . . . . . . . . . . . . . . . . 49
Identifying the OSI Layers at Which Various Network
Components Operate . . . . . . . . . . . . . . . . . . . . . . . . . . . . . 50
Cram Quiz Answers . . . . . . . . . . . . . . . . . . . . . . . . . . . . . . . 51
Protocols . . . . . . . . . . . . . . . . . . . . . . . . . . . . . . . . . . . . . . . . . . 53
Connection-Oriented Protocols Versus Connectionless Protocols ......54
Internet Protocol (IP) . . . . . . . . . . . . . . . . . . . . . . . . . . . . . . 55
Transmission Control Protocol (TCP) . . . . . . . . . . . . . . . . . . . 55
User Datagram Protocol (UDP) . . . . . . . . . . . . . . . . . . . . . . . 56
File Transfer Protocol (FTP) . . . . . . . . . . . . . . . . . . . . . . . . . 57
Secure File Transfer Protocol (SFTP). . . . . . . . . . . . . . . . . . . . 58
Trivial File Transfer Protocol (TFTP) . . . . . . . . . . . . . . . . . . . 59
Simple Mail Transfer Protocol (SMTP) . . . . . . . . . . . . . . . . . . 59
Hypertext Transfer Protocol (HTTP) . . . . . . . . . . . . . . . . . . . 60
Hypertext Transfer Protocol Secure (HTTPS) . . . . . . . . . . . . . . 60
Post Office Protocol Version 3/Internet Message Access Protocol
Version 4 (POP3/IMAP4) . . . . . . . . . . . . . . . . . . . . . . . . . . 61
Telnet . . . . . . . . . . . . . . . . . . . . . . . . . . . . . . . . . . . . . . . . 62
Secure Shell (SSH) . . . . . . . . . . . . . . . . . . . . . . . . . . . . . . . . 62
Internet Control Message Protocol (ICMP). . . . . . . . . . . . . . . . 63
Address Resolution Protocol (ARP)/Reverse Address Resolution
Protocol (RARP) . . . . . . . . . . . . . . . . . . . . . . . . . . . . . . . . 63
Network Time Protocol (NTP) . . . . . . . . . . . . . . . . . . . . . . . 65
Network News Transfer Protocol (NNTP) . . . . . . . . . . . . . . . . 66
Secure Copy Protocol (SCP) . . . . . . . . . . . . . . . . . . . . . . . . . 66
Lightweight Directory Access Protocol (LDAP) . . . . . . . . . . . . . 66
Internet Group Management Protocol (IGMP) . . . . . . . . . . . . . 67
Transport Layer Security . . . . . . . . . . . . . . . . . . . . . . . . . . . . 67
Session Initiation Protocol (SIP)/Real-Time Transport
Protocol (RTP) . . . . . . . . . . . . . . . . . . . . . . . . . . . . . . . . . 68
TCP/IP Protocol Suite Summary . . . . . . . . . . . . . . . . . . . . . . 69
Cram Quiz Answers . . . . . . . . . . . . . . . . . . . . . . . . . . . . . . . 73
Domain Name Service (DNS) . . . . . . . . . . . . . . . . . . . . . . . . . . . . 74
The DNS Namespace . . . . . . . . . . . . . . . . . . . . . . . . . . . . . . 76
Types of DNS Entries. . . . . . . . . . . . . . . . . . . . . . . . . . . . . . 78
DNS Records . . . . . . . . . . . . . . . . . . . . . . . . . . . . . . . . . . . 78
CompTIA Network+ N10-005 Authorized Exam Cram
DNS in a Practical Implementation . . . . . . . . . . . . . . . . . . . . . 79
Cram Quiz Answers . . . . . . . . . . . . . . . . . . . . . . . . . . . . . . . 81
Simple Network Management Protocol (SNMP) . . . . . . . . . . . . . . . . 82
Components of SNMP . . . . . . . . . . . . . . . . . . . . . . . . . . . . . 83
SNMP Management Systems . . . . . . . . . . . . . . . . . . . . . . . . . 83
SNMP Agents . . . . . . . . . . . . . . . . . . . . . . . . . . . . . . . . . . . 84
Management Information Bases (MIBs) . . . . . . . . . . . . . . . . . . 85
SNMP Communities . . . . . . . . . . . . . . . . . . . . . . . . . . . . . . 85
SNMPv3 . . . . . . . . . . . . . . . . . . . . . . . . . . . . . . . . . . . . . . 86
Cram Quiz Answers . . . . . . . . . . . . . . . . . . . . . . . . . . . . . . . 87
Dynamic Host Configuration Protocol (DHCP) . . . . . . . . . . . . . . . . 88
The DHCP Process . . . . . . . . . . . . . . . . . . . . . . . . . . . . . . . 89
DHCP and DNS Suffixes . . . . . . . . . . . . . . . . . . . . . . . . . . . 90
Cram Quiz Answers . . . . . . . . . . . . . . . . . . . . . . . . . . . . . . . 91
What Next? . . . . . . . . . . . . . . . . . . . . . . . . . . . . . . . . . . . . . . . . 92
CHAPTER 3:
Addressing and Routing . . . . . . . . . . . . . . . . . . . . . . . . . . . . . . . . . . . 93
IP Addressing . . . . . . . . . . . . . . . . . . . . . . . . . . . . . . . . . . . . . . . 94
IPv4 . . . . . . . . . . . . . . . . . . . . . . . . . . . . . . . . . . . . . . . . . 95
IP Address Classes . . . . . . . . . . . . . . . . . . . . . . . . . . . . . . . . 95
Subnet Mask Assignment . . . . . . . . . . . . . . . . . . . . . . . . . . . . 96
Subnetting . . . . . . . . . . . . . . . . . . . . . . . . . . . . . . . . . . . . . 97
Identifying the Differences Between IPv4 Public and Private
Networks . . . . . . . . . . . . . . . . . . . . . . . . . . . . . . . . . . . . . 98
Classless Interdomain Routing (CIDR) . . . . . . . . . . . . . . . . . . 100
Default Gateways . . . . . . . . . . . . . . . . . . . . . . . . . . . . . . . . 100
IPv4 Address Types. . . . . . . . . . . . . . . . . . . . . . . . . . . . . . . 102
IPv6 Addressing . . . . . . . . . . . . . . . . . . . . . . . . . . . . . . . . . 102
Comparing IPv4 and IPv6 Addressing. . . . . . . . . . . . . . . . . . . 106
Assigning IP Addresses . . . . . . . . . . . . . . . . . . . . . . . . . . . . 107
Identifying MAC Addresses . . . . . . . . . . . . . . . . . . . . . . . . . 110
Network Address Translation (NAT) and Port Address
Translation (PAT) . . . . . . . . . . . . . . . . . . . . . . . . . . . . . . . 112
Cram Quiz Answers . . . . . . . . . . . . . . . . . . . . . . . . . . . . . . 116
Understanding TCP/UDP Port Functions . . . . . . . . . . . . . . . . . . . 117
Cram Quiz Answers . . . . . . . . . . . . . . . . . . . . . . . . . . . . . . 119
Managing TCP/IP Routing . . . . . . . . . . . . . . . . . . . . . . . . . . . . . 120
The Default Gateway . . . . . . . . . . . . . . . . . . . . . . . . . . . . . 120
Routing Tables. . . . . . . . . . . . . . . . . . . . . . . . . . . . . . . . . . 121
Static Routing . . . . . . . . . . . . . . . . . . . . . . . . . . . . . . . . . . 122
Dynamic Routing . . . . . . . . . . . . . . . . . . . . . . . . . . . . . . . . 123
Routing Metrics . . . . . . . . . . . . . . . . . . . . . . . . . . . . . . . . . 127
Cram Quiz Answers . . . . . . . . . . . . . . . . . . . . . . . . . . . . . . 128
Configuring Routers and Switches . . . . . . . . . . . . . . . . . . . . . . . . . 129
Power over Ethernet (PoE). . . . . . . . . . . . . . . . . . . . . . . . . . 129
The Spanning Tree Protocol (STP) . . . . . . . . . . . . . . . . . . . . 130
Trunking. . . . . . . . . . . . . . . . . . . . . . . . . . . . . . . . . . . . . . 131
Port Mirroring. . . . . . . . . . . . . . . . . . . . . . . . . . . . . . . . . . 132
Port Authentication. . . . . . . . . . . . . . . . . . . . . . . . . . . . . . . 132
Cram Quiz Answers . . . . . . . . . . . . . . . . . . . . . . . . . . . . . . 133
What Next? . . . . . . . . . . . . . . . . . . . . . . . . . . . . . . . . . . . . . . . 134
CHAPTER 4:
Components and Devices . . . . . . . . . . . . . . . . . . . . . . . . . . . . . . . . . 135
Common Network Devices . . . . . . . . . . . . . . . . . . . . . . . . . . . . . 136
Bridges. . . . . . . . . . . . . . . . . . . . . . . . . . . . . . . . . . . . . . . 136
DHCP Server . . . . . . . . . . . . . . . . . . . . . . . . . . . . . . . . . . 138
Firewalls . . . . . . . . . . . . . . . . . . . . . . . . . . . . . . . . . . . . . . 139
Hubs . . . . . . . . . . . . . . . . . . . . . . . . . . . . . . . . . . . . . . . . 140
Media Converters. . . . . . . . . . . . . . . . . . . . . . . . . . . . . . . . 141
Modems . . . . . . . . . . . . . . . . . . . . . . . . . . . . . . . . . . . . . . 142
Network Cards . . . . . . . . . . . . . . . . . . . . . . . . . . . . . . . . . 142
Routers. . . . . . . . . . . . . . . . . . . . . . . . . . . . . . . . . . . . . . . 145
Switches . . . . . . . . . . . . . . . . . . . . . . . . . . . . . . . . . . . . . . 146
Wireless Access Points. . . . . . . . . . . . . . . . . . . . . . . . . . . . . 149
Encryption Devices. . . . . . . . . . . . . . . . . . . . . . . . . . . . . . . 150
Cram Quiz Answers . . . . . . . . . . . . . . . . . . . . . . . . . . . . . . 152
Specialized Network Devices . . . . . . . . . . . . . . . . . . . . . . . . . . . . 153
Bandwidth Shaper. . . . . . . . . . . . . . . . . . . . . . . . . . . . . . . . 154
Content Filter . . . . . . . . . . . . . . . . . . . . . . . . . . . . . . . . . . 155
Load Balancer . . . . . . . . . . . . . . . . . . . . . . . . . . . . . . . . . . 155
Multilayer and Content Switches . . . . . . . . . . . . . . . . . . . . . . 155
Proxy Server . . . . . . . . . . . . . . . . . . . . . . . . . . . . . . . . . . . 156
VPN Concentrator . . . . . . . . . . . . . . . . . . . . . . . . . . . . . . . 158
Network Devices Summary . . . . . . . . . . . . . . . . . . . . . . . . . 159
Cram Quiz Answers . . . . . . . . . . . . . . . . . . . . . . . . . . . . . . 161
Virtual Network Components. . . . . . . . . . . . . . . . . . . . . . . . . . . . 162
Virtual Desktops. . . . . . . . . . . . . . . . . . . . . . . . . . . . . . . . . 162
Virtual Servers . . . . . . . . . . . . . . . . . . . . . . . . . . . . . . . . . . 163
Virtual Switches . . . . . . . . . . . . . . . . . . . . . . . . . . . . . . . . . 163
Virtual PBX. . . . . . . . . . . . . . . . . . . . . . . . . . . . . . . . . . . . 164
Onsite Versus Offsite. . . . . . . . . . . . . . . . . . . . . . . . . . . . . . 164
Network as a Service (NaaS) . . . . . . . . . . . . . . . . . . . . . . . . . 165
Cram Quiz Answers . . . . . . . . . . . . . . . . . . . . . . . . . . . . . . 166
What Next? . . . . . . . . . . . . . . . . . . . . . . . . . . . . . . . . . . . . . . . 166
CHAPTER 5:
Installation and Configuration. . . . . . . . . . . . . . . . . . . . . . . . . . . . . . . 167
Creating a SOHO Network . . . . . . . . . . . . . . . . . . . . . . . . . . . . . 168
Cram Quiz Answers . . . . . . . . . . . . . . . . . . . . . . . . . . . . . . 174
WAN Technologies. . . . . . . . . . . . . . . . . . . . . . . . . . . . . . . . . . . 175
Switching Methods . . . . . . . . . . . . . . . . . . . . . . . . . . . . . . . 175
Integrated Services Digital Network (ISDN) . . . . . . . . . . . . . . 178
T-carrier Lines. . . . . . . . . . . . . . . . . . . . . . . . . . . . . . . . . . 180
SONET/OCx Levels. . . . . . . . . . . . . . . . . . . . . . . . . . . . . . 182
X.25 and Frame Relay . . . . . . . . . . . . . . . . . . . . . . . . . . . . . 183
Asynchronous Transfer Mode (ATM) . . . . . . . . . . . . . . . . . . . 186
Summary of WAN Technologies . . . . . . . . . . . . . . . . . . . . . . 187
Cram Quiz Answers . . . . . . . . . . . . . . . . . . . . . . . . . . . . . . 189
Internet Access Technologies . . . . . . . . . . . . . . . . . . . . . . . . . . . . 191
DSL Internet Access . . . . . . . . . . . . . . . . . . . . . . . . . . . . . . 192
Cable Internet Access . . . . . . . . . . . . . . . . . . . . . . . . . . . . . 195
Broadband Security Considerations . . . . . . . . . . . . . . . . . . . . 197
POTS Internet Access . . . . . . . . . . . . . . . . . . . . . . . . . . . . . 198
The Public Switched Telephone Network (PSTN) . . . . . . . . . . 200
Satellite Internet Access . . . . . . . . . . . . . . . . . . . . . . . . . . . . 201
Wireless Internet Access . . . . . . . . . . . . . . . . . . . . . . . . . . . 202
Cellular . . . . . . . . . . . . . . . . . . . . . . . . . . . . . . . . . . . . . . 204
Cram Quiz Answers . . . . . . . . . . . . . . . . . . . . . . . . . . . . . . 206
What Next? . . . . . . . . . . . . . . . . . . . . . . . . . . . . . . . . . . . . . . . 207
CHAPTER 6:
Cabling and Wiring . . . . . . . . . . . . . . . . . . . . . . . . . . . . . . . . . . . . . . 209
General Media Considerations . . . . . . . . . . . . . . . . . . . . . . . . . . . 210
Broadband Versus Baseband Transmissions . . . . . . . . . . . . . . . 211
Simplex, Half Duplex, and Full Duplex Modes . . . . . . . . . . . . . 212
Media Interference . . . . . . . . . . . . . . . . . . . . . . . . . . . . . . . 212
Attenuation . . . . . . . . . . . . . . . . . . . . . . . . . . . . . . . . . . . . 213
Data Transmission Rates . . . . . . . . . . . . . . . . . . . . . . . . . . . 213
Types of Network Media . . . . . . . . . . . . . . . . . . . . . . . . . . . 214
Types of Media Connectors . . . . . . . . . . . . . . . . . . . . . . . . . 221
Media Converters. . . . . . . . . . . . . . . . . . . . . . . . . . . . . . . . 226
568A and 568B Wiring Standards . . . . . . . . . . . . . . . . . . . . . 227
Straight-Through Versus Crossover Cables . . . . . . . . . . . . . . . 228
Rollover and Loopback Cables . . . . . . . . . . . . . . . . . . . . . . . 230
Components of Wiring Distribution. . . . . . . . . . . . . . . . . . . . 231
Cram Quiz Answers . . . . . . . . . . . . . . . . . . . . . . . . . . . . . . 243
Comparing and Contrasting LAN Technologies . . . . . . . . . . . . . . . . 244
IEEE 802.2 Standard. . . . . . . . . . . . . . . . . . . . . . . . . . . . . . 245
802.3 Ethernet Standards . . . . . . . . . . . . . . . . . . . . . . . . . . . 249
Cram Quiz Answers . . . . . . . . . . . . . . . . . . . . . . . . . . . . . . 257
What Next? . . . . . . . . . . . . . . . . . . . . . . . . . . . . . . . . . . . . . . . 258
CHAPTER 7:
Wireless . . . . . . . . . . . . . . . . . . . . . . . . . . . . . . . . . . . . . . . . . . . . . 259
Understanding Wireless Basics . . . . . . . . . . . . . . . . . . . . . . . . . . . 260
Wireless Access Points (APs). . . . . . . . . . . . . . . . . . . . . . . . . 261
Wireless Antennas . . . . . . . . . . . . . . . . . . . . . . . . . . . . . . . 264
Wireless Radio Channels . . . . . . . . . . . . . . . . . . . . . . . . . . . 268
Data Rate Versus Throughput. . . . . . . . . . . . . . . . . . . . . . . . 271
Beacon Management Frame . . . . . . . . . . . . . . . . . . . . . . . . . 272
Spread-Spectrum Technology . . . . . . . . . . . . . . . . . . . . . . . . 273
Orthogonal Frequency Division Multiplexing. . . . . . . . . . . . . . 274
Infrared Wireless Networking. . . . . . . . . . . . . . . . . . . . . . . . 274
Establishing Communications Between Wireless Devices . . . . . . 275
Configuring the Wireless Connection. . . . . . . . . . . . . . . . . . . 278
Cram Quiz Answers . . . . . . . . . . . . . . . . . . . . . . . . . . . . . . 283
802.11 Wireless Standards . . . . . . . . . . . . . . . . . . . . . . . . . . . . . . 284
The Magic Behind 802.11n . . . . . . . . . . . . . . . . . . . . . . . . . 285
A Summary of 802.11 Wireless Standards . . . . . . . . . . . . . . . . 286
Cram Quiz Answers . . . . . . . . . . . . . . . . . . . . . . . . . . . . . . 288
Securing Wireless Networks. . . . . . . . . . . . . . . . . . . . . . . . . . . . . 289
Wired Equivalent Privacy (WEP) . . . . . . . . . . . . . . . . . . . . . 290
Wi-Fi Protected Access (WPA) . . . . . . . . . . . . . . . . . . . . . . . 292
WPA2 . . . . . . . . . . . . . . . . . . . . . . . . . . . . . . . . . . . . . . . 293
WPA Enterprise. . . . . . . . . . . . . . . . . . . . . . . . . . . . . . . . . 294
Cram Quiz Answers . . . . . . . . . . . . . . . . . . . . . . . . . . . . . . 296
Wireless Troubleshooting Checklist . . . . . . . . . . . . . . . . . . . . . . . . 298
Factors Affecting Wireless Signals . . . . . . . . . . . . . . . . . . . . . 300
Cram Quiz Answers . . . . . . . . . . . . . . . . . . . . . . . . . . . . . . 302
What Next? . . . . . . . . . . . . . . . . . . . . . . . . . . . . . . . . . . . . . . . 302
CHAPTER 8:
Network Management . . . . . . . . . . . . . . . . . . . . . . . . . . . . . . . . . . . . 303
Documentation Management . . . . . . . . . . . . . . . . . . . . . . . . . . . . 305
Wiring Schematics . . . . . . . . . . . . . . . . . . . . . . . . . . . . . . . 307
Physical and Logical Network Diagrams . . . . . . . . . . . . . . . . . 310
Baselines. . . . . . . . . . . . . . . . . . . . . . . . . . . . . . . . . . . . . . 313
Policies, Procedures, Configurations, and Regulations . . . . . . . . 314
Cram Quiz Answers . . . . . . . . . . . . . . . . . . . . . . . . . . . . . . 321
Monitoring Network Performance. . . . . . . . . . . . . . . . . . . . . . . . . 322
Common Reasons to Monitor Networks . . . . . . . . . . . . . . . . . 323
Packet Sniffers . . . . . . . . . . . . . . . . . . . . . . . . . . . . . . . . . . 324
Throughput Testing . . . . . . . . . . . . . . . . . . . . . . . . . . . . . . 325
Port Scanners . . . . . . . . . . . . . . . . . . . . . . . . . . . . . . . . . . 327
Network Performance, Load, and Stress Testing . . . . . . . . . . . . 329
Tracking Event Logs . . . . . . . . . . . . . . . . . . . . . . . . . . . . . . 331
Cram Quiz Answers . . . . . . . . . . . . . . . . . . . . . . . . . . . . . . 337
Networking Tools. . . . . . . . . . . . . . . . . . . . . . . . . . . . . . . . . . . . 338
Wire Crimpers, Strippers, and Snips. . . . . . . . . . . . . . . . . . . . 339
Voltage Event Recorder . . . . . . . . . . . . . . . . . . . . . . . . . . . . 340
Environmental Monitors . . . . . . . . . . . . . . . . . . . . . . . . . . . 341
Toner Probes . . . . . . . . . . . . . . . . . . . . . . . . . . . . . . . . . . . 342
Protocol Analyzer. . . . . . . . . . . . . . . . . . . . . . . . . . . . . . . . 343
Media/Cable Testers . . . . . . . . . . . . . . . . . . . . . . . . . . . . . . 344
TDR and OTDR . . . . . . . . . . . . . . . . . . . . . . . . . . . . . . . . 344
Multimeter . . . . . . . . . . . . . . . . . . . . . . . . . . . . . . . . . . . . 345
Network Qualification Tester . . . . . . . . . . . . . . . . . . . . . . . . 346
Butt Set . . . . . . . . . . . . . . . . . . . . . . . . . . . . . . . . . . . . . . 346
Wireless Detection . . . . . . . . . . . . . . . . . . . . . . . . . . . . . . . 347
Cram Quiz Answers . . . . . . . . . . . . . . . . . . . . . . . . . . . . . . 349
Working with Command-Line Utilities . . . . . . . . . . . . . . . . . . . . . 350
The Trace Route Utility (tracert/traceroute) . . . . . . . . . . . . . . 352
ping . . . . . . . . . . . . . . . . . . . . . . . . . . . . . . . . . . . . . . . . . 355
ARP. . . . . . . . . . . . . . . . . . . . . . . . . . . . . . . . . . . . . . . . . 360
The netstat Command. . . . . . . . . . . . . . . . . . . . . . . . . . . . . 363
nbtstat . . . . . . . . . . . . . . . . . . . . . . . . . . . . . . . . . . . . . . . 369
The ipconfig Command. . . . . . . . . . . . . . . . . . . . . . . . . . . . 370
ifconfig. . . . . . . . . . . . . . . . . . . . . . . . . . . . . . . . . . . . . . . 372
nslookup. . . . . . . . . . . . . . . . . . . . . . . . . . . . . . . . . . . . . . 373
dig. . . . . . . . . . . . . . . . . . . . . . . . . . . . . . . . . . . . . . . . . . 375
The host Command . . . . . . . . . . . . . . . . . . . . . . . . . . . . . . 376
The route Utility . . . . . . . . . . . . . . . . . . . . . . . . . . . . . . . . 376
Cram Quiz Answers . . . . . . . . . . . . . . . . . . . . . . . . . . . . . . 379
What Next? . . . . . . . . . . . . . . . . . . . . . . . . . . . . . . . . . . . . . . . 380
CHAPTER 9:
Network Optimization . . . . . . . . . . . . . . . . . . . . . . . . . . . . . . . . . . . . 381
Uptime and Fault Tolerance . . . . . . . . . . . . . . . . . . . . . . . . . . . . . 382
Types of Fault Tolerance . . . . . . . . . . . . . . . . . . . . . . . . . . . 384
Link Redundancy . . . . . . . . . . . . . . . . . . . . . . . . . . . . . . . . 392
Common Address Redundancy Protocol (CARP) . . . . . . . . . . . 393
Using Uninterruptible Power Supplies (UPSs) . . . . . . . . . . . . . 393
Cram Quiz Answers . . . . . . . . . . . . . . . . . . . . . . . . . . . . . . 396
Disaster Recovery. . . . . . . . . . . . . . . . . . . . . . . . . . . . . . . . . . . . 397
Full Backups . . . . . . . . . . . . . . . . . . . . . . . . . . . . . . . . . . . 398
Differential Backups . . . . . . . . . . . . . . . . . . . . . . . . . . . . . . 398
Incremental Backups . . . . . . . . . . . . . . . . . . . . . . . . . . . . . . 399
Tape Rotations. . . . . . . . . . . . . . . . . . . . . . . . . . . . . . . . . . 400
Backup Best Practices . . . . . . . . . . . . . . . . . . . . . . . . . . . . . 401
Hot and Cold Spares. . . . . . . . . . . . . . . . . . . . . . . . . . . . . . 401
Hot, Warm, and Cold Sites . . . . . . . . . . . . . . . . . . . . . . . . . 403
Cram Quiz Answers . . . . . . . . . . . . . . . . . . . . . . . . . . . . . . 406
Network Optimization Strategies. . . . . . . . . . . . . . . . . . . . . . . . . . 407
Quality of Service (QoS) . . . . . . . . . . . . . . . . . . . . . . . . . . . 407
Traffic Shaping. . . . . . . . . . . . . . . . . . . . . . . . . . . . . . . . . . 408
Caching Engines . . . . . . . . . . . . . . . . . . . . . . . . . . . . . . . . 409
Cram Quiz Answers . . . . . . . . . . . . . . . . . . . . . . . . . . . . . . 411
What Next? . . . . . . . . . . . . . . . . . . . . . . . . . . . . . . . . . . . . . . . 412
CHAPTER 10:
Network Security . . . . . . . . . . . . . . . . . . . . . . . . . . . . . . . . . . . . . . . 413
Tunneling, Encryption, and Access Control . . . . . . . . . . . . . . . . . . . 414
Internet Security Association and Key Management Protocol
(ISAKMP). . . . . . . . . . . . . . . . . . . . . . . . . . . . . . . . . . . . 415
Point-to-Point Tunneling Protocol (PPTP) . . . . . . . . . . . . . . . 415
Layer 2 Tunneling Protocol (L2TP). . . . . . . . . . . . . . . . . . . . 416
IPSec . . . . . . . . . . . . . . . . . . . . . . . . . . . . . . . . . . . . . . . . 417
Site-to-Site and Client-to-Site. . . . . . . . . . . . . . . . . . . . . . . . 418
Overview of Access Control . . . . . . . . . . . . . . . . . . . . . . . . . 418
Remote-Access Protocols and Services . . . . . . . . . . . . . . . . . . 421
Remote-Control Protocols . . . . . . . . . . . . . . . . . . . . . . . . . . 424
MAC Filtering . . . . . . . . . . . . . . . . . . . . . . . . . . . . . . . . . . 425
TCP/IP Filtering . . . . . . . . . . . . . . . . . . . . . . . . . . . . . . . . 426
Cram Quiz Answers . . . . . . . . . . . . . . . . . . . . . . . . . . . . . . 427
Authentication, Authorization, and Accounting (AAA) . . . . . . . . . . . . 429
Passwords and Password Policies . . . . . . . . . . . . . . . . . . . . . . 431
Kerberos Authentication . . . . . . . . . . . . . . . . . . . . . . . . . . . 433
Public Key Infrastructure . . . . . . . . . . . . . . . . . . . . . . . . . . . 436
RADIUS and TACACS+ . . . . . . . . . . . . . . . . . . . . . . . . . . . 439
Remote Authentication Protocols. . . . . . . . . . . . . . . . . . . . . . 440
Secured Versus Unsecured Protocols . . . . . . . . . . . . . . . . . . . 442
Adding Physical Security to the Mix . . . . . . . . . . . . . . . . . . . . 443
Two-factor and Multifactor Authentication . . . . . . . . . . . . . . . 445
Cram Quiz Answers . . . . . . . . . . . . . . . . . . . . . . . . . . . . . . 448
Managing Common Security Threats . . . . . . . . . . . . . . . . . . . . . . . 449
Viruses . . . . . . . . . . . . . . . . . . . . . . . . . . . . . . . . . . . . . . . 450
Worms and Trojan Horses . . . . . . . . . . . . . . . . . . . . . . . . . . 451
Denial of Service and Distributed Denial of Service Attacks . . . . 452
Other Common Attacks. . . . . . . . . . . . . . . . . . . . . . . . . . . . 454
An Ounce of Prevention . . . . . . . . . . . . . . . . . . . . . . . . . . . 456
Cram Quiz Answers . . . . . . . . . . . . . . . . . . . . . . . . . . . . . . 459
Firewalls and Other Appliances . . . . . . . . . . . . . . . . . . . . . . . . . . . 460
Stateful and Stateless Firewalls . . . . . . . . . . . . . . . . . . . . . . . 462
Packet-Filtering Firewalls. . . . . . . . . . . . . . . . . . . . . . . . . . . 463
Circuit-Level Firewalls . . . . . . . . . . . . . . . . . . . . . . . . . . . . 465
Application Layer Firewalls . . . . . . . . . . . . . . . . . . . . . . . . . 465
Comparing Firewall Types . . . . . . . . . . . . . . . . . . . . . . . . . . 465
Firewall Wrap-Up . . . . . . . . . . . . . . . . . . . . . . . . . . . . . . . 466
Demilitarized Zones (Perimeter Network) . . . . . . . . . . . . . . . . 466
Other Security Devices . . . . . . . . . . . . . . . . . . . . . . . . . . . . 467
Cram Quiz Answers . . . . . . . . . . . . . . . . . . . . . . . . . . . . . . 473
What Next? . . . . . . . . . . . . . . . . . . . . . . . . . . . . . . . . . . . . . . . 474
CHAPTER 11:
Network Troubleshooting . . . . . . . . . . . . . . . . . . . . . . . . . . . . . . . . . . 475
Troubleshooting Steps and Procedures . . . . . . . . . . . . . . . . . . . . . . 476
Identify the Problem . . . . . . . . . . . . . . . . . . . . . . . . . . . . . . 477
Establish a Theory of Probable Cause. . . . . . . . . . . . . . . . . . . 478
Test the Theory to Determine Cause . . . . . . . . . . . . . . . . . . . 479
Establish a Plan of Action. . . . . . . . . . . . . . . . . . . . . . . . . . . 479
Implement the Solution or Escalate . . . . . . . . . . . . . . . . . . . . 480
Verify Full System Functionality . . . . . . . . . . . . . . . . . . . . . . 481
Document the Findings, Actions, and Outcomes. . . . . . . . . . . . 482
Cram Quiz Answers . . . . . . . . . . . . . . . . . . . . . . . . . . . . . . 484
Troubleshooting the Network . . . . . . . . . . . . . . . . . . . . . . . . . . . . 485
Common Problems to Be Aware Of . . . . . . . . . . . . . . . . . . . . 485
Troubleshooting Wiring . . . . . . . . . . . . . . . . . . . . . . . . . . . 490
Wiring Issues. . . . . . . . . . . . . . . . . . . . . . . . . . . . . . . . . . . 492
Troubleshooting Infrastructure Hardware . . . . . . . . . . . . . . . . 496
Configuring and Troubleshooting Client Connectivity . . . . . . . . 498
Troubleshooting an Incorrect VLAN . . . . . . . . . . . . . . . . . . . 503
Topology Errors. . . . . . . . . . . . . . . . . . . . . . . . . . . . . . . . . 504
Cram Quiz Answers . . . . . . . . . . . . . . . . . . . . . . . . . . . . . . 510
What Next? . . . . . . . . . . . . . . . . . . . . . . . . . . . . . . . . . . . . . . . 511
Practice Exam 1 . . . . . . . . . . . . . . . . . . . . . . . . . . . . . . . . . . . . . . . . 513
Exam Questions . . . . . . . . . . . . . . . . . . . . . . . . . . . . . . . . . . . . . 513
Answers to Practice Exam 1. . . . . . . . . . . . . . . . . . . . . . . . . . . . . . . . 537
Answers at a Glance . . . . . . . . . . . . . . . . . . . . . . . . . . . . . . 537
Answers and Explanations . . . . . . . . . . . . . . . . . . . . . . . . . . . . . . 538
Practice Exam 2 . . . . . . . . . . . . . . . . . . . . . . . . . . . . . . . . . . . . . . . . 561
Exam Questions . . . . . . . . . . . . . . . . . . . . . . . . . . . . . . . . . . . . . 561
Answers to Practice Exam 2. . . . . . . . . . . . . . . . . . . . . . . . . . . . . . . . 585
Answers at a Glance . . . . . . . . . . . . . . . . . . . . . . . . . . . . . . 585
Answers and Explanations . . . . . . . . . . . . . . . . . . . . . . . . . . . . . . 586
Glossary . . . . . . . . . . . . . . . . . . . . . . . . . . . . . . . . . . . . . . . . . . . . . 607