Note: Supplemental materials are not guaranteed with Rental or Used book purchases.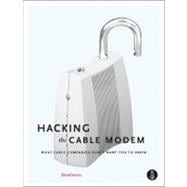 Hacking the Cable Modem
ISBN13:
9781593271015
by
DerEngel
Summary
When freed from restrictions set by service providers, cable modems can be tricked out to reach unbelievably fast speeds. An underground network of hackers has discovered ways to get around the imposed speed limit, and those secrets are shared in Hacking the Cable Modem. Readers learn how cable modems work, and how to bypass security, install firmware updates, customise cable modems, increase upload and download speeds, unlock hidden features and more. Detailed illustrations and straightforward terminology show how to modify actual devices.
Author Biography
Profiled by Security Focus, TechTV, and the Register, DerEngel has been hailed as "the underground Prometheus of super-broadband." He has written several programs to simplify and streamline the uncapping process since he started hacking into cable modems five years ago. He currently heads TCNiSO, a group of hackers who have revolutionized reverse engineering techniques and produce free hackware.
Table of Contents
Introduction
xix
My Origin
xix
Why a Book on Hacking Cable Modems?
xx
Why Should I Read This Book?
xx
Cable Modem Hacking Secrets Exposed
xxi
This Is the Only Book That Includes Everything!
xxi
How This Book Is Organized
xxi
Always Hack Responsibly
xxiv

| | |
| --- | --- |
| | A History of Cable Modem Hacking |

1
(14)
2
(1)
3
(1)

| | |
| --- | --- |
| | DOCSIS: The Cable Modem Standard |

4
(1)
4
(1)
5
(2)

| | |
| --- | --- |
| | TFTP Settings and Config Files |

6
(1)
6
(1)

| | |
| --- | --- |
| | How This Hack Could Have Been Prevented |

7
(1)

| | |
| --- | --- |
| | Cable Modem Hacking Begins |

7
(1)

| | |
| --- | --- |
| | Creating an Executable Hack |

7
(2)

| | |
| --- | --- |
| | Defeating the Message Integrity Check |

9
(1)

| | |
| --- | --- |
| | Fireball and Cable Modem Firmware |

9
(1)

| | |
| --- | --- |
| | How the Firmware Is Upgraded |

10
(1)
10
(1)

| | |
| --- | --- |
| | Controlling the Firmware with SIGMA |

11
(1)
11
(2)
12
(1)
13
(2)
15
(12)
16
(2)
16
(1)
17
(1)

| | |
| --- | --- |
| | Universal Serial Bus Port |

17
(1)
17
(1)
17
(1)
18
(1)
18
(1)
18
(1)
19
(8)
27
(8)
28
(1)
28
(1)
29
(1)

| | |
| --- | --- |
| | DSL vs. Cable Modem Service |

30
(1)

| | |
| --- | --- |
| | The Physical Network Layer |

30
(1)

| | |
| --- | --- |
| | Hybrid Fiber-Coax Networks |

31
(1)

| | |
| --- | --- |
| | Problems with Cable Modems |

31
(3)
32
(1)
32
(1)
33
(1)
34
(1)
35
(12)
36
(1)

| | |
| --- | --- |
| | About DOCSIS Certification |

37
(1)
37
(2)
39
(1)

| | |
| --- | --- |
| | The Basic DOCSIS Network Topology |

39
(3)

| | |
| --- | --- |
| | Data Link Transport Layer |

40
(1)
41
(1)

| | |
| --- | --- |
| | How Modems Register Online |

42
(1)
43
(2)
43
(1)
44
(1)
44
(1)
45
(1)
45
(1)
45
(2)
47
(8)
48
(1)
48
(1)
48
(1)
49
(1)
50
(5)
55
(8)

| | |
| --- | --- |
| | Overview of Hardware Components |

56
(1)
56
(1)
57
(1)
58
(1)
58
(1)
59
(1)
60
(1)
61
(2)
63
(10)

| | |
| --- | --- |
| | Restrictions on Technology |

64
(2)
64
(2)

| | |
| --- | --- |
| | Restrictions on Cable Modems |

66
(3)
67
(1)

| | |
| --- | --- |
| | Network Overhead and Bottlenecks |

68
(1)

| | |
| --- | --- |
| | Removing Port Restrictions |

69
(3)

| | |
| --- | --- |
| | Using the VxWorks Shell (Surfboard-Specific Solution) |

70
(1)

| | |
| --- | --- |
| | Using SNMP (Generic Solution) |

71
(1)
72
(1)
73
(8)

| | |
| --- | --- |
| | A History of Reverse Engineering |

74
(1)
74
(3)
74
(1)
75
(1)
75
(1)
75
(1)
76
(1)
77
(1)
77
(4)
78
(1)
79
(1)
79
(2)
81
(8)
82
(1)
82
(2)
84
(1)
84
(1)
85
(1)
86
(1)
87
(2)
89
(18)

| | |
| --- | --- |
| | Types of Buffer Overflow Attacks |

90
(1)

| | |
| --- | --- |
| | The Origin of Buffer Overflow Vulnerabilities |

90
(1)

| | |
| --- | --- |
| | Developing a Buffer Overflow Exploit |

90
(1)
91
(1)
92
(1)
92
(1)
93
(3)

| | |
| --- | --- |
| | A Quick Lesson About MIPS Assembly Language |

94
(2)

| | |
| --- | --- |
| | Disassembling the Firmware |

96
(3)
99
(1)
100
(1)
101
(2)
103
(4)
107
(8)
108
(1)
109
(2)
110
(1)
110
(1)
111
(1)
111
(1)
112
(1)
112
(1)
112
(1)
112
(1)
113
(1)
113
(2)
115
(10)

| | |
| --- | --- |
| | The Difference Between DOCSIS and EuroDOCSIS |

116
(1)

| | |
| --- | --- |
| | Changing a Surfboard Modem's Frequency Plan |

117
(6)

| | |
| --- | --- |
| | Using the VxWorks Console Shell |

117
(4)
121
(1)

| | |
| --- | --- |
| | Using the Surfboard Factory Mode |

122
(1)
123
(2)
125
(12)
125
(1)
126
(1)
126
(2)
126
(1)
127
(1)
127
(1)

| | |
| --- | --- |
| | Information Discovery Software |

128
(2)
128
(1)
129
(1)
129
(1)
129
(1)
130
(1)
130
(2)
131
(1)
131
(1)
132
(2)
132
(1)
133
(1)
133
(1)
133
(1)
133
(1)
134
(1)

| | |
| --- | --- |
| | The Interactive Disassembler |

134
(1)
134
(1)

| | |
| --- | --- |
| | Reverse Engineering Compiler |

135
(1)

| | |
| --- | --- |
| | Advantages of Firmware Hacking |

135
(2)
137
(8)

| | |
| --- | --- |
| | Using the Modem's Diagnostic HTTP Pages |

137
(1)

| | |
| --- | --- |
| | Using Ethereal to Find Configs |

138
(3)
138
(2)
140
(1)

| | |
| --- | --- |
| | The Ethereal User Interface |

141
(1)
141
(1)
142
(1)
143
(1)
143
(1)
143
(2)
143
(1)
144
(1)
145
(8)
146
(1)
146
(1)

| | |
| --- | --- |
| | Building a Blackcat Cable |

146
(3)
147
(1)
147
(1)
148
(1)
149
(1)
149
(2)
150
(1)

| | |
| --- | --- |
| | The Graphical User Interface |

150
(1)

| | |
| --- | --- |
| | How to Hack a Surfboard SB5100 |

151
(2)
153
(6)
154
(1)

| | |
| --- | --- |
| | Step 2: Retrieve the Config Files |

154
(1)

| | |
| --- | --- |
| | Step 3: Change Your Config File |

155
(1)

| | |
| --- | --- |
| | Step 4: Change Your IP Address |

155
(2)

| | |
| --- | --- |
| | Windows 2000 and Later Versions |

155
(1)
156
(1)

| | |
| --- | --- |
| | Step 5: Upload Your Own Config File |

157
(1)
157
(2)
159
(10)
159
(2)
160
(1)
160
(1)

| | |
| --- | --- |
| | How to Build a Console Port |

161
(7)
162
(1)
163
(1)

| | |
| --- | --- |
| | Step 3: Put the Pieces Together |

163
(1)

| | |
| --- | --- |
| | Step 4: Connect the RS-232 Cable |

164
(1)

| | |
| --- | --- |
| | Step 5: Connect the TTL Lines |

165
(1)

| | |
| --- | --- |
| | Step 6: Connect the Cable |

166
(1)

| | |
| --- | --- |
| | Step 7: Test Your Console Cable |

167
(1)

| | |
| --- | --- |
| | Limitations of a Console Port |

168
(1)
169
(14)
170
(3)

| | |
| --- | --- |
| | Method 1: Using a Config File |

170
(1)
171
(2)

| | |
| --- | --- |
| | Changing Firmware on SB4xxx Series Modems |

173
(9)
173
(1)
174
(1)
175
(1)
176
(4)

| | |
| --- | --- |
| | Accessing the Developers' Back Door |

180
(2)

| | |
| --- | --- |
| | Changing Firmware on SB5100 Series Modems |

182
(1)
183
(6)
184
(1)

| | |
| --- | --- |
| | Installing the Console Cable |

185
(1)
186
(1)

| | |
| --- | --- |
| | Permanently Enabling the Developer's Menu |

187
(1)

| | |
| --- | --- |
| | Changing the HFC MAC Address |

188
(1)
189
(8)

| | |
| --- | --- |
| | Installing a Console Cable |

189
(2)
191
(1)
192
(2)

| | |
| --- | --- |
| | Hacking the Web Interface |

194
(1)
195
(2)

| | |
| --- | --- |
| | The Surfboard Factory Mode |

197
(20)

| | |
| --- | --- |
| | About the Surfboard Factory Mode |

198
(1)
198
(3)

| | |
| --- | --- |
| | The Importance of Assembly Code |

198
(3)
201
(1)

| | |
| --- | --- |
| | Enabling Factory Mode in Sigma |

202
(1)
202
(1)

| | |
| --- | --- |
| | Changing the HFC MAC Address |

203
(1)

| | |
| --- | --- |
| | Changing the Serial Number |

203
(1)

| | |
| --- | --- |
| | The Factory MIB Look-up Table |

203
(3)
205
(1)
206
(1)

| | |
| --- | --- |
| | Hacking with the Surfboard Factory Mode |

206
(4)
206
(1)
206
(1)
207
(1)
208
(1)
209
(1)
210
(1)

| | |
| --- | --- |
| | Using Factory Mode to Change Firmware |

210
(5)

| | |
| --- | --- |
| | Writing a Function to Change Firmware |

210
(1)
211
(1)

| | |
| --- | --- |
| | The ChangeFirmware() Assembly Function |

211
(4)

| | |
| --- | --- |
| | Downgrading DOCSIS 1.1 Firmware |

215
(1)

| | |
| --- | --- |
| | Patching the Upgrade Procedure |

215
(1)

| | |
| --- | --- |
| | Obtaining Digitally Signed DOCSIS 1.0 Firmware |

216
(1)
216
(1)
216
(1)
217
(14)
217
(2)
218
(1)
218
(1)
219
(1)
219
(1)
219
(1)

| | |
| --- | --- |
| | Hacking the DMC-202 Using the Telnet Shell |

219
(8)
220
(6)

| | |
| --- | --- |
| | How to Change the MAC Address |

226
(1)

| | |
| --- | --- |
| | How to Change the Firmware |

226
(1)
227
(3)

| | |
| --- | --- |
| | How to Access the Production Menu |

228
(1)

| | |
| --- | --- |
| | How to Change the Hardware Parameters |

229
(1)
230
(1)
231
(14)

| | |
| --- | --- |
| | Securing the DOCSIS Network |

231
(1)

| | |
| --- | --- |
| | What Network Engineers Can Do |

232
(9)

| | |
| --- | --- |
| | Upgrade to DOCSIS 1.1/2.0 |

233
(1)

| | |
| --- | --- |
| | Disable Backward Compatibility |

233
(1)

| | |
| --- | --- |
| | Enable Baseline Privacy (BPI/BPI+) |

233
(1)

| | |
| --- | --- |
| | Create Custom CMTS Scripts |

234
(1)
234
(2)
236
(1)
236
(1)
237
(3)
240
(1)
241
(1)
241
(2)

| | |
| --- | --- |
| | Hackers Often Use Spare Modems |

241
(1)

| | |
| --- | --- |
| | Hackers Rarely Use Their Own MAC Addresses |

241
(1)

| | |
| --- | --- |
| | Hackers Often Use Common Exploits and Hacks |

242
(1)

| | |
| --- | --- |
| | When the Cable Company Finds Out |

242
(1)
243
(2)

| | |
| --- | --- |
| | A. FREQUENTLY ASKED QUESTIONS |

245
(12)
245
(7)

| | |
| --- | --- |
| | Do I need cable television in order to have cable Internet? |

246
(1)

| | |
| --- | --- |
| | How do I know if my service provider is DOCSIS or EuroDOCSIS? |

246
(1)

| | |
| --- | --- |
| | Which was the first cable modem to be hacked? |

246
(1)

| | |
| --- | --- |
| | My cable modem has both a USB and an Ethernet interface. Which one should I use? |

246
(1)

| | |
| --- | --- |
| | Is it possible to change the MAC address of a cable modem? |

247
(1)

| | |
| --- | --- |
| | Can two computers use one cable modem to access the Internet? |

247
(1)

| | |
| --- | --- |
| | Can two cable modems go online with the same MAC address? |

248
(1)

| | |
| --- | --- |
| | Which cable modems can be uncapped (or are hackable)? |

248
(1)

| | |
| --- | --- |
| | Should I uncap my cable modem because my service is slow? |

248
(1)

| | |
| --- | --- |
| | Is DOCSIS 2.0 faster than DOCSIS 1.1? |

248
(1)

| | |
| --- | --- |
| | What does the term ``uncapped'' mean? |

249
(1)

| | |
| --- | --- |
| | How can I change my modem's firmware? |

249
(1)

| | |
| --- | --- |
| | Where is my modem's diagnostic web page? |

249
(1)

| | |
| --- | --- |
| | How do I unblock port ....? |

250
(1)
250
(1)

| | |
| --- | --- |
| | Can I use a router with Sigma? |

250
(1)

| | |
| --- | --- |
| | Can I download the config file from a cable modem? |

251
(1)

| | |
| --- | --- |
| | If I am uncapped, how fast can I download or upload? |

251
(1)

| | |
| --- | --- |
| | Are there any good Internet cable modem resources? |

251
(1)
252
(1)

| | |
| --- | --- |
| | Motorola Surfboard-Specific Questions |

252
(5)

| | |
| --- | --- |
| | How many different Surfboard models exist? |

252
(1)

| | |
| --- | --- |
| | What are the differences between the SB4100 and the SB4101? |

253
(1)

| | |
| --- | --- |
| | What are the differences between the SB5100 and the SB5101? |

253
(1)

| | |
| --- | --- |
| | Can I install EuroDOCSIS firmware into a DOCSIS modem (or vice versa)? |

253
(1)

| | |
| --- | --- |
| | Are there any secret web pages in Surfboard modems? |

254
(1)

| | |
| --- | --- |
| | Can I change the Surfboard's default IP address, 192. 168. 100.1? |

254
(1)

| | |
| --- | --- |
| | Can I turn off the standby feature through the Ethernet port? |

254
(1)

| | |
| --- | --- |
| | Can I disable the DHCP server on a Surfboard modem? |

255
(1)

| | |
| --- | --- |
| | Can I remove the community string from my cable modem's SNMP server? |

255
(1)

| | |
| --- | --- |
| | Which Surfboard modems are compatible with DOCSIS 1.1? |

255
(2)
257
(12)
257
(2)
258
(1)

| | |
| --- | --- |
| | From Your Service Provider |

258
(1)
258
(1)

| | |
| --- | --- |
| | Unpacking a Firmware Image |

259
(3)

| | |
| --- | --- |
| | Uncompressing Firmware for SB3100, SB4100, and SB4200 Modems |

259
(2)

| | |
| --- | --- |
| | Uncompressing Firmware for the SB5100 Modem |

261
(1)

| | |
| --- | --- |
| | Extracting the Symbol File |

262
(2)

| | |
| --- | --- |
| | Writing a Program to Extract the Symbol File |

263
(1)
264
(3)

| | |
| --- | --- |
| | Setting Up the Interactive Disassembler |

265
(1)

| | |
| --- | --- |
| | Working with the Interactive Disassembler |

266
(1)

| | |
| --- | --- |
| | Using What You've Learned |

267
(2)
269
(8)

| | |
| --- | --- |
| | Setting Up the Platform Environment |

270
(1)

| | |
| --- | --- |
| | Emulating a Linux Environment |

270
(1)

| | |
| --- | --- |
| | Compiling the Cross-Compiler |

271
(1)

| | |
| --- | --- |
| | Compiling the GNU Compiler Collection (for MIPS) |

271
(1)

| | |
| --- | --- |
| | Compiling Your First Program |

272
(1)

| | |
| --- | --- |
| | Loading the Compiled Program into Your Cable Modem |

273
(1)
274
(3)
274
(1)
275
(2)
277
(4)
Index
281