Note: Supplemental materials are not guaranteed with Rental or Used book purchases.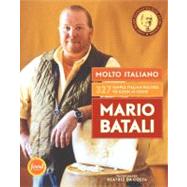 Molto Italiano: 327 Simple Italian Recipes For Cooking At Home
ISBN13:
9780060734923
by
Batali, Mario
HarperCollins Publications
Questions About This Book?
What version or edition is this?
This is the edition with a publication date of 6/1/2010.
What is included with this book?
The New copy of this book will include any supplemental materials advertised. Please check the title of the book to determine if it should include any CDs, lab manuals, study guides, etc.
Summary
"The trick to cooking is that there is no trick." Mario BataliThe only mandatory Italian cookbook for the home cook, Mario Batali's MOLTO ITALIANO is rich in local lore, with Batali's humorous and enthusiastic voice, familiar to those who have come to know him on his popular Food Network programs, larded through about 220 recipes of simple, healthy, seasonal Italian cooking for the American audience.Easy to use and simple to read, some of these recipes will be those "as seen" on TV in the eight years of "Molto Mario" programs on the Food Network, including those from "Mediterranean Mario," "Mario Eats Italy," and the allnew "Ciao America with Mario Batali." Batali's distinctive voice will provide a historical and cultural perspective with a humorous bent to demystify even the more elaborate dishes as well as showing ways to shorten or simplify everything from the purchasing of good ingredients to preproduction and countdown schedules of holiday meals. Informative head notes will include bits about the provenance of the recipes and the odd historical fact.Mario Batali's MOLTO ITALIANO will feature ten soups, thirty antipasti (many vegetarian or vegetable based), forty pasta dishes representing many of the twentyone regions of Italy, twenty fish and shellfish dishes, twenty chicken dishes, twenty pork or lamb dishes and twenty side dishes, each of which can be served as a light meal. Add twenty desserts and a foundation of basic formation recipes and this book will be the only Italian cooking book needed in the home cook's library.
Author Biography
Mario Batali divides his time among his many Italian hotspots, the flagship of which is Babbo Ristorante e Enoteca
Table of Contents
Acknowledgments
p. 2
Introduction
p. 4
Adventures in Italian Wine
p. 7
Antipasto
p. 12
Soup, Rice & Polenta
p. 118
Pasta
p. 160
Fish
p. 252
Fowl
p. 306
Meat
p. 348
Vegetables
p. 408
Dolci
p. 448
Glossary
p. 497
Essential Equipment
p. 502
Sources
p. 504
Index
p. 506
Table of Contents provided by Ingram. All Rights Reserved.
Excerpts
Molto Italiano
327 Simple Italian Recipes to Cook at Home
Lasagne
Lasagne alla Bolognese al Forno
When I first arrived in Emilia-Romagna, I was shocked to see lasagne made so simply. Then I tried the dish and was surprised at how truly delicious it tasted. It is almost a miracle how a few such simple ingredients can create such a complex symphony of flavors.
Makes 8 servings
2 1/2 pounds Green Pasta Dough (page 196)
2 tablespoons extra-virgin olive oil
Ragu Bolognese (page 245)
8 ounces Parmigiano-Reggiano, grated
3 1/2 cups Besciamella (page 65)
Divide the pasta dough into 8 portions. Roll each one out through the thinnest setting on a pasta machine and lay the sheets on a lightly floured surface to dry for 10 minutes. Cut the pasta into 5-inch squares and cover with a damp kitchen towel.
Bring 6 quarts of water to a boil in a large pot, and add 2 tablespoons salt. Set up an ice bath next to the stovetop, and add the oil. Drop the pasta into the boiling water, 6 or 7 pieces at a time, and cook until tender, about 1 minute. Transfer to the ice bath to cool, then drain on kitchen towels, laying the pasta flat.
Preheat the oven to 375°F.
Assemble the lasagne in a 10-by-20-inch lasagne pan (or use two 9-by-12-inch pans): Spread a layer of ragu over the bottom and top with a sprinkling of Parmigiano, a layer of pasta, a layer of besciamella, another layer of ragu, a sprinkling of Parmigiano, and pasta. Repeat until all the ingredients are used up, finishing with a layer of pasta topped with besciamella and a sprinkling of Parmigiano.
Bake for 45 minutes, or until the edges are browned and the sauces are bubbling. Let stand for 10 minutes before serving.
---
Calamari Neapolitan-Style
Calamari alla Luciana
This simple classic is often interpreted to include anything from bacon to zucchini, all of which may be good but are not traditional. The hero in this game is the brief cooking time, which results in calamari with a silken, tender texture, complemented but not overpowered by the slightly spicy tomato sauce.
Makes 6 servings
1/2 cup extra-virgin olive oil
4 cloves garlic, thinly sliced
1 tablespoon hot red pepper flakes
1 cup Basic Tomato Sauce (page 71)
1/2 cup dry white wine
2 1/2 pounds calamari, cleaned, bodies cut into 1/4-inch-wide rings, tentacles left whole
1 tablespoon red wine vinegar
1/4 cup Italian parsley, chiffonade
Salt
In a 6-quart pot, combine 1/4 cup of the olive oil, the garlic, and red pepper flakes and cook over medium heat until the garlic is light golden brown, about 2 minutes. Add the tomato sauce and wine and bring to a boil.
Add the calamari and stir to mix well, then reduce the heat and simmer until tender, 2 to 3 minutes. Stir in the vinegar, parsley, and the remaining 1/4 cup olive oil, adjust the seasoning if necessary, and serve, or allow to cool and serve at room temperature.
---
Chicken in the Style of Canzano
Pollo Canzanese
This Canzanese recipe is anything but a peasant dish, with the prosciutto and wine -- it probably descended from Spanish royalty, long-time tenants in and around Napoli.
Makes 4 servings
Two 3-pound chickens, cut into 8 serving pieces each
1 tablespoon salt
2 sprigs rosemary
2 fresh sage leaves
4 bay leaves
3 cloves garlic, sliced
12 cloves
A small handful of black peppercorns, crushed
1 small dried hot chile
Two 1/4-inch-thick slices prosciutto di Parma, finely chopped
3/4 cup dry red wine
2 tablespoons finely chopped Italian parsley
Place the chicken in a large bowl and season with the salt. Add cold water to cover, and set aside for 30 minutes (see Brining, page 376).
Drain the chicken, rinse, and pat dry with paper towels. Place in a large Dutch oven and add the rosemary, sage, bay leaves, garlic, cloves, peppercorns, chile, prosciutto, and wine. Cover, bring to a simmer, and cook, stirring occasionally, until the chicken is almost tender, about 35 minutes.
Remove the lid and simmer to reduce the sauce by half, about 15 minutes longer. Remove the chile, if desired.
Transfer the chicken to a warmed serving platter, garnish with the parsley, and serve.
Molto Italiano
327 Simple Italian Recipes to Cook at Home
. Copyright © by Mario Batali. Reprinted by permission of HarperCollins Publishers, Inc. All rights reserved. Available now wherever books are sold.
---

Excerpted from Molto Italiano: 327 Simple Italian Recipes to Cook at Home by Mario Batali
All rights reserved by the original copyright owners. Excerpts are provided for display purposes only and may not be reproduced, reprinted or distributed without the written permission of the publisher.