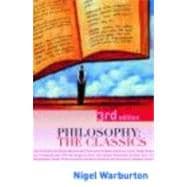 List Price: $27.95
Usually Ships in 3-5 Business Days
Questions About This Book?
What version or edition is this?
This is the 3rd edition with a publication date of 7/7/2006.
What is included with this book?
The New copy of this book will include any supplemental materials advertised. Please check the title of the book to determine if it should include any CDs, lab manuals, study guides, etc.
Summary
In his exemplary clear style, Warburton introduces and assesses twenty-seven philosophical classics from Plato's Republicto Rawls' A Theory of Justice. For the third edition there is new text design and revised further reading make this the ideal book for all students, while three new chapters on Nietzsche's Beyond Good and Evil, Russell's The Problems of Philosophyand Sartre's Existentialism and Humanismmean that all the A Level set texts are covered. This brisk and invigorating tour through the great books of western philosophy explores the works of Plato, Aristotle, Boethius, Machiavelli, Descartes, Hobbes, Spinoza, Locke, Hume, Rousseau, Kant, Schopenhauer, Mill, Kierkegaard, Marx and Engels, Nietzsche, Russell, Ayer, Sartre, Wittgenstein, and Rawls. Offering twenty-seven guidebooks for the price of one, this is the most comprehensive introduction to philosophers and their texts currently available.
Table of Contents
Acknowledgements
xvii
Introduction
1
(92)
5
(14)
5
(1)
6
(1)
7
(1)
7
(1)
8
(1)

| | |
| --- | --- |
| | Rulers, Auxiliaries and Workers |

8
(1)
9
(1)
10
(1)

| | |
| --- | --- |
| | The just state and the just individual |

10
(1)

| | |
| --- | --- |
| | The three parts of the soul |

11
(1)
12
(1)
12
(1)
13
(1)
14
(1)

| | |
| --- | --- |
| | Criticisms of The Republic |

15
(2)
17
(1)
17
(1)
18
(1)
19
(12)
20
(2)

| | |
| --- | --- |
| | The function of a human being |

22
(1)
22
(1)
23
(1)
24
(1)

| | |
| --- | --- |
| | Akrasia: weakness of will |

25
(1)
26
(1)

| | |
| --- | --- |
| | Criticisms of the Nicomachean Ethics |

26
(3)
29
(1)
29
(1)
30
(1)

| | |
| --- | --- |
| | The Consolation of Philosophy |

31
(6)
32
(1)
32
(1)
33
(1)
33
(2)

| | |
| --- | --- |
| | Criticism of The Consolation of Philosophy |

35
(1)
36
(1)
36
(1)
36
(1)
37
(8)
38
(1)
39
(1)

| | |
| --- | --- |
| | Cesare Borgia versus Agathocles |

40
(1)

| | |
| --- | --- |
| | Interpretations of The Prince |

40
(2)
42
(1)
43
(1)
43
(1)
44
(1)
45
(13)
46
(1)

| | |
| --- | --- |
| | The evidence of the senses |

46
(1)
47
(1)
48
(1)
49
(1)
49
(1)
50
(1)
51
(1)

| | |
| --- | --- |
| | Criticisms of Meditations |

52
(3)
55
(1)
55
(1)
56
(2)
58
(10)
59
(2)
61
(1)
61
(1)
62
(1)
63
(2)
65
(1)
66
(1)
67
(1)
68
(6)
69
(1)
69
(1)
70
(1)

| | |
| --- | --- |
| | Freedom and human bondage |

70
(1)
71
(1)
72
(1)
73
(1)
73
(1)
73
(1)

| | |
| --- | --- |
| | An Essay Concerning Human Understanding |

74
(11)
75
(1)
76
(1)

| | |
| --- | --- |
| | Primary and secondary qualities |

77
(1)
78
(2)
80
(1)

| | |
| --- | --- |
| | Criticisms of An Essay Concerning Human Understanding |

81
(2)
83
(1)
83
(1)
84
(1)

| | |
| --- | --- |
| | Second Treatise of Government |

85
(8)

| | |
| --- | --- |
| | First and Second Treatises |

86
(1)

| | |
| --- | --- |
| | The state of nature and laws of nature |

86
(1)
87
(1)
88
(1)
89
(1)
90
(1)

| | |
| --- | --- |
| | Criticisms of Second Treatise of Government |

90
(1)
91
(1)
92
(1)
92
(1)
10 David Hume

| | |
| --- | --- |
| | An Enquiry Concerning Human Understanding |

93
(10)
94
(1)
95
(1)
96
(1)
97
(2)
99
(1)
100
(1)

| | |
| --- | --- |
| | Criticisms of An Enquiry Concerning Human Understanding |

100
(1)
101
(1)
101
(1)
102
(1)
11 David Hume

| | |
| --- | --- |
| | Dialogues Concerning Natural Religion |

103
(9)
104
(1)
104
(1)

| | |
| --- | --- |
| | Criticisms of the Design Argument |

105
(3)
108
(1)
109
(1)
110
(1)
110
(1)
111
(1)
12 Jean-Jacques Rousseau
112
(7)
113
(1)
113
(1)
114
(1)
114
(1)
115
(1)

| | |
| --- | --- |
| | Three types of government |

115
(2)

| | |
| --- | --- |
| | Criticisms of The Social Contract |

117
(1)
117
(1)
118
(1)
118
(1)
13 Immanuel Kant
119
(7)
120
(1)

| | |
| --- | --- |
| | Appearances and the thing-in-itself |

121
(1)
122
(1)
122
(1)

| | |
| --- | --- |
| | The transcendental deduction |

123
(1)

| | |
| --- | --- |
| | Criticism of the Critique of Pure Reason |

123
(1)
124
(1)
124
(1)
125
(1)
14 Immanuel Kant

| | |
| --- | --- |
| | Groundwork of the Metaphysic of Morals |

126
(8)
126
(1)
127
(1)
128
(1)

| | |
| --- | --- |
| | The categorical imperative |

128
(2)
130
(1)

| | |
| --- | --- |
| | Criticisms of The Groundwork of the Metaphysic of Morals |

130
(2)
132
(1)
132
(1)
133
(1)
15 Arthur Schopenhauer

| | |
| --- | --- |
| | The World as Will and Idea |

134
(8)
134
(1)
135
(1)
136
(1)
137
(1)
137
(1)
138
(1)

| | |
| --- | --- |
| | Criticisms of The World as Will and Idea |

139
(1)
139
(1)
140
(1)
140
(2)
16 John Stuart Mill
142
(11)
143
(1)
143
(2)
145
(2)
147
(3)
150
(1)
151
(1)
151
(2)
17 John Stuart Mill
153
(7)
153
(1)

| | |
| --- | --- |
| | Mill on higher and lower pleasures |

154
(1)

| | |
| --- | --- |
| | The 'proof of utilitarianism |

155
(1)

| | |
| --- | --- |
| | Criticisms of Utilitarianism |

156
(2)
158
(1)
158
(1)
159
(1)
18 Søren Vierkegaard
160
(8)
160
(1)
161
(1)

| | |
| --- | --- |
| | The aesthetic approach to life |

161
(1)
162
(1)
162
(1)

| | |
| --- | --- |
| | The ethical approach to life |

163
(1)
164
(2)
166
(1)
167
(1)
167
(1)
167
(1)
19 Karl Marx and Friedrich Engels

| | |
| --- | --- |
| | The German Ideology, Part One |

168
(7)
169
(1)
170
(1)
170
(1)
171
(1)

| | |
| --- | --- |
| | Criticisms of The German Ideology |

171
(2)
173
(1)
174
(1)
174
(1)
20 Friedrich Nietzsche
175
(7)
176
(1)
177
(1)

| | |
| --- | --- |
| | On the prejudices of philosophers |

177
(1)
178
(1)
178
(1)
179
(1)

| | |
| --- | --- |
| | Criticisms of Beyond Good and Evil |

179
(2)
181
(1)
181
(1)
181
(1)
21 Friedrich Nietzsche

| | |
| --- | --- |
| | On the Genealogy of Morality |

182
(8)
183
(1)

| | |
| --- | --- |
| | First essay: 'good and evil' and 'good and bad' |

183
(1)
184
(1)
185
(1)
186
(1)

| | |
| --- | --- |
| | Criticisms of On the Genealogy of Morality |

187
(2)
189
(1)
189
(1)
189
(1)
22 Bertrand Russell

| | |
| --- | --- |
| | The Problems of Philosophy |

190
(8)
191
(1)
191
(1)
192
(1)

| | |
| --- | --- |
| | Knowledge by acquaintance and by description |

193
(1)
194
(1)
195
(1)

| | |
| --- | --- |
| | Criticisms of The Problems of Philosophy |

195
(1)
196
(1)
196
(1)
197
(1)
23 A.J. Ayer

| | |
| --- | --- |
| | Language, Truth and Logic |

198
(12)

| | |
| --- | --- |
| | The Verification Principle |

199
(2)

| | |
| --- | --- |
| | Strong and weak senses of 'verifiability' |

201
(1)
202
(1)
202
(1)
203
(1)
204
(1)
204
(2)
206
(1)

| | |
| --- | --- |
| | Criticisms of Language, Truth and Logic |

206
(2)
208
(1)
208
(1)
209
(1)
24 Jean-Paul Sartre
210
(12)

| | |
| --- | --- |
| | Phenomenological approach |

211
(1)
211
(1)
211
(1)
212
(1)
213
(2)
215
(1)
216
(1)
217
(1)

| | |
| --- | --- |
| | Existential psychoanalysis |

218
(1)

| | |
| --- | --- |
| | Criticisms of Being and Nothingness |

218
(1)
219
(1)
219
(1)
220
(2)
25 Jean-Paul Sartre

| | |
| --- | --- |
| | Existentialism and Humanism |

222
(10)
222
(1)
222
(1)
223
(1)
224
(1)
225
(1)
225
(1)
226
(2)

| | |
| --- | --- |
| | Criticisms of Existentialism and Humanism |

228
(2)
230
(1)
230
(1)
230
(2)
26 Ludwig Wittgenstein

| | |
| --- | --- |
| | Philosophical Investigations |

232
(9)

| | |
| --- | --- |
| | Relation to Tractatus Logico-Philosophicus |

232
(1)
233
(1)
233
(2)
235
(1)

| | |
| --- | --- |
| | The Private Language Argument |

235
(3)
238
(1)

| | |
| --- | --- |
| | Criticisms of Philosophical Investigations |

238
(1)
239
(1)
240
(1)
240
(1)
27 John Rawls
241
(8)
241
(1)
242
(1)

| | |
| --- | --- |
| | The fair equality of opportunity principle and the difference principle |

243
(1)

| | |
| --- | --- |
| | Criticisms of A Theory of Justice |

244
(2)
246
(1)
247
(1)
247
(2)
Index (including key concepts)
249