Note: Supplemental materials are not guaranteed with Rental or Used book purchases.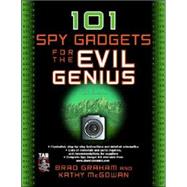 Summary
This build it now, learn as you go book offers an amazingly awesome and complete collection of professional spy tools that you can create yourself for $30 or less! Even total beginners to electronics can construct these mind-boggling snooping tools-and have lots of fun in the process.
Author Biography
Brad Graham
is an inventor, robotics hobbyist, and founder and host of the atomiczombie.com Web site, which receives approximately 2,500 hits a week. He is the co-author of
Atomic Zombie's Bicycle Builder's Bonanza
(McGraw-Hill, 10/03) and
Build Your Own All-Terrain Robot
(M-H, 4/04). Mr. Graham is a computer and network professional, specializing in computer network setup and maintenance, custom programming, data storage and recovery, and security services.
Kathy McGowan provides logistical and marketing support for robotics, bicycle, computer, and publishing projects through Freedom 2000. Ms. McGowan is the co-author of both Mr. Graham's books.
Table of Contents
1. Section 1 Introduction Part 001 About this book Part 002 The truth is out there 2. Section 2 Audio Eavesdropping and Recording Project 001 Micro recorder hacking Project 002 The ultra high gain microphone preamp Project 003 The shot gun microphone Project 004 The parabolic dish microphone Project 005 Working with audio on your computer Project 006 Filtering out background noises Project 007 Wiring your body for recording audio 3. Section 3 Hard Wired Telephone Devices Project 008 Recording telephone conversations Project 109 Automatic call recording to tape Project 010 Computer call logger with time stamp Project 011 Touch tone (DTMF) decoder circuit Project 012 - Telephone Voice scrambler Project 013 Using digital effects to disguise your voice Project 014 Simple digital voice disguiser circuit Project 015 The ultimate telephone voice gender changer Project 016 Let your computer do the talking Project 017 The infinite range telephone transmitter 4. Section 4 Digital Camera Hacking Project 018 Computer enhancement of digital photos Project 019 Hacking the digital cameras trigger Project 020 Covert briefcase digital camera Project 021 Time lapse photo and wakeup timer Project 022 Motion sensing digital camera trigger Project 023 Digital camera gun sight Project 024 Ultra long range digital photography 5. Section 5 Video Cameras and Recording Project 025 Video signal and camera basics Project 026 Recording video signals to tape Project 027 Hack a VCR for time lapse recording Project 028 Motion controlled auto record timer Project 029 Multiple camera auto switcher Project 030 Working with video on a computer Project 031 Time lapse frame capture to computer 6. Section 6 Covert and Hidden Spy Cameras Project 032 Working with micro video cameras Project 033 Nanny cam with VCR timer Project 034 Light triggered fire detector cam Project 035 Covert watch cam with mini VTR Project 036 Video recording binoculars Project 037 Ultra long range telescope cam Project 038 Under water camera 7. Section 7 Video Camera Pan, and Tilt Control Project 039 Hobby servo pan tilt camera base Project 040 - Remote controlled servo base Project 041 Manual controlled servo base Project 042 Computer controlled servo base Project 043 The eye in the sky camera 8. Section 8 Night Vision Devices Project 044 Low LUX cameras Project 045 Infrared, the invisible light! Project 046 LED night vision illuminator Project 047 Pulsed LEDS for higher output Project 048 High power filtered night vision illuminators Project 049 Infrared laser illuminator Project 050 Long range laser illuminator Project 051 Night vision head gear 9. Section 9 - Audio Transmitters Project 052 Hacked baby monitor bug Project 053 FRS radio long range bug Project 054 Simple FM room bug Project 055 Ultra sensitive room bug Project 056 Micro stealth transmitter Project 057 Telephone line transmitter Project 058 Invisible light transmitter 10. Section 10 Video Transmitters Project 059 Hacking the basic video sender Project 060 Simple TV transmitter Project 061 TV transmitter with audio Project 062 Using micro spy transmitters Project 063 The book that reads you Project 064 Wall wart video bug Project 065 Covert hat cam Project 066 Kamikaze cam Project 067 Better range 11. Section 11 Computer monitoring Project 068 Where have you been today? Project 069 Resurrecting deleted data Project 070 Installing a software key logger Project 071 Build a high tech hardware key logger Project 072 Computer screen transmitter 12. Section 12 RF Scanners Project 073 Scanning the neighborhood Project 074 Scanner auto recording switch Project 075 Scanner to computer interface Project 076 Better reception 13. Section 13 Protection and Countermeasures Project 077 Bug sweeping Project 078 Intruder sentinel Project 079 White noise generator Project 080 Infrared device jammer Project 081 Spy camera killer Project 082 Shocking device Project 083 Ultra small shocking device Project 084 Motion activated shocker 14. Section 14 Laser spy gadgets Project 085 Lasernoculars Project 086 Laser beam transmitter Project 087 Laser beam receiver Project 088 Laser microphone experiment Project 089 Laser perimeter alarm Project 090 Long range remote control hijacker 15. Section 15 - Build a mini remote control spy robot Project 091 Hacking a remote control toy base Project 092 Creating the weatherproof shell Project 093 Adding a pan tilt servo base Project 094 Connecting the video camera and transmitter Project 095 Night vision LED array Project 096 High gain microphone pre amp Project 097 DTMF function control Project 098 Relay control board Project 099 Payload delivery system Project 100 Portable base station Project 101 Spy robot operation 15. Internet Sources