Note: Supplemental materials are not guaranteed with Rental or Used book purchases.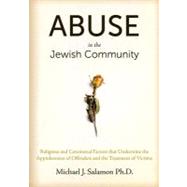 Abuse in the Jewish Community : Religious and Communal Factors That Undermine the Apprehension of Offenders and the Treatment of Victims
ISBN13:
9789655240641
by
Salamon, Michael J., Ph.D.
Summary
Michael J. Salamon, Ph.D.' s book is so important in that it actually sheds light on this issue and identifies how and why abuse in the Jewish community is less reported and less known than that in the Catholic Church or within other religious groups. -- Robin Sax, author of It Happens Every Day; Dr. Michael Salamon raises some very important questions about the role of spiritual leaders giving guidance on matters of abuse in the Jewish community. One need not agree with Dr. Salamon on every case he cites to recognize that the issues he addresses must be confronted by the Jewish community and its leadership. -- Rabbi Hershel Billet
Table of Contents
Preface
p. 7
Acknowledgements
p. 13
An Introduction
p. 17
Defining Abuse
p. 24
Abuse: A Definition
p. 25
Grooming Behaviors and Depersonalization
p. 30
The Impact of Abuse
p. 33
Jewish Law
p. 42
Chillul Hashem
p. 49
Mesirah
p. 51
Lashon Hora
p. 55
Cultural Issues
p. 58
Survivorship
p. 59
Daat Torah
p. 64
Conflicted Therapy, Conflicted Therapists
p. 75
A Need for Therapy
p. 76
Mixed Allegiance
p. 78
Clients and Religion
p. 83
The Consultation Room
p. 91
A Learning Experience
p. 92
Rabbinics in Therapy
p. 97
Backlash
p. 106
Going Forward
p. 111
Addendum
p. 119
Abuse Prevention and Treatment Resources
p. 119
Glossary
p. 122
References
p. 125
Table of Contents provided by Ingram. All Rights Reserved.