Note: Supplemental materials are not guaranteed with Rental or Used book purchases.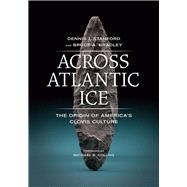 Summary
Who were the first humans to inhabit North America? According to the now familiar story, mammal hunters entered the continent some 12,000 years ago via a land bridge that spanned the Bering Sea. The presence of these early New World people was established by distinctive stone tools belonging to the Clovis culture. But are the Clovis tools Asian in origin? Drawing from original archaeological analysis, paleoclimatic research, and genetic studies, noted archaeologists Dennis J. Stanford and Bruce A. Bradley challenge the old narrative and, in the process, counter traditional--and often subjective--approaches to archaeological testing for historical relatedness. Instead, Stanford and Bradley apply rigorous scholarship to a hypothesis that places the technological antecedents of Clovis in Europe, and posits that the first Americans crossed the Atlantic by boat and arrived earlier than previously thought. Bringing archaeological and oceanographic evidence to support this assertion, the book dismantles the old paradigm while persuasively linking Clovis technology with the culture of Solutrean people who occupied France and Spain more than 20,000 years ago.
Table of Contents
List of Illustrations and Tables
p. vii
Prehistoric Time Line
p. xi
Foreword
p. xiii
Introduction: The First Americans?
p. 1
Pleolithic Peoples
Flaked Stone Technology: A Prime
p. 19
Clovis: The First American Settlers?
p. 37
Beringia: Out of Asia on Foo't
p. 67
Challenging the Clovis First Model: The Missing Links
p. 89
The Solutrean: Ice Age Innovators
p. 116
The Solutrean Hypothesis
Quantitative Culture Comparison
p. 149
Qualitative Culture Comparison
p. 162
The Solutrean Maritime Adaptation
p. 186
The Last Glacial Maximum: How Bad Was the Weather?
p. 204
Living on the Ice Edge: Ethnographic Analogies
p. 221
Conclusion
p. 239
Acknowledgments
p. 251
Appendix: Cluster Analysis
p. 253
Notes
p. 259
References
p. 279
Index
p. 301
Table of Contents provided by Ingram. All Rights Reserved.