Note: Supplemental materials are not guaranteed with Rental or Used book purchases.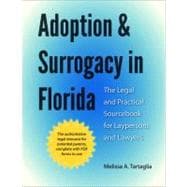 Adoption & Surrogacy in Florida: The Legal and Practical Sourcebook for Laypersons and Lawyers
by
Tartaglia, Melissa A.
Summary
The authoritative legal resource for potential parents, complete with PDF forms to use "A concise, thorough, and detailed guide to adoption law and practice that is as equally useful to the novice as it is to the seasoned professional."-Jodi Sue Rutstein, M.S.W., Esq. More than 5,000 public and private adoptions were finalized in Florida during 2009. Based on recent trends, this number is expected to increase annually, despite the sometimes confusing legal procedures that often impede successful completion of the adoption process for families. Melissa Tartaglia, whose legal practice focuses on adoption and surrogacy, has been giving seminars on the adoption and surrogacy process for years. In this easy-to-use sourcebook, she presents the pros and cons of the wide range of adoption choices available in Florida, along with invaluable step-by-step tips on completing appropriate legal paperwork. Specific real-world examples and scenarios are explored to help explain the procedures and how best to approach potential pitfalls. Suitable for laypersons considering adoption and lawyers who need a quick, single-source reference, Adoption and Surrogacy in Floridais the most complete and accessible guide to navigating the state's sometimes unintuitive adoption and surrogacy legal requirements. It encompasses adoption and surrogacy processes from beginning to end: finding a child or gestational surrogate; drafting an enforceable contract; obtaining a home-study; locating the right physicians; satisfying legal requirements; and bringing an action for adoption or determination of parental status. Providing information on dozens of invaluable resources, an explanation of applicable statutes and procedures in layman's terms, checklists, a CD containing downloadable legal forms, and detailed instructions, Adoption and Surrogacy in Floridais a must-own volume for any Floridians who want to start or expand their families through adoption or surrogacy-in some cases without engaging an agency or attorney. Attorney Melissa A. Tartagliais the president of Tartaglia Law Group, a Florida firm that focuses on adoption, surrogacy, temporary guardianship, dependency, and custody issues.