Note: Supplemental materials are not guaranteed with Rental or Used book purchases.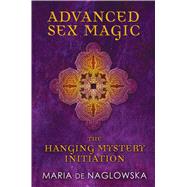 Summary
Advanced Sex Magic reveals the ritual hanging practice and other erotic sensory deprivation exercises. Naglowska's religious system considered the Holy Spirit to be feminine and taught the importance of sex for the regeneration of the world and the uplifting of humanity.
Author Biography
Maria de Naglowska (1883-1936), also known as the Sophiale de Montparnasse, was a Russian occultist, mystic, and founder of the Brotherhood of the Golden Arrow, whose conferences in Paris in the 1930s were attended by many now-famous individuals, such as Julius Evola, Man Ray, and André Breton. She is also known for her translation of P. B. Randolph's Magia Sexualis, the classic occult text that has survived only through her translation. Donald Traxler is both a translator and student of the occult. He lives in Martinez, California.
Table of Contents

Introduction: Maria de Naglowska, "A Riddle Wrapped in a Mystery" by Donald Traxler

Preface: The Initiatic Rite of the Third Degree

1 The Human Tree

2 Jesus of Nazareth

3 The Woman of the Unknown

4 Judas Iscariot

5 After Death

6 The Magnificent Invisible Knights

7 The Last Oral Examination before the Great Test

8 The Priestesses of Love

9 The Rite of Hanging

10 The Neutralization of the Black Fire

11 To Conclude

Appendix A. The New Religion: Excerpts from La Flèche

Appendix B. Open Letter to Pope Pius XI from Maria de Naglowska

Appendix C. The New Commandments and the Golden Mass: Excerpts from La Flèche

Appendix D. Maria's Last Words to Us: Her Prediction of the Second World War

Notes

Bibliography

Index