Note: Supplemental materials are not guaranteed with Rental or Used book purchases.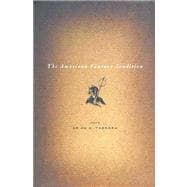 Summary
This comprehensive critical anthology of American fantasy literature, applies the groundbreaking critical theorems of such esteemed American literary critics as Leslie Fiedler, Richard Chase, and Irving Howe to the genre of fantasy in an effort to delineate the true American tradition of fantasy from the Anglo-European canon.The three definitive strains focused on are: The American TaleFolk, Tall, and Weird Fantastic Americana Lands of Enchantment in Everyday Life.
Author Biography
Brian M. Thomsen is a Tor Consulting editor who dropped out of pursuing a Ph.D. in English in favor of a career in publishing. He was one of the founding editors of Warner/Popular Library's Questar Science Fiction & Fantasy line, and the editor of C.J.Cherryh's Hugo Award winning novel Cyteen. He has also been a Hugo nominee, has served as a World Fantasy Award judge, and is the author of two novels and numerous short stories for such publishers as Tor, Daw, Ace, TSR, and others.

He was born in the borough of Brooklyn where he currently resides with his wife, Donna, and two talented cats named Sparky and Minx.

Table of Contents
Foreword
Introduction: An Approach to an American Fantasy Tradition

Part I: Folk, Tall, and Weird Tales
Rip Van Winkle: Washington Irving
Feathertop: Nathaniel Hawthorne
Uncle Remus: Joel Chandler Harris
The Saga of Pecos Bill: Edward O'Reilly
Rosy's Journey: Louisa May Alcott
The Yellow Sign: Robert W. Chambers
The Mysterious Shadow Over Innsmouth: H.P. Lovecraft
Oh Ugly Bird!: Manly Wade Wellman
The Fool: David Drake
Narrow Valley: R.A. Lafferty
Jackalope: Alan Dean Foster
The Lottery: Shirley Jackson
Children of the Corn: Stephen King
Buffalo Gals, Won't You Come Out Tonight: Ursula K. Le Guin

Part II: Fantastic Americana
The Jolly Corner: Henry James
A Ghost Story: Mark Twain
The Other Lodgers: Ambrose Bierce
Ma'ame Pelagie: Kate Chopin
The Devil and Daniel Webster: Stephen Vincent Benét
The Valley Was Still: Manly Wade Wellman
The Howling Man: Charles Beaumont
Twenty-Three: Avram Davidson
We Are the Dead: Henry Kuttner
Where the Summer Ends: Karl Edward Wagner
Shoeless Joe Jackson Comes to Iowa: W.P. Kinsella
Hatrack River: Orson Scott Card
The Hero of the Night: Bradley Denton
The Whimper of Whipped Dogs: Harlan Ellison

Part III: Lands of Enchantment and Everyday Life
The Griffin and the Minor Canon: Frank Stockton
The Enchanted Buffalo: L. Frank Baum
The Yellow Wall-Paper: Charlotte Perkins Gilman
The Moving Finger: Edith Wharton
Slow Sculpture: Theodore Sturgeon
The Coin Collector: Jack Finney
Prey: Richard Matheson
The Geezenstacks: Fredric Brown
Paladin of the Lost Hour: Harlan Ellison
The Black Ferris: Ray Bradbury
Bed & Breakfast: Gene Wolfe
Dead Run: Greg Bear
Her Pilgrim Soul: Alan Brennert
Mrs. Todd's Shortcut: Stephen King
Among the Handlers: Michael Bishop

Select Critical Bibliography