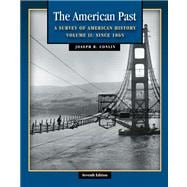 The American Past With Infotrac: A Survey of American History Since 1865
by
Conlin, Joseph R.
List Price: $65.00
Currently Available, Usually Ships in 24-48 Hours
Questions About This Book?
What version or edition is this?
This is the 7th edition with a publication date of 7/21/2003.
What is included with this book?
The New copy of this book will include any supplemental materials advertised. Please check the title of the book to determine if it should include any CDs, lab manuals, study guides, etc.
Summary
25. Reconstruction: Rebuilding the Shattered Union: 1863-1877. 26. Parties, Patronage, and Pork: Politics in the Late Nineteenth Century. 27. Big Industry, Big Business: Economic Development in the Late Nineteenth Century. 28. Living with Leviathan: Americans React to Big Business and Great Wealth. 29. We Who Made America: Factories and Immigrant Ships. 30. Bright Lights and Squalid Slums: The Growth of Big Cities. 31. The Last Frontier: Winning the Rest of the West 1865-1900. 32. Stressful Times down Home: The Crisis of American Agriculture 1865-1896. 33. In the Days of McKinley: The United States Becomes a World Power 1896-1903. 34. Theodore Roosevelt and the Good Old Days: American Society in Transition 1890-1917. 35. Age of Reform: The Progressives after 1900. 36. Victors at Armageddon: The Progressives in Power 1901-1916. 37. Over There: The United States and the First World War 1914-1918. 38. Over Here: World War I at Home 1917-1920. 39. In the Days of Harding: Time of Uncertainty 1919-1923. 40. Calvin Coolidge and the New Era: When America Was a Business 1923-1929. 41. National Trauma: The Great Depression 1930-1933. 42. Rearranging America: Franklin D. Roosevelt and the New Deal 1933-1938. 43. Headed for War Again: Foreign Relations 1933-1942. 44. America's Great War: The United States at the Pinnacle of Power 1942-1945. 45. Anxiety Time: The United States in the Early Nuclear Age 1946-1952. 46. Eisenhower Country: American Life in the 1950s. 47. Consensus and Camelot: The Eisenhower and Kennedy Administrations 1953-1963. 48. Years of Turbulence: Conflict at Home and Abroad 1961-1968. 49. Presidency in Crisis: Policies of the Nixon, Ford, and Carter Administration s 1968-1980. 50. Morning in America: The Reagan Era 1980-1993. 51. Millennium: Frustration, Anger, Division, Values. Appendices. Photo Credits. Index.
Table of Contents
| | |
| --- | --- |
| 25. Reconstruction: Rebuilding the Shattered Union: 1863-1877 | |
| 26. Parties, Patronage, and Pork: Politics in the Late Nineteenth Century | |
| 27. Big Industry, Big Business: Economic Development in the Late Nineteenth Century | |
| 28. Living with Leviathan: Americans React to Big Business and Great Wealth | |
| 29. We Who Made America: Factories and Immigrant Ships | |
| 30. Bright Lights and Squalid Slums: The Growth of Big Cities | |
| 31. The Last Frontier: Winning the Rest of the West 1865-1900 | |
| 32. Stressful Times down Home: The Crisis of American Agriculture 1865-1896 | |
| 33. In the Days of McKinley: The United States Becomes a World Power 1896-1903 | |
| 34. Theodore Roosevelt and the Good Old Days: American Society in Transition 1890-1917 | |
| 35. Age of Reform: The Progressives after 1900 | |
| 36. Victors at Armageddon: The Progressives in Power 1901-1916 | |
| 37. Over There: The United States and the First World War 1914-1918 | |
| 38. Over Here: World War I at Home 1917-1920 | |
| 39. In the Days of Harding: Time of Uncertainty 1919-1923 | |
| 40. Calvin Coolidge and the New Era: When America Was a Business 1923-1929 | |
| 41. National Trauma: The Great Depression 1930-1933 | |
| 42. Rearranging America: Franklin D | |
| Roosevelt and the New Deal 1933-1938. 43 | |
| Headed for War Again: Foreign Relations 1933-1942. 44 | |
| America's Great War: The United States at the Pinnacle of Power 1942-1945. 45 | |
| Anxiety Time: The United States in the Early Nuclear Age 1946-1952. 46 | |
| Eisenhower Country: American Life in the 1950s | |
| 47. Consensus and Camelot: The Eisenhower and Kennedy Administrations 1953-1963 | |
| 48. Years of Turbulence: Conflict at Home and Abroad 1961-1968 | |
| 49. Presidency in Crisis: Policies of the Nixon, Ford, and Carter Administration s 1968-1980 | |
| 50. Morning in America: The Reagan Era 1980-1993 | |
| 51. Millennium: Frustration, Anger, Division, Values | |
| Appendices | |
| Photo Credits | |
| Index | |