Note: Supplemental materials are not guaranteed with Rental or Used book purchases.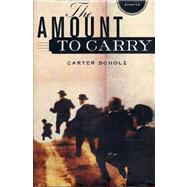 Summary
In this collection of twelve stories, Carter Scholz, author of the critically acclaimed novel Radiance and co-author (with Jonathan Lethem) of Kafka Americana, reveals his truly remarkable range and prodigious narrative gifts. Traveling from the surface of the moon to the New Jersey suburbs, from Jan Van Eyck's 'invention' of oil painting to the aged Ezra Pound at St. Elizabeth's, from Galileo's telescope to a theory of catastrophes, they explore the places in the human mind where science and fiction merge. In the same manner as the later works of Nabokov or the fictive universes of Calvino, Kafka, and Borges, Scholz's stories disturb the universe, probe the worlds we call home, and measure the degrees of our alienation. Mind-expanding, entertaining, and often richly disquieting, The Amount to Carry brings us bravura performances of the imagination.
Author Biography
Carter Scholz is the author of Radiance and co-author of Kafka Americana. He lives in Berkeley, California.

Table of Contents
The Eve of the Last Apollo
p. 1
A Catastrophe Machine
p. 31
Blumfeld, an Elderly Bachelor
p. 64
The Menagerie of Babel
p. 74
A Draft of Canto CI
p. 102
Altamira
p. 111
Travels
p. 126
At the Shore
p. 140
The Nine Billion Names of God
p. 158
Invisible Ink
p. 166
Mengele's Jew
p. 180
The Amount to Carry
p. 189
Table of Contents provided by Syndetics. All Rights Reserved.