Note: Supplemental materials are not guaranteed with Rental or Used book purchases.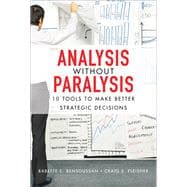 Analysis Without Paralysis 10 Tools to Make Better Strategic Decisions (paperback)
ISBN13:
9780132619578
by
Bensoussan, Babette E.
Related Products
Summary
If you#x19;re a manager or business owner, you need tools to make better decisions--about business strategy, marketing, competition, positioning, product development, and much more. In Analysis Without Paralysis, two renowned experts on business analysis and strategy bring you those tools, in plain English! #xA0; Babette Bensoussan and Craig Fleisher teach you exactly what you need to know, without dragging you through unnecessarily complex concepts or advanced mathematics. They start with a practical, realistic introduction to the analysis process; then they walk you through ten core sets of analysis techniques that every manager can use effectively. #xA0; You#x19;ll master classic techniques like SWOT analysis and Porter#x19;s Five Forces, in addition to the latest approaches to competitor, financial, issue, and value chain analysis. Next, Bensoussan and Fleisher guide you through analyzing the global social, political, and macroenvironmental challenges that will increasingly shape the future of your business. #xA0; For each tool, the authors present clear descriptions, context, rationales, strengths, weaknesses, step-by-step instructions, and case study examples. The result: a book you can rely on to address your strategic and business challenges--whatever your role, experience, industry, or environment.#xA0; Don#x19;t just collect data--use it for competitive advantage Uncover correlations, assess trends, identify performance gaps, and identify your best opportunities Get truly actionable outputs from your analysis Perform future-oriented analysis that leads to better competitive strategies and tactics Use analysis to anticipate and adapt to rapid change Get early warnings of emerging threats--and respond more quickly #xA0; The Practical, Plain-English Guide to Business Analysis for Every Manager and Business Owner! #xA0; You can use business analysis to address your most crucial strategic and tactical challenges--without burying yourself in advanced math or arcane theory! This friendly guide walks you through the entire business analysis process and then explains each of today#x19;s most valuable analysis tools-- in plain English. You#x19;ll be able to make better decisions and get better results--even if you#x19;ve never been responsible for analysis before. #xA0; Babette Bensoussan and Craig Fleisher illuminate BCG matrix; Porter#x19;s #x1C;Five Forces#x1D;; SWOT analysis; modern competitor, financial, issue, and value chain analysis; long-term scenario planning; emerging macroenvironmental (STEEP/PEST) techniques; and much more. You#x19;ll find realistic case studies, in addition to practical guidance for choosing the right tools for each challenge. Even if you#x19;ve never performed business analysis before, Analysis Without Paralysiscan help you gain the insights and build the strategies for a winning future. #xA0;
Author Biography
Babette E. Bensoussan is Managing Director of The MindShifts Group, a consultancy with more than 16 years experience attending to Australian, Asian, and global Fortune 500 companies, as well as SMEs, in strategic business and marketing planning, competitive intelligence, and strategic analysis.
Craig S. Fleisher is the Windsor Research Leadership Chair and Professor of Strategy, Odette School of Business, University of Windsor. He was 2006 President of the Society of Competitive Intelligence Professionals, inaugural chair of the Competitive Intelligence Foundation, and founding editor of the Journal of Competitive Intelligence and Management.
Bensoussan and Fleisher are coauthors of Strategic and Competitive Analysis as well as Business and Competitive Analysis.
Table of Contents
Part I Introduction 1
Chapter 1 Business Management and the Role of Analysis 3
Chapter 2 The Analysis Process 15
Part II Analysis Tools 27
Chapter 3 BCG Growth/Share Portfolio Matrix 29
Chapter 4 Competitor Analysis 49
Chapter 5 Financial Ratio and Statement Analysis 67
Chapter 6 Five Forces Industry Analysis 95
Chapter 7 Issue Analysis 111
Chapter 8 Political Risk Analysis 131
Chapter 9 Scenario Analysis 151
Chapter 10 Macroenvironmental (STEEP/PEST) Analysis 169
Chapter 11 SWOT Analysis 183
Chapter 12 Value Chain Analysis 199
Index 221