Note: Supplemental materials are not guaranteed with Rental or Used book purchases.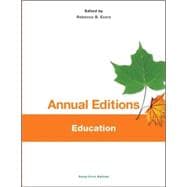 Annual Editions: Education, 42/e
ISBN13:
9781259242694
by
Evers, Rebecca
Related Products
Summary
The Annual Editions series is designed to provide convenient, inexpensive access to a wide range of current articles from some of the most respected magazines, newspapers, and journals published today. Annual Editions are updated on a regular basis through a continuous monitoring of over 300 periodical sources. The articles selected are authored by prominent scholars, researchers, and commentators writing for a general audience. Each Annual Editions volume has a number of features designed to make them especially valuable for classroom use: an annotated Table of Contents, a Topic Guide, an annotated listing of supporting websites, Learning Outcomes and a brief overview for each unit, and Critical Thinking questions at the end of each article. Go to the McGraw-Hill Create™ Annual Editions Article Collection at www.mcgrawhillcreate.com/annualeditions to browse the entire collection. Select individual Annual Editions articles to enhance your course, or access and select the entire Evers: Annual Editions: Education, 42/e ExpressBook for an easy, pre-built teaching resource by clicking here. An online Instructor's Resource Guide with testing material is available for each Annual Editions volume. Using Annual Editions in the Classroom is also an excellent instructor resource. Visit the Create Central Online Learning Center at www.mhhe.com/createcentral for more details.
Table of Contents
Annual Editions: Education, 42/e
Preface
Correlation Guide
Topic Guide
UNIT: School Reform in the Twenty-First Century
Unit Overview
1. Keeping the Public in Public Schools, Phil Boyle and Del Burns, American School Board Journal, 2012.
In this article Boyle and Burns address the importance of ensuring our children are learning the moral, ethical, and political obligations of living in a free society. They lay this responsibility not only on educational leaders but also on the population as a whole.
2. Balance Trust and Accountability, Ben Levin, Phi Delta Kappan, 2012.
Levin addresses the delicate balance between trust and regulation in school policy. Citing a conference of 17 countries in Jerusalem with a theme of "Trust and Regulation" Levine compared the educational policy of various countries in order to investigate how much is too much regulation in the school system.
3. Warning: the Common Core Standards May Be Harmful to Children, Joanne Yatvin, Phi Delta Kappan, 2013.
With the Common Core being adopted by most states, Yatvin, an experienced elementary teacher and principal, analyzes the English/language arts K-5th grade standards. Citing eight standards and giving classroom scenarios, Yatvin argues that the new standards are too demanding, which could hurt student's educational experience.
4. Challenged to the Core, Julie Davis Bell and Daniel Thatcher, State Legislatures, 2012 .
While the Common Core is enjoying bipartisan support there are still many out there that have apprehensions about how the new standards will be introduced. Concerns include a potentially stronger federal government influence, developing new assessments, proper teacher training, and where the money will come from in order to make these changes.
5. The International Experience , Carlos X. Lastra-Anadón and Paul E. Peterson, Education Next, 2012.
Researchers Lastra-Anadón and Peterson discuss the practices from other countries that may or may not work for American schools. The topics discussed include teachers and teaching, choice and autonomy, state standards and accountability, and digital learning.
UNIT: Understanding Poverty
6. Struggling in Suburbia, David McKay Wilson, Teaching Tolerance, 2012.
In this article, Wilson addresses the rising homeless population that no longer only affects inner-city schools, but also schools in suburbia that aren't accustomed to, or prepared for, such students. He describes who the new suburban poor students are, where they came from, how they are affecting the schools, and how educators can help their less affluent students.
7. Building a Pedagogy of Engagement for Students in Poverty, Paul C. Gorski, Kappan Magazine, 2013.
We are not soon likely to eliminate the poverty in this country that leads to inequitable educational opportunities within schools. However, Gorski suggests that, while we continue to take on the larger societal issues, we can foster equity by using research-based teaching strategies and promoting community involvement.
8. Poverty-Stricken Schools: What We Can Learn from the Rest of the World and from Successful Schools in Economically Disadvantaged Areas in the US, Hani Morgan, Education, 2012.
By exploring successful school systems from around the world, this author discusses ways to fix the inequalities of the American school system. The inequalities focused on in this article include poor teachers and lack of educational resources for students of low economic status when compared to students in wealthier districts.
9. Principles of Instruction: Research-Based Strategies That All Teachers Should Know, Barak Rosenshine, American Educator, 2012.
Using research on cognitive science, master teachers, and cognitive supports, Rosenshine developed 10 principles of instruction that he feels teachers should implement in the classroom. Using these three different bodies of research provides a validity of these beneficial principles, making them valuable tools for teachers of all ages and subjects.
UNIT: Literacy Is the Cornerstone of Learning
10. The Fight for Literacy in the South, Paige Crutcher, Publishers Weekly, 2013.
This article explains what booksellers, librarians, and concerned citizens are doing to combat the high rates of illiteracy in the southern states. There are ideas here that would work for other regions and states. Crutcher provides data regarding literacy and examples of collaborative efforts to improve the data.
11. Putting the Heart Back into Writing: Nurturing Voice in Middle School Students, Barb Ruben and Leanne Moll, Middle School Journal, Association for Middle Level Education (AMLE), 2013.
Ruben and Moll voice concerns that students are not being given ample time to write during the school day and that the Common Core focuses on argumentative and research writing. This paper discusses the five questions they researched with volunteer students in a special writing team.
12. Character Analysis and Moral Development, Kimberly Kode, Middle School Journal, Association for Middle Level Education (AMLE), 2013.
Kode notes that the use of open-ended questions about characters in a reading may be met with blank stares and no answers. However, if students are given a structure, such as Kohlberg's Theory of Moral Development, they are more willing to offer insights, state opinions, and analyze characters.
13. Rekindle the Love of Reading, Mark Isero, Kappan Magazine, 2014.
No matter what, there are always some students, even good ones, who do not like to read and resist every trick teachers try. One teacher found two methods for getting students to read more. These were a free read of any book in the class library and offering students opportunities to use a Kindle reader.
14. Using Family Message Journals to Improve Student Writing and Strengthen the School-Home Partnership, Lynda M. Valerie and Sheila Foss-Swanson, Teaching Exceptional Children, 2012.
Valerie and Foss-Swanson make a compelling case for using Family Message Journals to develop literacy and move writing to the front and center of the daily curriculum routine rather than having it appear as an add-on activity when there is time. The article includes a discussion of why we should use FMJs and how-to-do-it examples.
UNIT: Improve School Climate to Improve Student Performance
15. Scholars Say Pupils Gain Social Skills In Coed Classes, Sarah D. Sparks, Edweek.org, 2012.
Sparks argues that it is the labeling between the sexes that cause boys and girls to mature and learn differently. She contends that, through teacher modeling, in a classroom that is free of labels and gender expectations, a more integrated classroom can be developed where social skills and productive relationships are created.
16. Life Skills Yield Stronger Academic Performance, Tommie Lindsey Jr. and Benjamin Mabie, Phi Delta Kappan, 2012.
Tommie Lindsey established this life skills class in the high school where he taught. The class of African-American males worked together to establish inclusion, build security, enhance meaning, and engender competence. Lindsey notes this type of class would be useful for any group of students who are at-risk and the classes should not be limited to African-Americans.
17. Lesson of the Heart: An Extra-Credit Assignment, Linda Lehman, Phi Delta Kappan, 2012.
In this article, Lehman argues that while teacher candidates should be highly qualified in their subject area, not enough attention is being given to the importance for the drive to do what is necessary to engage students. Lehman believes it is the enthusiasm for one's students that produces lifelong learners.
18. Deconstructing the Pyramid of Prejudice, David Light Shields, Kappan Magazine, 2014.
Addressing prejudice in the classroom is just as important as the curriculum. Based on a three-tiered pyramid, Shields discusses how each layer of the pyramid supports the next. This means even the smallest comment can lead to prejudice and discrimination. His discussion leads to what educators can do to interrupt movement up the pyramid.
19. The Enduring Influence of School Size and School Climate on Parents' Engagement in the School Community, Lauri Goldkind and G. Lawrence Farmer, School Community Journal (Academic Development Institute), 2013.
Goldkind and Farmer studied the relationship between school size and school climate as families make decisions to participate in the school community. A family's perception of the issues of safety and respect within a school had more effect on their involvement than the size of the school.
UNIT: Teaching English Language Learners
20. New Talk about ELL Students, Stacey J. Lee, Phi Delta Kappan, 2012.
This article calls for a change in the way schools teach students who are ELL. Instead of the responsibility resting on the faculty and staff, there should be a school wide investment in working with immigrant students. Planning programs where native language and background knowledge is used to improve English language skills is encouraged.
21. ESL and Classroom Teachers Team Up to Teach Common Core, Lesli A. Maxwell, Education Digest, 2014.
Diversity in an inclusive school presents challenges. In this article, two teachers explain what led them to become co-teachers to meet the needs of English Language Learners. Other teachers explain their strategies for meeting the needs of students, professional learning communities, and the "push-in" model.
22. Dual Language Learners: Effective Instruction in Early Childhood, Claude Goldenberg, Judy Hicks, and Ira Lit, American Educator (American Federation of Teachers), 2013.
The numbers of dual language learners (DLL) in preschool and early childhood classes has risen to 4 million. In order to create optimal learning environments for these students, researchers have explored four key topics. Implications for educators and recommendations for teaching practices are discussed.
23. Involving the Parents of English Language Learners in a Rural Area: Focus on the Dynamics of Teacher-Parent Interactions, Jenna M. Shim, Rural Educator (National Rural Education Association), 2013.
Shim suggests that the important structural aspects and power asymmetry of parent-teacher relationships can hinder collaboration when working with parents of students who are English Language Learners. The study discussed here found three broad themes that emerge as barriers to productive interactions; teacher judgments, parental frustration, and parents' fear of repercussions.
UNIT: Technology Supports Learning
24. From the Three Rs to the Four Cs: Radically Redesigning K-12 Education, William Crossman, The Futurist, 2012.
Those tech-savvy kids we have been reading about are here, now. Those digital natives learn and engage with text differently than most of us who are teaching or are about to become teachers. We need to seriously consider how we will keep them engaged and challenged to learn. Crossman has suggestions.
25. Common Core Standards: Transforming Teaching with Collaborative Technology, Catlin Tucker, Teacher Librarian, 2012.
Tucker illustrates how easy and efficient it is to use technology in the classroom to promote collaborative group work. While satisfying requirements of the Common Core, using technology can help to ensure that each member of the group is doing their equal share.
26. Flipping the Classroom: Homework in Class, Lessons at Home, Brenda Álvarez, Education Digest, 2012.
This article is about a high school teacher, with struggling students, who successfully flipped his classroom curriculum. Numerous benefits were discovered while helping to transform the entire school to one with productive and engaged learners.
27. Assistive Tech for Everyone?, Michelle R. Davis, Education Week, 2014.
What were once technology tools designed for and used by persons with disabilities are moving into the mainstream and being used by students who do not have an identified disability. A primary reason is the adoption of Universal Design for Learning methods and materials for all students.
UNIT: Collaboration
28. Are We Adequately Preparing Teachers to Partner with Families?, Tamara Sewell, Early Childhood Education Journal, 2012.
Partnering with families is vital when working with young children, but how do teachers learn to do this effectively? In this literature review, Sewell has concluded that one course in partnering with families is good, but there is more that teacher preparation programs can do.
29. Parent Perceptions and Recommendations about Homework Involving Wikis and Blogs, Christine A. Portier, et al., Middle School Journal, Association for Middle Level Education (AMLE), 2013.
Web 2.0 technologies are a convenient way to communicate with students and parents after school, on weekends, and during school breaks. Also, research data indicate that when parents are involved, the value of homework increases. Researchers collaborated with parents and teachers to ask what they thought and what worked best.
30. "I'm Not a Bystander": Developing Teacher Leadership in a Rural School-University Collaboration, Jeffrey C. Eargle, Rural Educator, 2013.
This study investigates how high school teachers can become reflective practitioners, scholars, and collaborative partners. However, traditional school norms and structural hierarchy can pose barriers. Suggestions for future practice are offered.
31. Why Age Matters, Jessica Mulholland, Governing, 2012.
The Foster Grandparents program is about making a difference in the lives of young children and helping older adults find a reason to get up in the morning. A senior citizen is paired with a child who needs one-on-one help with academic skills or just needs a bit of personal attention.
UNIT: Sexual Minority Students
32. Eating Disorder Symptoms and Obesity at the Intersections of Gender, Ethnicity, and Sexual Orientation In US High School Students, S. Bryn Austin, et al., American Journal of Public Health, 2013.
This article presents a study that examined how gender, ethnicity, and sexual orientation were connected to obesity and disordered weight-control behaviors in today's youth. It was discovered that sexual minority students, especially male and female bisexuals, were at a high risk of obesity or eating disorders, which should be brought to the attention of public health professionals and policymakers.
33. Protective School Climates and Reduced Risk for Suicide Ideation in Sexual Minority Youths, Mark L. Hatzenbuehler et al., American Journal of Public Health, 2014.
Researchers examined the rates of suicide in states and cities where school climates protected students who were Lesbian, gay, and bisexual. Factors that indicated a protective school climate were discussed. Results indicate that suicidal thoughts were nearly eliminated in states and cities with protective school climates.
34. Having Allies Makes a Difference, Priscilla Pardini, Phi Delta Kappan, 2013.
Milwaukee's Alliance School is one of the only gay-friendly public schools in the United States. Aside from being gay-friendly this school ignores several public school taboos, such as bells to signal class changes, disallowing student use of cell phones, and not allowing students to use teachers' first names.
UNIT: Bullying Continues to Be a Serious Problem
35. Hostile Hallways, Christopher Munsey, American Psychological Association, 2012.
Sexual harassment and unwanted sexual experiences are not reported as frequently as bullying; nevertheless, the long-term harmful effects can be significantly greater. Munsey offers advice and suggests that by-standers can be an important component in stopping harassment.
36. Why Our Approach to Bullying Is Bad for Kids, Susan Porter, Independent School, 2013.
Porter proposes a shift in the definition of bullying because labels used to describe the persons who are associated with bullying inhibit making any permanent or significant change in the occurrence of such incidences. She suggests that behaviors now determined to be bullying may be missteps as students grow to maturity.