Note: Supplemental materials are not guaranteed with Rental or Used book purchases.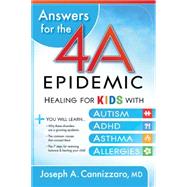 Answers for the 4-A Epidemic : Healing for Kids with Autism, Adhd, Asthma, and Allergies
ISBN13:
9781616384845
by
Cannizzaro, Joseph A., M.D.
Summary
A groundbreaking integrative treatment program for autism, ADHD, asthma, and allergiesIn the last two decades, the incidence of the 4-A disorders--autism, ADHD, asthma, and allergies--has increased so drastically that many now call these four conditions "the new childhood epidemics." In this book, integrative pediatrician Joseph Cannizzaro lays a foundation for understanding the cause of all four conditions and then provides a comprehensive treatment program for each of them.The medical community has generally overlooked the commonalities that link the 4-A disorders and, in most cases, has limited treatment to suppression of symptoms. Dr. Cannizzaro has focused his pediatric practice on the treatment of the 4-A disorders for the past five years. He and his colleagues are currently securing a research grant that will provide funding and national peer recognition of their groundbreaking treatment program, which is the first to combine traditional medical approaches with a full range of natural healing modalities.
Author Biography
Joseph Cannizzaro, MD, has practiced pediatric medicine for thirty years with specialties in holistic integrative pediatrics, nutrition, and preventative medicine. The founder and managing pediatrician for the Pediatricians Care Unit and the Accordo Health Institute in Longwood, Florida, Dr. Cannizzaro received his MD from the University of Bologna Medical School in Bologna, Italy. As a US Army captain he served as the medical laboratory officer and cadet instructor at the United States Military Academy at West Point, New York. He lives in Florida with his wife and three sons.
Table of Contents
Acknowledgments
p. ix
Introduction There Is Hope!
p. 1
How did this Happen?
Four New Childhood Epidemics
p. 9
What's to Blame for the 4-A Epidemic?
p. 19
Why the Integrative Approach Is Different-and Better
p. 33
The 4-A Disorders
Autism
p. 45
ADHD (Attention Deficit Hyperactivity Disorder)
p. 67
The Asthma Epidemic
p. 77
Allergies-the Universal Threat
p. 85
Healing Therapies for the 4-A Disorders
Overview of Therapies
p. 105
Healing Through Nutritional Therapy
p. 113
Healing Through Supplementation Therapy
p. 145
Healing Through Detoxification Therapy
p. 155
Healing Through Medication
p. 165
Conclusion Empowering Parents
p. 179
Additional Therapies for Autism
p. 199
Additional Therapies for ADHD
p. 205
Additional Therapies for Asthma and Allergies
p. 209
Recommended Resources
p. 215
For More Information
p. 217
Glossary
p. 223
Notes
p. 231
Index
p. 239
Table of Contents provided by Ingram. All Rights Reserved.