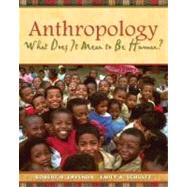 Questions About This Book?
What version or edition is this?
This is the edition with a publication date of 2/16/2007.
What is included with this book?
The Used copy of this book is not guaranteed to include any supplemental materials. Typically, only the book itself is included.
Related Products
Summary
A unique alternative to more traditional, encyclopedic introductory texts, Anthropology: What Does It Mean to Be Human? takes a question-oriented approach that illuminates major concepts for students. Structuring each chapter around an important question, the authors explore what it means to be human, incorporating answers from all four subfields of anthropology--cultural anthropology, biological anthropology, linguistic anthropology, and archaeology--and offering a more balanced perspective than other texts. They address central issues of the discipline, highlighting the controversies and commitments that are shaping contemporary anthropology. FEATURES: * Covers the material in fifteen concise chapters--an ideal text for a one-semester course * Addresses issues of power and inequality in the contemporary world--including racism, ethnic discrimination, nationalism, caste, and class * Incorporates cutting-edge theory and gender and feminist anthropology throughout * Takes an explicitly global approach, discussing ways in which the spread of capitalism has drastically reshaped how people everywhere live their lives * Presents new voices and alternative perspectives from nonanthropologists and indigenous peoples through "In Their Own Words" commentaries * Provides ethnographic summaries--with maps--of each society discussed at length in the text in "EthnoProfile" boxes * Integrates additional helpful pedagogical aids including key terms, a running glossary, chapter summaries, maps, and annotated suggestions for further reading * Supplemented by an Instructor's Manual and Computerized Test Bank
Table of Contents
Each chapter ends with Key Terms, a Chapter Summary, and Suggested Readings
Preface
What Is Anthropology?
What Is Anthropology?
The Concept of Culture
The Cross-Disciplinary Discipline
The Uses of Anthropology
Module 1. Anthropology, Science, and Storytelling
Some Key Scientific Concepts
Module Summary
Key Terms
Why Is Evolution Important to Anthropologists?Evolutionary Theory
Material Evidence for Evolution
Pre-Darwinian Views of the Natural World
The Theory of Natural Selection
Unlocking the Secrets of Heredity
Contemporary Genetics
Genotype, Phenotype, and the Norm of Reaction
What Does Evolution Mean?
What Can Evolutionary Theory Tell Us about Human Variation?Microevolution
Macroevolution
The Future of Human Evolution
Module 2. Dating Methods in Paleoanthropology and Archaeology
Relative Dating Methods
Numerical Dating Methods
Modeling Prehistoric Climates
Module Summary
Key Terms
What Can the Study of Primates Tell Us about Human Beings?
The Primates
Approaches to Primate Taxonomy
The Living Primates
Flexibility as the Hallmark of Primate Adaptations
Past Evolutionary Trends in Primates
Primate Evolution: The First 60 Million Years
What Can the Fossil Record Tell Us about Human Origins?
Hominid Evolution
The First Hominids (6-3 mya)
The Later Australopithecines (3-1.5 mya)
Explaining the Human Transition
Early Homo Species (2.4-1.5 mya)
Homo erectus (1.8-1.7 mya to 0.5-0.4 mya)
The Evolutionary Fate of H. erectus
The Evolution of H. sapiens
An Archaic Human Population: Neandertals (130,000-35,000 Years Ago)
Middle Paleolithic / Middle Stone Age Culture
Anatomically Modern Humans (200,000 Years Ago to Present)
The Upper Paleolithic / Late Stone Age (40,000?-12,000 Years Ago)
The Fate of the Neandertals
Upper Paleolithic / Late Stone Age Cultures
Spread of Modern H. sapiens in Late Pleistocene Times
Two Million Years of Human Evolution
How Do We Know about the Human Past?Archaeology
Interpreting the Past
Whose Past Is It?
Plundering the Past
Contemporary Trends in Archaeology
Why Did Humans Settle Down, Build Cities, and Establish States?
Human Imagination and the Material World
Plant Cultivation as a Form of Niche Construction
Animal Domestication
The Motor of Domestication
Domestication, Cultivation, and Sedentism in Southwest Asia
The Consequences of Domestication and Sedentism
What Is Social Complexity?
Archaeological Evidence for Social Complexity
How Can Anthropologists
Explain the Rise of Complex Societies?
How Does the Concept of Culture Help Us Understand Living Human Societies?
Explaining Culture and the Human Condition
Cultural Differences
Culture, History, and Human Agency
Writing against Culture
The Promise of the Anthropological Perspective
Module 3. On Ethnographic Methods
A Meeting of Cultural Traditions
Single-Sited Fieldwork
Multisited Fieldwork
Collecting and Interpreting Data
Module Summary
Key Terms
Suggested Readings
How Do Cultural Anthropologists Learn about Contemporary Ways of Life?
Ethnographic Fieldwork: A Short History
The Dialectic of Fieldwork: Interpretation and Translation
The Effects of Fieldwork
The Production of Anthropological Knowledge
Anthropological Knowledge as Open-Ended
Why Is Understanding Human Language Important?
Language and Culture
Design Features of Human Language
Language and Context
Pidgin Languages: Negotiated Meaning
Linguistic Inequality
Language Ideology
Language, Culture, and Thought
Language, Thought, and Symbolic Practice
Languages, Symbolic Practices, Worldviews
Symbolic Practices, Worldviews, Selves
How Do Symbolic Practices Shape Human Lives?
Play Art Myth Ritual Worldview and Symbolic Practice
Religion Worldviews in Operation: Case Studies
Maintaining and Changing a Worldview
Worldviews as Instruments of Power
How Do Anthropologists Study Economic and Political Relations in Contemporary Human Societies?
Anthropologists Study Social Organization
How Do Anthropologists Study Politics?
Hidden Transcripts and the Power of Reflection
How Do Politics and Economics Shape Each Other?
How Do Anthropologists Study Economics?
Distribution and E
Table of Contents provided by Publisher. All Rights Reserved.