Note: Supplemental materials are not guaranteed with Rental or Used book purchases.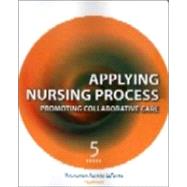 Applying Nursing Process Promoting Collaborative Care
ISBN13:
9780781731409
by
Alfaro-Lefevre, Rosalinda
LIPPINCOTT WILLIAMS & WILKINS
Related Products
Summary
This exciting revision of Applying Nursing Process - which received a Sigma Tau Best Pick Award- illustrates how to use the nursing process to think critically in today's fast-paced clinical practice. An emphasis on outcome-focused, evidence-based care guides the nurse on how to plan, provide, and evaluate care of the patient. Straight forward language, abundant examples, including valuable quote from nurses exemplifying current best practices, critical thinking exercises and case scenarios help the nurse think about independent and collaborative roles in various settings. This superb text explains how the nursing process has changed to a more dynamic, less linear approach, with a focus on proactivity to highlight the nurse' s role in the prediction, prevention, and management of health problems. A Brandon-Hill Recommended Title.
Table of Contents
2
(31)

| | |
| --- | --- |
| | What is the Nursing Process and Why Learn About It? |

4
(1)

| | |
| --- | --- |
| | Steps of the Nursing Process |

5
(2)

| | |
| --- | --- |
| | Relationships Among the Steps of the Nursing Process |

7
(3)
7
(1)
8
(1)

| | |
| --- | --- |
| | Planning and Implementation |

8
(1)

| | |
| --- | --- |
| | Implementation and Evaluation |

9
(1)

| | |
| --- | --- |
| | Evaluation and the Other Steps in the Nursing Process |

9
(1)

| | |
| --- | --- |
| | What Are the Benefits of Using the Nursing Process? |

10
(2)

| | |
| --- | --- |
| | Nursing Process in Context of Today's Changing World |

12
(8)

| | |
| --- | --- |
| | Today's Healthcare Reality |

13
(7)

| | |
| --- | --- |
| | Ethics: Protecting Client Rights |

20
(1)

| | |
| --- | --- |
| | Critical Thinking Exercise 1: Nursing Process in a Changing World |

21
(1)

| | |
| --- | --- |
| | Knowledge, Skills and Caring: The Heart of Nursing Process |

22
(9)

| | |
| --- | --- |
| | Nursing Knowledge: Broad and Varied |

22
(1)
23
(1)

| | |
| --- | --- |
| | How to Become a Critical Thinker |

23
(2)
25
(1)
26
(1)

| | |
| --- | --- |
| | Willingness and Ability to Care |

26
(1)
26
(3)
29
(2)

| | |
| --- | --- |
| | Critical Thinking Exercise II: Knowledge, Skills, and Willingness and Ability to Care |

31
(1)
32
(1)
33
(45)

| | |
| --- | --- |
| | Assessment: The First Step to Determining Health Status |

36
(15)
36
(1)

| | |
| --- | --- |
| | What Resources Do You Use |

36
(1)

| | |
| --- | --- |
| | How Can You Ensure Comprehensive Data Collection |

37
(1)

| | |
| --- | --- |
| | Data Base (Start of Care) Versus Focus Assessment |

37
(1)

| | |
| --- | --- |
| | Data Base (Start of Care) Assessment |

37
(1)
38
(10)

| | |
| --- | --- |
| | Health Promotion: Screening for Prevention and Early Diagnosis |

48
(3)

| | |
| --- | --- |
| | The Nursing Interview and Physical Assessment |

51
(7)

| | |
| --- | --- |
| | Ethical, Cultural, and Spiritual Considerations |

51
(1)
52
(1)

| | |
| --- | --- |
| | Guidelines: Promoting a Caring Interview |

52
(4)
56
(1)

| | |
| --- | --- |
| | Guidelines: Performing a Physical Assessment |

57
(1)

| | |
| --- | --- |
| | Checking Laboratory and Diagnostic Studies |

58
(1)

| | |
| --- | --- |
| | Critical Thinking Exercise III: The Nursing Interview and Physical Assessment |

58
(3)

| | |
| --- | --- |
| | Identifying Subjective and Objective Data |

61
(1)

| | |
| --- | --- |
| | Identifying Cues and Making Inferences |

62
(1)

| | |
| --- | --- |
| | Validating (Verifying) Data |

63
(1)

| | |
| --- | --- |
| | Guidelines: Validating (Verifying) Data |

63
(1)

| | |
| --- | --- |
| | Critical Thinking Exercise IV: Subjective and Objective Data; Cues and Inferences; Validating Data |

64
(2)

| | |
| --- | --- |
| | Organizing (Clustering) Data |

66
(4)

| | |
| --- | --- |
| | Clustering Data According to a Nursing Model |

66
(1)

| | |
| --- | --- |
| | Clustering Data According to Body Systems |

66
(4)

| | |
| --- | --- |
| | Critical Thinking Exercise V: Organizing (Clustering) Data |

70
(1)

| | |
| --- | --- |
| | Identifying Patterns/Testing First Impressions |

71
(1)
72
(3)
72
(1)
73
(1)

| | |
| --- | --- |
| | Guidelines: Reporting Significant Findings |

74
(1)
74
(1)

| | |
| --- | --- |
| | Guidelines for Phone Reports |

74
(1)

| | |
| --- | --- |
| | Critical Thinking Exercise VI: Recognizing Abnormal Data, Deciding What's Relevant, Applying the Principle of Cause and Effect |

75
(2)
75
(1)

| | |
| --- | --- |
| | Guidelines: Recording the Nursing Data Base |

76
(1)
77
(1)
78
(44)

| | |
| --- | --- |
| | From Assessment to Diagnosis: A Pivotal Point |

80
(17)

| | |
| --- | --- |
| | Nurses' Growing Responsibilities as Diagnosticians |

81
(1)

| | |
| --- | --- |
| | Diagnose and Treat vs. Predict, Prevent, and Manage |

81
(1)
82
(1)

| | |
| --- | --- |
| | Critical Pathways (Clinical Pathways, Care Maps™) |

82
(1)

| | |
| --- | --- |
| | Computer-Assisted Diagnosis |

83
(1)

| | |
| --- | --- |
| | Benefits of Computer-Assisted Diagnosis |

83
(1)

| | |
| --- | --- |
| | Limitations of Computer-Assisted Diagnosis |

83
(1)

| | |
| --- | --- |
| | Multidisciplinary Practice |

84
(1)

| | |
| --- | --- |
| | Capturing, Organizing, and Using Nursing's Expanding Knowledge Base |

84
(3)

| | |
| --- | --- |
| | Thinking Critically About Using Standard Languages in Practice |

87
(2)

| | |
| --- | --- |
| | Mastering Diagnoses, Interventions, and Outcomes in Practice: Key Concepts |

89
(1)

| | |
| --- | --- |
| | Definitions and Discussion of Key Terms Related to Diagnosis |

90
(6)

| | |
| --- | --- |
| | Recognizing Risk Factors: The Key to Proactive Approaches |

96
(1)

| | |
| --- | --- |
| | Critical Thinking Exercise VII: Nurses' Responsibilities as Diagnosticians |

97
(2)

| | |
| --- | --- |
| | Diagnostic Reasoning: Applying Critical Thinking |

99
(7)

| | |
| --- | --- |
| | Fundamental Principles and Rules of Diagnostic Reasoning |

100
(1)

| | |
| --- | --- |
| | Ten Steps for Diagnosing Health Problems |

101
(3)

| | |
| --- | --- |
| | Three Steps for Diagnosing Strengths |

104
(1)

| | |
| --- | --- |
| | Avoiding Diagnostic Errors |

105
(1)

| | |
| --- | --- |
| | Considering Lifestyles and Coping Patterns |

105
(1)

| | |
| --- | --- |
| | Determining Causative and Risk (Related) Factors |

106
(1)

| | |
| --- | --- |
| | NANDA's List of Diagnoses Accepted for Clinical Testing |

106
(3)

| | |
| --- | --- |
| | Diagnostic Label Components |

106
(1)

| | |
| --- | --- |
| | Actual, Risk, and Possible Nursing Diagnoses |

107
(1)
107
(1)
107
(2)

| | |
| --- | --- |
| | Nursing Diagnoses Not on NANDA's List |

109
(1)

| | |
| --- | --- |
| | Critical Thinking Exercise VIII: Recognizing Nursing Diagnoses |

109
(2)

| | |
| --- | --- |
| | Diagnostic Statements for Nursing Diagnoses |

111
(4)

| | |
| --- | --- |
| | Rules for Making Diagnostic Statements |

111
(1)

| | |
| --- | --- |
| | Making Sure Diagnostic Statements Direct Interventions |

112
(1)

| | |
| --- | --- |
| | Guidelines: Using NANDA Terminology Correctly |

112
(1)

| | |
| --- | --- |
| | Guidelines: Avoiding Errors When Making Diagnostic Statements |

113
(2)

| | |
| --- | --- |
| | Critical Thinking Exercise IX: Diagnostic Statements for Nursing Diagnosis |

115
(2)

| | |
| --- | --- |
| | Predicting and Detecting Potential Complications |

117
(2)

| | |
| --- | --- |
| | Guidelines: Identifying Potential Complications |

118
(1)

| | |
| --- | --- |
| | Identifying Problems Requiring Multidisciplinary Approaches |

119
(1)

| | |
| --- | --- |
| | Critical Thinking Exercise X: Predicting Potential Complications |

119
(1)

| | |
| --- | --- |
| | Critical Thinking Exercise XI: Identifying Nursing Diagnoses, Potential Complications, and Strengths |

120
(1)
121
(1)
122
(40)

| | |
| --- | --- |
| | Planning: Setting Priorities, Determining Outcomes, Recording the Plan |

124
(1)

| | |
| --- | --- |
| | Why Are Rules for Recording the Plan So Specific? |

124
(1)

| | |
| --- | --- |
| | Major Components of the Plan of Care |

124
(1)
125
(5)

| | |
| --- | --- |
| | Critical Thinking and Setting Priorities |

125
(1)

| | |
| --- | --- |
| | Setting Priorities: Basic Principles |

126
(1)

| | |
| --- | --- |
| | Suggested Steps for Setting Priorities |

126
(2)

| | |
| --- | --- |
| | Applying Nursing Standards |

128
(2)

| | |
| --- | --- |
| | Critical Thinking Exercise XII: Setting Priorities and Applying Standards |

130
(1)

| | |
| --- | --- |
| | Planning Outcome-Focused Care |

131
(8)

| | |
| --- | --- |
| | Principles of Patient-Centered (Client-Centered) Outcomes |

132
(3)

| | |
| --- | --- |
| | Guidelines: Determining Patient-Centered (Client-Centered) Outcomes |

135
(1)

| | |
| --- | --- |
| | Relationship of Outcomes to Accountability |

136
(1)

| | |
| --- | --- |
| | Clinical, Functional, and Quality of Life Outcomes |

136
(1)

| | |
| --- | --- |
| | Discharge Outcomes and Discharge Planning |

137
(1)
137
(2)

| | |
| --- | --- |
| | Critical Thinking Exercise XIII: Planning Outcome-Focused Care |

139
(3)
142
(3)

| | |
| --- | --- |
| | Assessment---Monitoring Health Status |

143
(1)

| | |
| --- | --- |
| | Teaching---The Key to Empowerment |

143
(1)

| | |
| --- | --- |
| | Guidelines: Planning Teaching |

143
(1)

| | |
| --- | --- |
| | Counseling--Helping People Make Choices |

144
(1)

| | |
| --- | --- |
| | Consulting and Referring---The Cornerstone of Multidisciplinary Approaches |

144
(1)

| | |
| --- | --- |
| | Determining Specific Interventions |

145
(2)

| | |
| --- | --- |
| | Safe Practice: Weigh Risks and Benefits, Be Proactive |

146
(1)

| | |
| --- | --- |
| | Guidelines: Determining Nursing Orders |

146
(1)

| | |
| --- | --- |
| | Making Sure the Plan is Adequately Recorded |

147
(2)

| | |
| --- | --- |
| | Responsibilities For Computerized and Standard Plans |

147
(1)
148
(1)

| | |
| --- | --- |
| | Critical Thinking: Evaluating the Plan |

149
(9)

| | |
| --- | --- |
| | Critical Thinking Exercise XIV: Determining Interventions and Recording Nursing Orders |

158
(3)
161
(1)
162
(26)

| | |
| --- | --- |
| | Implementation: Putting the Plan Into Action |

164
(1)

| | |
| --- | --- |
| | Preparing for Report and Getting Report |

164
(2)
164
(1)
164
(2)
166
(2)

| | |
| --- | --- |
| | Steps for Setting Daily Priorities |

166
(2)

| | |
| --- | --- |
| | Assessing and Reassessing: Monitoring Responses |

168
(1)

| | |
| --- | --- |
| | Performing Nursing Interventions |

169
(1)

| | |
| --- | --- |
| | Preparation: Be Proactive--Promote, Safety, Comfort, and Efficiency |

169
(1)

| | |
| --- | --- |
| | Steps for Preparing to Act |

169
(1)

| | |
| --- | --- |
| | Thinking Critically: What to Do If Things Go Wrong |

170
(1)

| | |
| --- | --- |
| | Case Management: Critical Paths and Care Variances |

171
(1)
172
(1)

| | |
| --- | --- |
| | Critical Thinking Exercise XV: Delegating, Case Management, Critical Paths, and Care Variances |

172
(1)
173
(4)

| | |
| --- | --- |
| | Different Ways of Charting |

174
(1)

| | |
| --- | --- |
| | Principles of Effective Charting |

175
(1)

| | |
| --- | --- |
| | Learning to Chart Effectively |

175
(1)

| | |
| --- | --- |
| | Guidelines: Charting During Implementation |

176
(1)

| | |
| --- | --- |
| | Mnemonics Used for Charting |

177
(1)

| | |
| --- | --- |
| | Critical Thinking Exercise XVI: Principles of Effective Charting |

177
(1)

| | |
| --- | --- |
| | Giving the Change-of-Shift Report |

178
(1)

| | |
| --- | --- |
| | Guidelines: Giving Change-of-Shift Reports |

178
(1)

| | |
| --- | --- |
| | Keeping the Plan up to Date |

179
(1)
180
(8)
188
(9)

| | |
| --- | --- |
| | Critical Evaluation: The Key to Excellence in Health Care Delivery |

190
(1)

| | |
| --- | --- |
| | Consumer Satisfaction: Maximizing Value |

190
(1)

| | |
| --- | --- |
| | Evaluating an Individual Plan of Care |

191
(2)

| | |
| --- | --- |
| | Determining Outcome Achievement |

191
(1)

| | |
| --- | --- |
| | Identifying Variables Affecting Outcome Achievement |

192
(1)

| | |
| --- | --- |
| | Deciding Whether to Continue, Modify, or Terminate the Plan |

192
(1)

| | |
| --- | --- |
| | Critical Thinking Exercise XVII: Determining Outcome Achievement, Identifying Variables Affecting Achievement, and Deciding Whether to Continue, Modify, or Terminate the Plan |

193
(1)

| | |
| --- | --- |
| | Ongoing, Systematic Evaluation for Quality Improvement (QI) |

194
(2)

| | |
| --- | --- |
| | Healthcare Systems: Constantly Interacting and Affecting Outcomes |

195
(1)

| | |
| --- | --- |
| | Three Types of Evaluation: Outcomes, Process, Structure |

195
(1)
196
(1)
197
(1)
Critical Thinking Exercise XVIII: Quality Improvement
197
(2)
Bibliography
199
(4)
Quick References to Nursing Diagnoses
203
(40)
Example Responses to Critical Thinking Exercises
243
(6)
Appendix A: Ethics Code and Practice Standards Related to Nursing Process
249
(2)
Appendix B: Example Critical Path and Care Map™
251
(4)
Appendix C: List of NIC Interventions and NOC Outcomes
255
(8)
Glossary
263
(4)
Index
267