Note: Supplemental materials are not guaranteed with Rental or Used book purchases.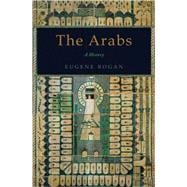 Summary
To American observers, the Arab world often seems little more than a distant battleground characterized by religious zealotry and political chaos. Years of tone-deaf US policies have left the region powerless to control its own destinyplaying into a longstanding sense of shame and impotence for a once-mighty people. In this definitive account, preeminent historian Eugene Rogan traces five centuries of Arab history, from the Ottoman conquests through the British and French colonial periods and up to the present age of unipolar American hegemony. The Arab world is now more acutely aware than ever of its own vulnerability, and this sense of subjection carries with it vast geopolitical consequences.Drawing from Arab sources little known to Western readers, Rogan'sThe Arabswill transform our understanding of the past, present, and future of one of the world's most tumultuous regions.
Author Biography
Eugene Rogan is a faculty fellow and university lecturer in the Modern History of the Middle East at St Antony's College, Oxford, where he serves as director of the Middle East Centre. His previous book, Frontiers of the State in the Late Ottoman Empire, was judged by the Middle East Studies Association of North America to be the best work on the Middle East in 2000 and awarded the Albert Hourani Prize. He lives in Oxford, England.