Note: Supplemental materials are not guaranteed with Rental or Used book purchases.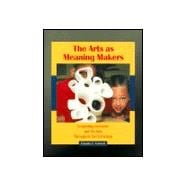 The Arts As Meaning Makers: Integrating Literature and the Arts Throughout the Curriculum
ISBN13:
9780137929207
by
Cornett, Claudia E.
Summary
This comprehensive, introductory text shows teachers how to meaningfully integrate literature, art, drama, dance, and music throughout curricular areas by providing a basic arts knowledge base, clear reasons for integration, and the application of basic integration principles. Intended for undergraduate education majors or practicing classroom teachers new to the concept of integrating the arts, the text's creative problem-solving process and integrated approach uses the arts as tools to learn. The only book on the market which clearly makes the case to integrate the arts on a daily basis, it summarizes the concepts and skills of five art forms and shows teachers how to plan and implement units and specific lessons which integrate at least one art form with a curricular area in each lesson.
Table of Contents
Foreword
v
(1)
Preface
vi

| | |
| --- | --- |
| | CHAPTER 1 AN INTRODUCTION TO TEACHING WITH, ABOUT, IN, AND THROUGH THE ARTS |

1
(33)
2
(3)
5
(6)

| | |
| --- | --- |
| | What Do Teachers Need to Know and Do to Teach With, About, In, and Through the Arts? |

11
(19)

| | |
| --- | --- |
| | How Can a Teacher Put Research and Theories Together to Coordinate Arts Integration? |

30
(4)

| | |
| --- | --- |
| | CHAPTER 2 INTEGRATING THE ARTS THROUGHOUT THE CURRICULUM |

34
(42)
37
(1)

| | |
| --- | --- |
| | Why Integrate the Arts Throughout the School Day? |

37
(3)

| | |
| --- | --- |
| | What Should Teachers Know about Integration? |

40
(1)

| | |
| --- | --- |
| | How Can Classroom Teachers Meaningfully Integrate the Arts? |

40
(27)

| | |
| --- | --- |
| | Individualization: To Not See Two as One |

67
(9)

| | |
| --- | --- |
| | CHAPTER 3 INTEGRATING LITERATURE THROUGHOUT THE CURRICULUM |

76
(52)
79
(1)

| | |
| --- | --- |
| | Why Should Teachers Integrate Literature? |

80
(5)

| | |
| --- | --- |
| | What Should Teachers Know and Teach about Literature to Integrate It Throughout the Curriculum? |

85
(22)

| | |
| --- | --- |
| | How Can Teachers Integrate Literature Throughout the Curriculum? |

107
(21)

| | |
| --- | --- |
| | CHAPTER 4 LITERATURE SEED STRATEGIES |

128
(22)

| | |
| --- | --- |
| | I. Energizers and Warm-ups |

129
(1)

| | |
| --- | --- |
| | II. Teaching about Literature: Elements and Genre Characteristics |

130
(2)

| | |
| --- | --- |
| | III. Connecting Literature to Other Curricular Areas |

132
(13)

| | |
| --- | --- |
| | IV. Special Focus: Poetry Sharing and Writing |

145
(5)

| | |
| --- | --- |
| | CHAPTER 5 INTEGRATING VISUAL ARTS ACROSS THE CURRICULUM |

150
(50)
153
(1)

| | |
| --- | --- |
| | Why Should Teachers Integrate Art? |

154
(6)

| | |
| --- | --- |
| | What Do Teachers Need to Know and Teach to Integrate Art? |

160
(12)

| | |
| --- | --- |
| | How Can Classroom Teachers Use Art to Enhance Other Curricular Areas? |

172
(28)

| | |
| --- | --- |
| | CHAPTER 6 ART SEED STRATEGIES |

200
(24)

| | |
| --- | --- |
| | I. Energizers and Warm-ups |

201
(1)

| | |
| --- | --- |
| | II. Teaching Art Concepts and Elements |

202
(4)

| | |
| --- | --- |
| | III. Using Different Media |

206
(10)

| | |
| --- | --- |
| | IV. Connecting Art to Other Curricular Areas |

216
(8)

| | |
| --- | --- |
| | CHAPTER 7 INTEGRATING DRAMA THROUGHOUT THE CURRICULUM |

224
(33)
227
(1)

| | |
| --- | --- |
| | Why Should Teachers Integrate Creative Drama? |

228
(4)

| | |
| --- | --- |
| | What Do Teachers Need to Know and Teach about Drama to Use It as a Teaching Tool? |

232
(2)

| | |
| --- | --- |
| | How Can a Classroom Teacher Use Drama as an Effective Teaching Tool for Integration? |

234
(23)

| | |
| --- | --- |
| | CHAPTER 8 DRAMA SEED STRATEGIES |

257
(28)

| | |
| --- | --- |
| | I. Energizers and Warm-ups |

258
(2)
260
(5)
265
(6)

| | |
| --- | --- |
| | IV. Connecting Drama to Other Curricular Areas |

271
(6)

| | |
| --- | --- |
| | V. Storytelling's Special Relationship with Drama |

277
(8)

| | |
| --- | --- |
| | CHAPTER 9 INTEGRATING DANCE AND MOVEMENT THROUGHOUT THE CURRICULUM |

285
(27)
288
(1)

| | |
| --- | --- |
| | Why Should a Classroom Teacher Use Movement and Dance to Teach Curricular Content and Skills? |

288
(4)

| | |
| --- | --- |
| | What Does a Classroom Teacher Need to Know and Teach to Use Dance as a Teaching Tool? |

292
(4)

| | |
| --- | --- |
| | How Should Classroom Teachers Use Dance and Movement as Teaching Tools? |

296
(16)

| | |
| --- | --- |
| | CHAPTER 10 DANCE SEED STRATEGIES |

312
(13)

| | |
| --- | --- |
| | I. Energizers and Warm-ups for the Body |

313
(2)

| | |
| --- | --- |
| | II. Dance Concepts and BEST Elements |

315
(3)

| | |
| --- | --- |
| | III. Connecting Dance to Other Curricular Areas |

318
(7)

| | |
| --- | --- |
| | CHAPTER 11 INTEGRATING MUSIC THROUGHOUT THE CURRICULUM |

325
(42)
327
(1)

| | |
| --- | --- |
| | Why Should Classroom Teachers Integrate Music? |

328
(6)

| | |
| --- | --- |
| | What Does a Classroom Teacher Need to Know and Teach about Music to Use It as a Teaching Tool? |

334
(10)

| | |
| --- | --- |
| | How Can a Classroom Teacher Use Music as a Teaching Tool? |

344
(23)

| | |
| --- | --- |
| | CHAPTER 12 MUSIC SEED STRATEGIES |

367
(16)

| | |
| --- | --- |
| | I. Energizers and Warm-ups |

368
(1)

| | |
| --- | --- |
| | II. Basic Musical Concepts and Elements |

369
(4)

| | |
| --- | --- |
| | III. Connecting Music to Curricular Areas |

373
(10)

| | |
| --- | --- |
| | CHAPTER 13 INTEGRATING THE ARTS WITH THE ARTS: STRATEGY SEED IDEAS |

383
(15)

| | |
| --- | --- |
| | 1. Literature and Art (LA) |

384
(4)
388
(1)
388
(1)
389
(1)

| | |
| --- | --- |
| | 5. Music and Literature (ML) |

390
(1)

| | |
| --- | --- |
| | 6. Literature and Drama (LDr) |

391
(2)
393
(2)
395
(1)
395
(1)

| | |
| --- | --- |
| | 10. Dance and Literature (DL) |

396
(2)

| | |
| --- | --- |
| | CHAPTER 14 QUESTIONS OFTEN ASKED |

398
(7)
403
(2)
APPENDIX A ARTS-BASED CHILDREN'S LITERATURE
405
(17)
APPENDIX B AWARD-WINNING CHILDREN'S LITERATURE
422
(7)
APPENDIX C ARTS ORGANIZATIONS, ADDRESSES, AND INTERNET SITES
429
(3)
APPENDIX D INTEREST INVENTORY
432
(1)
APPENDIX E DISCIPLINE PREVENTION AND INTERVENTION STRATEGIES
433
(2)
APPENDIX F BIBLIOGRAPHY OF RECOMMENDED READING AND VIEWING
435
(8)
INDEX
443