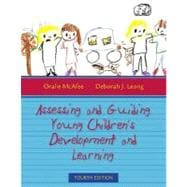 Questions About This Book?
What version or edition is this?
This is the 4th edition with a publication date of 1/1/2007.
What is included with this book?
The Used copy of this book is not guaranteed to include any supplemental materials. Typically, only the book itself is included.
Summary
This comprehensive guide to assessment in early childhood continues to provide the most current research, best thinking, and practical guidance to integrate assessment with effective teaching. Assessing and Guiding Young Childrenrs"s Development and Learning is the only book that shows assessment as a process teachers can use to improve teaching and ensure student learning. It incorporates current trends in assessment with examples and approaches being used in early childhood classrooms. The book includes guides for interpreting and using assessment information once it has been collected. The assessment strategies presented are compatible with all approaches to educating young children. The social, cultural, legal, and ethical context of assessment and its implications for teachers and teaching are realistically presented.
Table of Contents
Preface
xi
About the Authors
xvii

| | |
| --- | --- |
| | Part I Professionalism in Assessment |

| | |
| --- | --- |
| | Assessment in Early Childhood: A Work in Progress |

1
(10)
2
(1)
3
(3)

| | |
| --- | --- |
| | Professional Organizations |

3
(1)

| | |
| --- | --- |
| | Parents, Policy Makers, and the General Public |

4
(1)
5
(1)

| | |
| --- | --- |
| | Factors Contributing to Current Practices in Assessment |

6
(2)

| | |
| --- | --- |
| | Mandated Testing and Assessment |

6
(1)

| | |
| --- | --- |
| | The Diversity of Children and Families |

6
(1)

| | |
| --- | --- |
| | Concepts about Children's Development and Learning |

7
(1)

| | |
| --- | --- |
| | Limitations and Inadequacies of Standardized Testing |

8
(1)

| | |
| --- | --- |
| | Professional Responsibility |

8
(1)
9
(1)
9
(1)

| | |
| --- | --- |
| | For Further Study and Discussion |

10
(1)
10
(1)

| | |
| --- | --- |
| | Legal, Ethical, and Professional Responsibilities in Assessment |

11
(21)

| | |
| --- | --- |
| | Know Federal and State Laws That Mandate Assessment |

12
(1)
12
(1)

| | |
| --- | --- |
| | Head Start and Other Federally Funded Prekindergarten Programs |

13
(1)

| | |
| --- | --- |
| | State Laws and Regulations |

13
(1)

| | |
| --- | --- |
| | Protect Child and Family Rights |

13
(3)

| | |
| --- | --- |
| | The Right to Equal Protection under the Law |

13
(1)
14
(1)
14
(1)
15
(1)

| | |
| --- | --- |
| | Be Sensitive to Individual Differences |

16
(2)

| | |
| --- | --- |
| | Children with Special Needs |

16
(1)
17
(1)

| | |
| --- | --- |
| | Children Who Need Challenge |

18
(1)
18
(1)

| | |
| --- | --- |
| | Be Sensitive to Linguistic, Social, and Cultural Differences |

18
(4)

| | |
| --- | --- |
| | Cultural Differences That May Influence Assessment |

20
(1)

| | |
| --- | --- |
| | Implications for Assessment |

21
(1)
22
(5)

| | |
| --- | --- |
| | Be as Objective as Possible |

23
(2)

| | |
| --- | --- |
| | Ensure the Accuracy and Trustworthiness of Assessment Information |

25
(2)

| | |
| --- | --- |
| | Use Assessment Results in Appropriate Ways |

27
(1)

| | |
| --- | --- |
| | Know the Limitations of Each Method of Assessment, and Guard against Overreliance on Any One |

27
(1)

| | |
| --- | --- |
| | Use Assessment Results for the Intended Purposes |

28
(1)

| | |
| --- | --- |
| | Know and Abide by State, School District, and Center Policies |

28
(1)
28
(2)
30
(1)

| | |
| --- | --- |
| | For Further Study and Discussion |

30
(1)
31
(1)

| | |
| --- | --- |
| | Part II Assessing and Teaching |

| | |
| --- | --- |
| | Why, What, and When to Assess |

32
(18)
33
(1)
34
(2)

| | |
| --- | --- |
| | To Monitor Children's Development and Learning |

34
(1)

| | |
| --- | --- |
| | To Guide Classroom Planning and Decision Making |

35
(1)

| | |
| --- | --- |
| | To Identify Children Who Might Benefit from Special Help |

35
(1)

| | |
| --- | --- |
| | To Report to and Communicate with Others |

35
(1)
36
(7)

| | |
| --- | --- |
| | Major Child Growth and Development Domains |

36
(1)

| | |
| --- | --- |
| | Expected Outcomes of the Program for Individual Children |

36
(4)

| | |
| --- | --- |
| | Unique Patterns of Development, Knowledge, Attitudes, and Interests |

40
(1)

| | |
| --- | --- |
| | Problems or Concerns about a Particular Child or Group |

40
(2)
42
(1)
43
(4)

| | |
| --- | --- |
| | Before the School Year Starts |

43
(1)

| | |
| --- | --- |
| | Assess to Fulfill Requirements |

44
(1)
44
(1)
45
(1)

| | |
| --- | --- |
| | Assess Before and After a Concentrated Emphasis |

46
(1)

| | |
| --- | --- |
| | Assess to Get Information about a Specific Problem or Concern |

46
(1)
47
(1)
47
(1)
48
(1)

| | |
| --- | --- |
| | For Further Study and Discussion |

48
(1)
49
(1)

| | |
| --- | --- |
| | Documenting: Collecting Information |

50
(25)
51
(1)
52
(2)

| | |
| --- | --- |
| | The Child as a Source of Information |

52
(1)

| | |
| --- | --- |
| | Parents and Other Adults as a Source of Information |

53
(1)

| | |
| --- | --- |
| | Records as a Source of Information |

53
(1)

| | |
| --- | --- |
| | Methods of Collecting Information |

54
(12)

| | |
| --- | --- |
| | Observe Children Systematically |

54
(1)

| | |
| --- | --- |
| | Elicit Responses from Children |

55
(5)

| | |
| --- | --- |
| | Collect Work Products from Classroom Activities |

60
(2)

| | |
| --- | --- |
| | Elicit Information from Parents |

62
(4)
66
(3)

| | |
| --- | --- |
| | Characteristics of the Context |

66
(2)

| | |
| --- | --- |
| | Examples of Contexts for Assessment |

68
(1)

| | |
| --- | --- |
| | Choosing the Appropriate Assessment Window |

69
(4)

| | |
| --- | --- |
| | Identify the Behavior to Be Assessed |

69
(1)

| | |
| --- | --- |
| | Use Authentic Assessment Measures or Windows |

70
(1)

| | |
| --- | --- |
| | Maximize the Chances of Seeing a Behavior |

70
(1)

| | |
| --- | --- |
| | Use Multiple Assessment Measures or Windows |

70
(3)
73
(1)
74
(1)

| | |
| --- | --- |
| | For Further Study and Discussion |

74
(1)
74
(1)

| | |
| --- | --- |
| | Documenting: Recording Information |

75
(24)

| | |
| --- | --- |
| | Description and Examples of Recording Procedures |

76
(18)
76
(7)

| | |
| --- | --- |
| | Procedures That Count or Tally |

83
(7)

| | |
| --- | --- |
| | Procedures That Rate or Rank |

90
(3)
93
(1)

| | |
| --- | --- |
| | Selecting a Recording Procedure |

94
(3)

| | |
| --- | --- |
| | Purpose of the Assessment |

94
(1)
94
(1)
94
(1)
95
(2)
97
(1)
97
(1)

| | |
| --- | --- |
| | For Further Study and Discussion |

98
(1)
98
(1)

| | |
| --- | --- |
| | Compiling and Summarizing Information |

99
(25)
100
(13)

| | |
| --- | --- |
| | Description and Definition |

100
(1)
101
(1)

| | |
| --- | --- |
| | Basic Approaches to Portfolio Building |

101
(1)
102
(2)
104
(3)

| | |
| --- | --- |
| | Relationship of Portfolios to Other Types of Assessment |

107
(1)

| | |
| --- | --- |
| | Increasing the Information in Each Portfolio Item |

107
(6)
113
(1)

| | |
| --- | --- |
| | Group and Individual Profiles and Summaries |

113
(9)
114
(2)

| | |
| --- | --- |
| | Description and Definition of Group Profiles |

116
(1)

| | |
| --- | --- |
| | Purposes of Group Profiles |

117
(1)

| | |
| --- | --- |
| | Guides for Selecting and Organizing Content of Group Profiles |

118
(2)

| | |
| --- | --- |
| | Description and Definition of Individual Profiles |

120
(1)

| | |
| --- | --- |
| | Purposes of Individual Profiles |

120
(1)

| | |
| --- | --- |
| | Guides for Selecting and Organizing Content of Individual Profiles |

120
(2)
122
(1)
122
(1)

| | |
| --- | --- |
| | For Further Study and Discussion |

123
(1)
123
(1)

| | |
| --- | --- |
| | Interpreting Assessment Information |

124
(18)

| | |
| --- | --- |
| | Ensure the Authenticity and Trustworthiness of the Data |

125
(1)

| | |
| --- | --- |
| | To Determine Progress, Compare Performance at Two or More Points in Time |

125
(1)

| | |
| --- | --- |
| | Work from Compilations and Summaries |

125
(1)

| | |
| --- | --- |
| | Look for Patterns, Including Patterns of Errors, Rather Than Isolated Instances |

125
(1)

| | |
| --- | --- |
| | Consider a Child's or a Group's Unique and Individual Patterns of Development, Temperament, Interests, and Dispositions |

126
(1)

| | |
| --- | --- |
| | Identify Areas of Concern |

126
(1)

| | |
| --- | --- |
| | Interpret and Understand the Meaning of Assessment Findings |

126
(13)

| | |
| --- | --- |
| | Generate Multiple Hypotheses about Possible Meanings, but Hold Them Tentatively |

127
(1)

| | |
| --- | --- |
| | Analyze Performance as a Band or Interval within Which a Child Is Functioning |

127
(2)

| | |
| --- | --- |
| | Consider the Influence of the Total Sociocultural Context on Children's Actions |

129
(1)

| | |
| --- | --- |
| | Compare Evidence to Developmental or Curriculum Expectations |

130
(5)

| | |
| --- | --- |
| | Analyze Information for Clues to Learning Processes and Strategies |

135
(4)
139
(1)
140
(1)

| | |
| --- | --- |
| | For Further Study and Discussion |

140
(1)
141
(1)

| | |
| --- | --- |
| | Using Assessment Information |

142
(17)
143
(2)

| | |
| --- | --- |
| | Plan and Organize the Intended Changes |

143
(1)

| | |
| --- | --- |
| | Refer to Assessment Information as You Plan |

143
(1)

| | |
| --- | --- |
| | Allow Time for Reflection |

144
(1)

| | |
| --- | --- |
| | Plan Ways to Meet Children's Assessed Needs |

144
(1)

| | |
| --- | --- |
| | Deliberately Incorporate the Wealth of Information, Resources, and Strategies Available to Support Young Children's Learning |

144
(1)

| | |
| --- | --- |
| | Plan for and with Other People in the Classroom |

144
(1)

| | |
| --- | --- |
| | Balance What You Might Like to Do with What Is Possible |

145
(1)

| | |
| --- | --- |
| | Individual and Group Strategies |

145
(4)
146
(1)
147
(1)
147
(1)
148
(1)

| | |
| --- | --- |
| | Curriculum and Classroom Modification Strategies |

149
(2)

| | |
| --- | --- |
| | Allocate Time and Space in Different Ways to Achieve Different Results |

149
(1)

| | |
| --- | --- |
| | Select and Arrange Materials in Response to Assessment Results |

149
(1)

| | |
| --- | --- |
| | Use Any Apparent Sequence |

150
(1)

| | |
| --- | --- |
| | Look at the Need for Possible Change in Procedures |

151
(1)

| | |
| --- | --- |
| | Rethink and Restructure to Meet Children ``Where They Are'' |

151
(1)

| | |
| --- | --- |
| | Examples of Using Assessment Information to Guide Instruction |

151
(6)
151
(3)

| | |
| --- | --- |
| | Small Muscle/Fine Motor Development |

154
(1)

| | |
| --- | --- |
| | Early Literacy Development |

154
(3)
157
(1)
157
(1)

| | |
| --- | --- |
| | For Further Study and Discussion |

157
(1)
158
(1)

| | |
| --- | --- |
| | Organizing for Assessment |

159
(21)

| | |
| --- | --- |
| | Integrating Assessment and Teaching |

159
(3)
160
(2)
162
(3)

| | |
| --- | --- |
| | Considerations in Planning for Assessment |

162
(2)
164
(1)
165
(1)

| | |
| --- | --- |
| | Organizing Files and Forms |

165
(13)

| | |
| --- | --- |
| | Notebooks, Files, and Portfolios |

166
(2)
168
(7)
175
(3)
178
(1)
179
(1)

| | |
| --- | --- |
| | For Further Study and Discussion |

179
(1)
179
(1)

| | |
| --- | --- |
| | Part III The Classroom and Beyond |

| | |
| --- | --- |
| | Standardized Tests: What Early Childhood Teachers Should Know |

180
(18)

| | |
| --- | --- |
| | The Difference between an Assessment That Has Standardized Procedures and a Standardized Test |

181
(1)

| | |
| --- | --- |
| | Definition of a Standardized Test |

181
(1)

| | |
| --- | --- |
| | Limitations and Inadequacies of Standardized Testing |

182
(2)

| | |
| --- | --- |
| | Technical and Educational Inadequacies |

182
(1)
183
(1)

| | |
| --- | --- |
| | Unsuitability for the Population |

183
(1)

| | |
| --- | --- |
| | Undue Influence on Education |

184
(1)

| | |
| --- | --- |
| | Types of Standardized Tests |

184
(2)

| | |
| --- | --- |
| | Standardized Achievement Tests |

185
(1)

| | |
| --- | --- |
| | Standardized Aptitude Tests |

185
(1)

| | |
| --- | --- |
| | Standardized Screening and Diagnostic Tests |

186
(1)

| | |
| --- | --- |
| | The Early Childhood Teacher's Role in Standardized Testing |

186
(9)

| | |
| --- | --- |
| | How to Find Out if a Standardized Test Is Reliable and Valid |

187
(3)

| | |
| --- | --- |
| | How to Administer a Standardized Test |

190
(1)

| | |
| --- | --- |
| | How to Explain Different Types of Test Scores |

191
(3)

| | |
| --- | --- |
| | How to Interpret Standardized Test Results |

194
(1)

| | |
| --- | --- |
| | Standardized Instruments Used to Measure Opportunities to Learn |

195
(1)

| | |
| --- | --- |
| | Finding Out More about Standardized Tests |

196
(1)
196
(1)
196
(1)

| | |
| --- | --- |
| | For Further Study and Discussion |

197
(1)
197
(1)

| | |
| --- | --- |
| | Communicating and Collaborating Using Assessment Processes and Results |

198
(21)

| | |
| --- | --- |
| | Communicating with Children |

199
(1)

| | |
| --- | --- |
| | Communicating with Parents |

199
(11)
199
(2)
201
(9)

| | |
| --- | --- |
| | Communicating and Collaborating with Other Professionals |

210
(6)

| | |
| --- | --- |
| | Communication within the School or Center |

210
(1)

| | |
| --- | --- |
| | Communication with Other Schools and Centers |

210
(1)

| | |
| --- | --- |
| | Communication and Collaboration in Specialized Services |

211
(5)

| | |
| --- | --- |
| | Professional and Personal Development and Learning |

216
(1)

| | |
| --- | --- |
| | Professional Development and Learning |

216
(1)

| | |
| --- | --- |
| | Personal Development and Learning |

216
(1)
216
(1)
217
(1)

| | |
| --- | --- |
| | For Further Study and Discussion |

217
(1)
218
(1)
Appendix A Assessment and Analysis Guides
219
(25)
Appendix B Developmental Red Flags for Children Ages 3 to 5
244
(7)
Glossary
251
(4)
References
255
(19)
Name Index
274
(3)
Subject Index
277