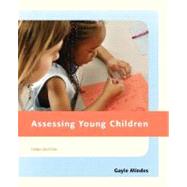 Questions About This Book?
What version or edition is this?
This is the 3rd edition with a publication date of 1/1/2007.
What is included with this book?
The Used copy of this book is not guaranteed to include any supplemental materials. Typically, only the book itself is included.
Related Products
Summary
Assessing Young Childrenaddresses theory and provides illustrations of appropriate practice for prospective teachers, as well as discusses current trends for experienced teachers. It approaches assessment as an integral part of the teaching-learning process. Key components of the assessment system advocated include cultural sensitivity, parent collaboration and a vision of inclusionary practice in all early childhood environments-child care and school. This book reflects the knowledge base of early childhood and early childhood special education. For courses in Assessment in early childhood education.
Table of Contents
| | |
| --- | --- |
| | A Comprehensive Assessment System for Birth Through Age 8 |

2
(28)

| | |
| --- | --- |
| | The Age Span of Early Childhood |

4
(1)

| | |
| --- | --- |
| | Matching Assessment Methods to Early Childhood Settings |

5
(2)

| | |
| --- | --- |
| | Stakeholders in the Process |

7
(1)

| | |
| --- | --- |
| | Defining and Creating a Comprehensive Assessment System |

8
(9)

| | |
| --- | --- |
| | Ethics and Responsibilities |

| | |
| --- | --- |
| | Current Issues in the Assessment of Young Children |

17
(7)

| | |
| --- | --- |
| | Authentic Assessment and Portfolios |

24
(6)

| | |
| --- | --- |
| | Developing Family Partnerships in Assessment |

30
(28)

| | |
| --- | --- |
| | Family Partnerships in the Assessment System |

31
(5)

| | |
| --- | --- |
| | Crucial Importance of Family Information |

| | |
| --- | --- |
| | Methods for Obtaining Information from Families |

36
(11)

| | |
| --- | --- |
| | Behavior Problem Questionnaires |

| | |
| --- | --- |
| | Child Development Review-Parent Questionnaire |

| | |
| --- | --- |
| | Limitations of the Questionnaire Process |

| | |
| --- | --- |
| | Parents' Educational Programs |

47
(2)

| | |
| --- | --- |
| | Family-Teacher Collaboration |

49
(2)
51
(1)
52
(6)

| | |
| --- | --- |
| | Observation as the Key Method in the System |

58
(40)

| | |
| --- | --- |
| | Observation in the Assessment System---Planning, Deciding, and Recording |

59
(35)

| | |
| --- | --- |
| | Teachers Are Decision-Makers |

| | |
| --- | --- |
| | Practicing Being a Better Observer |

| | |
| --- | --- |
| | Planning for Observations |

| | |
| --- | --- |
| | Limitations of the Observational Method |

| | |
| --- | --- |
| | Planning and Scheduling Observations |

94
(4)

| | |
| --- | --- |
| | Using Basic Concepts of Measurement |

98
(30)

| | |
| --- | --- |
| | New Paradigms in Assessment |

100
(1)

| | |
| --- | --- |
| | Importance of Basic Concepts of Measurement for Teachers |

100
(1)
101
(3)

| | |
| --- | --- |
| | Standardization and Norms |

104
(4)

| | |
| --- | --- |
| | Different Types of Test Scores |

108
(5)
113
(4)
117
(3)

| | |
| --- | --- |
| | Guidelines for Test Evaluation |

120
(4)
124
(4)

| | |
| --- | --- |
| | Testing: Choosing the Right Measure |

128
(32)

| | |
| --- | --- |
| | Tests in the Assessment System |

130
(2)

| | |
| --- | --- |
| | Errors in Testing That Influence Results |

| | |
| --- | --- |
| | Early Childhood Tests and Their Use |

132
(5)
137
(6)

| | |
| --- | --- |
| | Teacher's Responsibility on Multidisciplinary Team |

| | |
| --- | --- |
| | Diagnostic Curricular Measures |

| | |
| --- | --- |
| | Individualized Educational Planning |

| | |
| --- | --- |
| | Curriculum-Based Assessment |

| | |
| --- | --- |
| | Coordination of Testing Programs |

143
(1)
144
(12)

| | |
| --- | --- |
| | Systematic Collection of Information |

| | |
| --- | --- |
| | Performance Problems as Measures |

| | |
| --- | --- |
| | Link to Individualized Education Plan |

156
(4)

| | |
| --- | --- |
| | Using Alternative Assessment Strategies |

160
(30)

| | |
| --- | --- |
| | Role of Alternative Assessment Strategies in the Classroom |

161
(1)
162
(4)

| | |
| --- | --- |
| | Structured Questions to Identify Student-Learning Processes |

166
(3)
169
(4)
173
(1)
174
(2)
176
(3)

| | |
| --- | --- |
| | Strength-Based Assessment and Intervention |

179
(1)

| | |
| --- | --- |
| | Curriculum-Based Language Assessment |

180
(2)
182
(2)
184
(1)
185
(5)

| | |
| --- | --- |
| | Record Keeping, Reporting, and Collaborating with Families and Others |

190
(36)

| | |
| --- | --- |
| | Record Keeping and Reporting in the Assessment System |

191
(1)

| | |
| --- | --- |
| | Maintaining Confidentiality of Assessment Information |

192
(1)

| | |
| --- | --- |
| | Involving Parents in Assessment |

193
(3)

| | |
| --- | --- |
| | Conferencing with Parents |

196
(11)

| | |
| --- | --- |
| | Preparing Parents for the Experience |

| | |
| --- | --- |
| | Preconference Survey to Parents |

| | |
| --- | --- |
| | Staging Effective Conferences |

| | |
| --- | --- |
| | Involving Young Children in Student-Led Conferences Using Portfolios Effectively at Conferences |

| | |
| --- | --- |
| | Grading in the Early Years |

207
(1)
207
(6)

| | |
| --- | --- |
| | Writing Notes on Report Cards |

| | |
| --- | --- |
| | When Families Are Clients |

213
(1)

| | |
| --- | --- |
| | Multidisciplinary Staffing |

214
(4)

| | |
| --- | --- |
| | Reporting to Other Stakeholders |

218
(3)
221
(5)
226
(32)

| | |
| --- | --- |
| | Child Studies in the Assessment System |

227
(1)

| | |
| --- | --- |
| | Purposes of Child Studies |

227
(2)

| | |
| --- | --- |
| | Elements of a Child Study |

229
(1)

| | |
| --- | --- |
| | Conducting a Child Study to Determine Teaching or Intervention Strategies |

230
(1)

| | |
| --- | --- |
| | Examples of Child Studies |

231
(22)
253
(5)

| | |
| --- | --- |
| | Special Issues in Infant and Toddler Assessment |

258
(26)

| | |
| --- | --- |
| | The Total Assessment Process of Infants and Toddlers |

259
(8)

| | |
| --- | --- |
| | The Importance of Assessment in the First 3 Years |

267
(5)

| | |
| --- | --- |
| | Principles of Child Development |

| | |
| --- | --- |
| | Unique Aspects of Infants and Toddlers |

272
(2)

| | |
| --- | --- |
| | Principles That Guide Infant and Toddler Assessment |

274
(4)

| | |
| --- | --- |
| | Special At-Risk Populations |

| | |
| --- | --- |
| | Ecologically and Developmentally Relevant Assessment Strategies |

278
(1)

| | |
| --- | --- |
| | The Integration of Assessment Information into Programming |

279
(1)
280
(4)

| | |
| --- | --- |
| | Issues in Preschool Assessment |

284
(28)

| | |
| --- | --- |
| | Preschool Assessment System Issues |

285
(1)

| | |
| --- | --- |
| | Selection for the Preschool Program |

286
(1)

| | |
| --- | --- |
| | Limited Enrollment Decisions |

| | |
| --- | --- |
| | Choosing a Screening Instrument |

287
(1)

| | |
| --- | --- |
| | Limitations of Screening Instruments |

| | |
| --- | --- |
| | Selection of Children in Competitive Situations |

288
(1)
289
(11)

| | |
| --- | --- |
| | Teacher Instructional Role |

| | |
| --- | --- |
| | Multiple Intelligences Curriculum The Project Approach |

| | |
| --- | --- |
| | Collecting Assessment Information in Portfolios |

| | |
| --- | --- |
| | Outcomes Teaching and Performance Standards |

| | |
| --- | --- |
| | Referral for Special Services |

300
(6)

| | |
| --- | --- |
| | Teacher Contribution to the Process |

| | |
| --- | --- |
| | The Continuum of Referral |

| | |
| --- | --- |
| | Formal Identification for Special Education |

| | |
| --- | --- |
| | Formal Planning and Documentation |

| | |
| --- | --- |
| | Transition to Kindergarten or First Grade |

306
(2)

| | |
| --- | --- |
| | Articulation of Preschool/Kindergarten Goals |

308
(4)

| | |
| --- | --- |
| | Special Issues in Primary Grades |

312
(42)

| | |
| --- | --- |
| | Primary Assessment Systems Issues |

313
(1)

| | |
| --- | --- |
| | Transition from Preschool |

314
(1)
315
(15)

| | |
| --- | --- |
| | Using National Standards to Develop Checklists |

| | |
| --- | --- |
| | Urban and Nontraditional Learner Issues |

| | |
| --- | --- |
| | Inclusion of Students with Disabilities |

330
(4)

| | |
| --- | --- |
| | Involving Children in Portfolio Data Collection |

334
(7)
341
(6)

| | |
| --- | --- |
| | When Teachers Do Use Achievement Tests |

| | |
| --- | --- |
| | Using Achievement Test Results |

347
(1)

| | |
| --- | --- |
| | Individualized Academic Tests |

348
(1)
349
(1)
349
(5)
Appendix A Self-Assessment Pretest Associated with Terms to Know
354
(5)
Appendix B Child Development Chart for Typical Development
359
(5)
Appendix C Selected Early Childhood Tests to Consider for Use in Educational and Child-Care Settings
364
(33)
Appendix D Test Evaluation Guidelines
397
(3)
Appendix E Choosing Technology and Software to Support Assessment
400
(4)
Appendix F Portfolio Template
404
(5)
Appendix G Child Interview Protocols
409
(2)
Appendix H Example Forms for Collecting Assessment Information
411
(4)
Appendix I Chicago Early Development Screening Inventory for Teachers II
415
(4)
Glossary
419
(6)
References
425
(14)
Name Index
439
(6)
Subject Index
445