Note: Supplemental materials are not guaranteed with Rental or Used book purchases.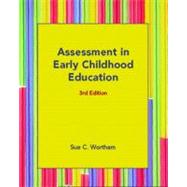 Assessment in Early Childhood Education
ISBN13:
9780130193421
by
Wortham, Sue C.
Summary
For Early Childhood Assessment and Early Childhood Tests and Measurement courses. This user-friendly core text discusses assessment in terms that are understandable for pre-service and in-service teachers. Its strong coverage of traditional assessment vehicles is apparent in its comprehensive treatment of standardized tests. Non-traditional vehicles are also thoroughly examined in several chapters on informal evaluation methods. The approach of this edition supports the development of an assessment system that includes both traditional and authentic assessment strategies in a comprehensive plan.
Table of Contents
Part I Introduction to Assessment in Early Childhood
1
(260)

| | |
| --- | --- |
| | An Overview of Assessment in Early Childhood |

2
(18)

| | |
| --- | --- |
| | Understanding Assessment in Infancy and Early Childhood |

3
(2)

| | |
| --- | --- |
| | The Evolution of Assessment of Young Children |

5
(6)
6
(1)
7
(1)

| | |
| --- | --- |
| | Head Start and the War on Poverty |

8
(1)

| | |
| --- | --- |
| | Legislation for Young Children with Disabilities |

8
(3)

| | |
| --- | --- |
| | Current Issues and Trends in Assessment in Early Childhood Education |

11
(3)

| | |
| --- | --- |
| | Concerns About Testing Young Children in Public School Settings |

11
(1)

| | |
| --- | --- |
| | Concerns About Testing Young Children with Cultural and Language Differences |

12
(1)

| | |
| --- | --- |
| | Concerns About Testing Young Children with Disabilities |

13
(1)

| | |
| --- | --- |
| | Authentic and Performance Assessment |

13
(1)

| | |
| --- | --- |
| | An Overview of Topics Covered in This Book |

14
(2)
16
(1)
16
(1)
17
(1)
17
(1)
17
(3)

| | |
| --- | --- |
| | How Infants and Young Children Should Be Assessed |

20
(20)

| | |
| --- | --- |
| | Entering a New Century: What Assessment Should Do |

21
(3)

| | |
| --- | --- |
| | Principles for Assessment |

22
(1)

| | |
| --- | --- |
| | Principles for Early Childhood Assessments |

23
(1)

| | |
| --- | --- |
| | How Infants and Young Children Are Assessed |

24
(6)

| | |
| --- | --- |
| | Developing a Comprehensive System of Assessment |

30
(2)

| | |
| --- | --- |
| | Components of an Assessment System |

30
(2)
32
(2)

| | |
| --- | --- |
| | Using Assessment Results to Plan for Instruction |

33
(1)

| | |
| --- | --- |
| | Using Assessment Results to Report Progress |

33
(1)

| | |
| --- | --- |
| | Using Assessment Results to Evaluate the Instructional Program |

33
(1)

| | |
| --- | --- |
| | Assessment of Young Children: The Process |

34
(1)

| | |
| --- | --- |
| | Assessment at the Beginning of the School Year |

34
(1)
34
(1)

| | |
| --- | --- |
| | Assessment at the End of Reporting Periods |

34
(1)

| | |
| --- | --- |
| | Assessment at the End of the School Year |

35
(1)

| | |
| --- | --- |
| | Working with Young Children in an Assessment Setting |

35
(1)
36
(1)
37
(1)
37
(1)
37
(1)
38
(2)
Part II Standardized Tests

| | |
| --- | --- |
| | Standardized Tests: How They Are Used, Designed, and Selected |

40
(28)

| | |
| --- | --- |
| | How Standardized Tests Are Used with Infants and Young Children |

41
(7)

| | |
| --- | --- |
| | Types of Standardized Tests |

41
(7)

| | |
| --- | --- |
| | Steps in Standardized Test Design |

48
(8)

| | |
| --- | --- |
| | Specifying the Purpose of the Test |

51
(1)
51
(1)

| | |
| --- | --- |
| | Developing Experimental Forms |

52
(1)
53
(1)
53
(1)

| | |
| --- | --- |
| | Developing the Test Manual |

54
(1)
54
(2)

| | |
| --- | --- |
| | Standard Error of Measurement |

56
(1)
56
(3)
56
(1)
57
(1)

| | |
| --- | --- |
| | Percentile Ranks and Stanines |

58
(1)
59
(1)

| | |
| --- | --- |
| | Considerations in Choosing and Evaluating Tests |

59
(3)
62
(1)
63
(1)
63
(1)
63
(1)
64
(4)

| | |
| --- | --- |
| | Standardized Tests: Using and Reporting Standardized Test Results |

68
(32)

| | |
| --- | --- |
| | Uses of Norm-Referenced and Criterion-Referenced Tests |

70
(7)

| | |
| --- | --- |
| | Distinctions Between Norm-Referenced and Criterion-Referenced Tests |

70
(2)

| | |
| --- | --- |
| | Uses of Norm-Referenced Tests with Preschool Children |

72
(1)

| | |
| --- | --- |
| | Uses of Norm-Referenced Tests with School-Aged Children |

72
(1)

| | |
| --- | --- |
| | Uses of Criterion-Referenced Tests with Preschool Children |

73
(1)

| | |
| --- | --- |
| | Uses of Criterion-Referenced Tests with School-Aged Children |

73
(4)

| | |
| --- | --- |
| | Reporting Standardized Test Results |

77
(3)
77
(1)

| | |
| --- | --- |
| | Norm-Referenced and Criterion-Referenced Scores |

77
(3)
80
(1)

| | |
| --- | --- |
| | School and District Reports |

80
(1)

| | |
| --- | --- |
| | Reporting Test Results to Parents |

80
(5)
81
(1)
81
(1)
82
(3)

| | |
| --- | --- |
| | Reporting Achievement on Criterion-Referenced Objectives |

85
(1)

| | |
| --- | --- |
| | Advantages and Disadvantages of Standardized Tests |

85
(5)

| | |
| --- | --- |
| | Advantages of Standardized Tests |

85
(1)

| | |
| --- | --- |
| | Disadvantages of Standardized Tests |

86
(4)

| | |
| --- | --- |
| | Limitations in Using Standardized Test Results with Young Children |

90
(5)

| | |
| --- | --- |
| | Concerns About Validity and Reliability |

91
(1)

| | |
| --- | --- |
| | Difficulties in Administering Tests to Young Children |

92
(1)

| | |
| --- | --- |
| | Misapplication of Test Results |

93
(1)

| | |
| --- | --- |
| | The Need for Improvements in Standardized Tests |

94
(1)
95
(1)
95
(1)
96
(1)
96
(1)
96
(4)
Part III Informal Assessments

| | |
| --- | --- |
| | Informal Assessments: Observation |

100
(30)

| | |
| --- | --- |
| | Uses of Teacher Assessment Strategies |

101
(2)
102
(1)

| | |
| --- | --- |
| | Diagnostic Evaluation and Instructional Planning |

102
(1)

| | |
| --- | --- |
| | Formative and Summative Evaluation |

102
(1)

| | |
| --- | --- |
| | Advantages of Using Informal Assessments |

103
(2)

| | |
| --- | --- |
| | Disadvantages of Using Informal Assessments |

105
(2)
107
(3)

| | |
| --- | --- |
| | Understanding Children's Behavior |

107
(1)

| | |
| --- | --- |
| | Evaluating Children's Development |

108
(1)

| | |
| --- | --- |
| | Assessing Progress in Learning |

109
(1)
110
(6)
110
(1)
110
(1)
111
(3)
114
(1)
114
(1)

| | |
| --- | --- |
| | Checklists and Rating Scales |

115
(1)

| | |
| --- | --- |
| | Audiotapes and Videotapes |

116
(1)
116
(6)
118
(1)

| | |
| --- | --- |
| | Social and Emotional Development |

119
(1)
120
(1)
121
(1)

| | |
| --- | --- |
| | Advantages and Disadvantages of Using Observation for Evaluation |

122
(1)
123
(3)

| | |
| --- | --- |
| | Determining the Observation Site |

123
(1)

| | |
| --- | --- |
| | Observer Behaviors During the Observation Visit |

124
(1)

| | |
| --- | --- |
| | Ethics During the Observation Visit |

124
(1)
125
(1)
126
(1)
126
(1)
127
(1)
127
(1)
127
(3)

| | |
| --- | --- |
| | Informal Assessments: Checklists, Rating Scales, and Rubrics |

130
(36)
131
(2)
131
(1)

| | |
| --- | --- |
| | Using Checklists with Preschool Children |

132
(1)

| | |
| --- | --- |
| | Using Checklists with School-Aged Children |

132
(1)

| | |
| --- | --- |
| | Using Checklists to Assess Children with Delays in Development |

133
(1)

| | |
| --- | --- |
| | How Checklists Are Designed and Used |

133
(6)

| | |
| --- | --- |
| | Checklists as a Guide to Understand Development |

135
(1)

| | |
| --- | --- |
| | Checklists as a Guide to Develop Curriculum |

135
(4)

| | |
| --- | --- |
| | Checklists as a Guide to Assess Learning and Development |

139
(1)

| | |
| --- | --- |
| | Evaluating and Assessing with Checklists |

139
(1)

| | |
| --- | --- |
| | Evaluating Checklist Objectives by Observation |

139
(1)

| | |
| --- | --- |
| | Evaluating Checklist Objectives with Learning Activities |

140
(1)

| | |
| --- | --- |
| | Evaluating Checklist Objectives with Specific Tasks |

140
(1)

| | |
| --- | --- |
| | Steps in Checklist Design |

140
(3)

| | |
| --- | --- |
| | Identification of the Skills to Be Included |

141
(1)

| | |
| --- | --- |
| | Separate Listing of Target Behaviors |

142
(1)

| | |
| --- | --- |
| | Sequential Organization of the Checklist |

142
(1)
142
(1)

| | |
| --- | --- |
| | Advantages and Disadvantages of Using Checklists |

143
(2)

| | |
| --- | --- |
| | Advantages of Using Checklists |

143
(1)

| | |
| --- | --- |
| | Disadvantages of Using Checklists |

143
(2)
145
(5)
145
(1)
146
(4)

| | |
| --- | --- |
| | Advantages and Disadvantages of Rating Scales |

150
(3)

| | |
| --- | --- |
| | Advantages of Using Rating Scales |

150
(3)

| | |
| --- | --- |
| | Disadvantages of Using Rating Scales |

153
(1)
153
(7)
153
(2)

| | |
| --- | --- |
| | How Rubrics Are Designed and Used |

155
(5)

| | |
| --- | --- |
| | Advantages and Disadvantages of Using Rubrics |

160
(1)

| | |
| --- | --- |
| | Advantages of Using Rubrics |

160
(1)

| | |
| --- | --- |
| | Disadvantages of Using Rubrics |

161
(1)

| | |
| --- | --- |
| | Developing Quality Checklists, Rating Scales, and Rubrics |

161
(2)
161
(1)
161
(1)
162
(1)

| | |
| --- | --- |
| | Consistency in Conducting and Scoring Assessments |

162
(1)
163
(1)
163
(1)
164
(1)
164
(1)
164
(2)

| | |
| --- | --- |
| | Informal Assessments: Teacher-Designed Strategies |

166
(30)

| | |
| --- | --- |
| | Purposes of Teacher-Designed Assessments and Tests |

167
(2)

| | |
| --- | --- |
| | Types of Tests Used with Preschool and Primary Grade Children |

169
(5)

| | |
| --- | --- |
| | How Tests Are Designed and Used |

174
(14)
176
(10)

| | |
| --- | --- |
| | Designing Learning Experiences |

186
(1)

| | |
| --- | --- |
| | Designing Correctives and Enrichment Activities |

186
(2)

| | |
| --- | --- |
| | Advantages and Disadvantages of Using Teacher-Designed Evaluations |

188
(3)

| | |
| --- | --- |
| | Developing Quality Teacher-Designed Assessments |

191
(1)

| | |
| --- | --- |
| | Concrete Tasks for Preschool |

191
(1)

| | |
| --- | --- |
| | Tests for Primary Grade Children |

192
(1)
192
(1)
193
(1)
193
(1)
193
(1)
194
(2)

| | |
| --- | --- |
| | Informal Assessments: Performance-Based Strategies |

196
(22)

| | |
| --- | --- |
| | Authentic Learning and Authentic Assessment |

198
(1)

| | |
| --- | --- |
| | Purposes for Performance-Based Assessment |

199
(1)

| | |
| --- | --- |
| | Types of Performance-Based Assessment |

199
(6)
199
(1)
200
(2)
202
(1)
202
(1)
203
(1)
204
(1)
204
(1)

| | |
| --- | --- |
| | Understanding the Interrelated Nature of Performance Assessments |

205
(4)
205
(1)

| | |
| --- | --- |
| | Classification and Organization of Performance Assessments |

206
(1)
206
(2)
208
(1)

| | |
| --- | --- |
| | Advantages and Disadvantages of Using Performance-Based Assessment |

209
(3)

| | |
| --- | --- |
| | Advantages of Using Performance-Based Assessment |

209
(1)

| | |
| --- | --- |
| | Disadvantages of Using Performance-Based Assessments |

210
(2)

| | |
| --- | --- |
| | Developing Quality Performance Assessments |

212
(1)
213
(1)
214
(1)
214
(1)
214
(1)
214
(4)
Part IV Using Assessment Systems

| | |
| --- | --- |
| | Assessment Systems: Portfolio Assessment |

218
(26)

| | |
| --- | --- |
| | Understanding the Need for Alternative Assessment and Reporting Systems |

219
(4)

| | |
| --- | --- |
| | Using Alternative Assessments Appropriately |

220
(1)

| | |
| --- | --- |
| | Limitations of Letter Grades and Report Cards |

220
(3)
223
(1)

| | |
| --- | --- |
| | Purposes for Portfolio Assessment |

223
(1)
224
(5)
224
(1)

| | |
| --- | --- |
| | Organizing Portfolios Using a Developmental Approach |

225
(2)

| | |
| --- | --- |
| | Organizing Portfolios Using a Subject Area Approach |

227
(2)
229
(7)
229
(3)

| | |
| --- | --- |
| | Collecting and Organizing Work |

232
(1)

| | |
| --- | --- |
| | Selecting Portfolio Assessments |

232
(3)

| | |
| --- | --- |
| | Strategies for Developing Successful Portfolios |

235
(1)

| | |
| --- | --- |
| | Advantages and Disadvantages of Using Portfolios to Report Student Progress |

236
(4)

| | |
| --- | --- |
| | Developing Quality Portfolio Assessments |

240
(1)
241
(1)
241
(1)
242
(1)
242
(2)

| | |
| --- | --- |
| | Assessment Systems: Communicating with Parents |

244
(17)

| | |
| --- | --- |
| | Developing Parent-School Partnerships |

246
(1)

| | |
| --- | --- |
| | Roles for Parents in the Child's Development and Learning |

246
(1)

| | |
| --- | --- |
| | Assessment Roles of Parents of Children with Disabilities |

246
(1)

| | |
| --- | --- |
| | Involving Parents in the Assessment Process |

247
(1)

| | |
| --- | --- |
| | Strategies to Report Student Progress |

247
(4)

| | |
| --- | --- |
| | Using Portfolios to Report Student Progress |

247
(1)

| | |
| --- | --- |
| | Using Narrative Reports to Report Student Progress |

248
(3)

| | |
| --- | --- |
| | Advantages and Disadvantages of Using Narrative Reports to Report Student Progress |

251
(1)

| | |
| --- | --- |
| | Model Assessment and Reporting Systems |

251
(3)
251
(1)
252
(2)

| | |
| --- | --- |
| | The Child Observation Record |

254
(1)

| | |
| --- | --- |
| | Communicating with Parents About Children's Progress |

254
(3)

| | |
| --- | --- |
| | Planning for Parent Conferences |

254
(1)
255
(2)

| | |
| --- | --- |
| | Summary: Looking to the Future |

257
(1)
258
(1)
258
(1)
259
(2)
Glossary
261
(4)
A Selected Annotated Bibliography of Evaluation Instruments for Infancy and Early Childhood
265
(6)
Index
271