Note: Supplemental materials are not guaranteed with Rental or Used book purchases.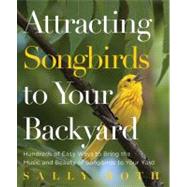 Attracting Songbirds to Your Backyard
ISBN13:
9781609617547
by
Roth, Sally
Summary
The best ways to attract melodic birds, with insight into their rapidly changing habits The American robin and northern cardinal are two of the best-loved songbirds, but newer backyard arrivals, like rose-breasted grosbeaks and scarlet tanagers, quickly captivate with their vivid colors and unique songs. Bird lovers will learn to attract new visitors by offering treats that songbirds like best, such as soft, easy-to-peck foods that closely mimic caterpillars, their top food preference. And planting just a few carefree perennials and shrubs can provide opportunities for cover and nesting. Sally Roth draws on the latest science and 50 years of observation to reveal these fascinating details: In the wee hours, it's the robins that sing first, followed by the babble of house wrens and the whistle of cardinals Some birds learn birdsongs throughout their lives, while others stop learning once they can mimic their parents' song It's Dad, not Mom, who teaches the young birds to sing Simple tips, ideas, and recipes, as well as an understanding of why songbirds are coming from the treetops into the backyard, will help any bird enthusiast create a songbird sanctuary.
Author Biography
Sally Roth is a lifelong gardener and naturalist and the author of many books and articles on gardening and birding. She welcomes birds and wildlife to her backyard in every season. Visit Sally at www.sallyroth.com.
Table of Contents
Introduction
p. vi
The Joy of Songbirds
Meet the Singers
p. 3
Here Comes the Sun
p. 27
A Room with a View
p. 47
Joy in the Morning
p. 67
Grandmasters of Song
p. 87
Lullaby and Good Night
p. 107
Eat, Drink, and Be Meat
Singing for Their Supper (and Breakfast, Lunch, and Snacks)
p. 119
Be a Softie
p. 135
Fruits, Berries, and Sweets
p. 157
Getting Bugged
p. 181
Seeds and Nuts
p. 193
Treats from the Kitchen
p. 213
The Allure of Water
p. 233
Home Is Where the Heart Is
p. 255
Building Boom
p. 277
Plain Talk about Pests
p. 305
For Further Reading
p. 323
Resources
p. 325
Photo Credits
p. 332
Table of Contents provided by Ingram. All Rights Reserved.