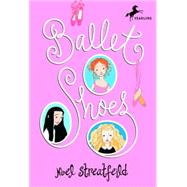 Summary
In the tradition of Frances Hodgson Burnett'sThe Little Princesscome Noel Streatfeild's tales of triumph. In this story, three orphan girls vow to make a name for themselves and find their own special talents. With hard work, fame just may be in the stars! Originally published in 1937.
Table of Contents
About the Three in This Book
p. 1
Great-Uncle Matthew and His Fossils
p. 3
The Boarders
p. 15
The Fossil Family Makes a Vow
p. 32
Madame Fidolia and the Dancing Class
p. 48
The Children's Academy of Dancing
p. 61
Petrova Has Influenza and Makes a Friend
p. 73
Maeterlinck's Blue Bird
p. 87
The Matinee
p. 108
Pauline Wants a New Frock
p. 120
The Audition
p. 137
Pauline Learns a Lesson
p. 157
August
p. 170
The Clothes Problem Again
p. 183
A Midsummer Night's Dream
p. 196
Independence at Fourteen
p. 213
Richard the Third
p. 227
Making a Picture
p. 243
Posy
p. 257
Gum Comes Back
p. 271
Table of Contents provided by Syndetics. All Rights Reserved.