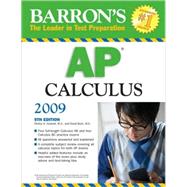 Summary
Both Calculus AB and Calculus BC are covered in this comprehensive AP test preparation manual. Prospective test takers will find four practice exams in Calculus AB and four more in Calculus BC, with all questions answered and explained. The manual also provides a detailed 10-chapter review covering topics for both exams. Students who choose to purchase the optional book and CD-ROM combination will get two additional practice tests, one in Calculus AB, and the other in Calculus BC. The authors also offer an overview of the AP Calculus exams, which includes good advice to students on making best use of their graphing calculator.
Table of Contents
Preface
Introduction
The Courses Topics That May Be Tested on the Calculus
AB Exam Topics That May Be Tested on the Calculus
BC Exam
The Examinations
The Graphing Calculator: Using Your Graphing Calculator on the AP Exam
Grading the Examinations
The CLEP Calculus Examination
This Review Book
Diagnostic Tests
Calculus AB
Calculus BC
Topical Review and Practice
Functions
Limits and Continuity
Differentiation
Applications of Differential Calculus
Antidifferentiation
Definite Integrals
Applications of Integration to Geometry
Further Applications of Integration
Differential Equations
Sequences and Series
Miscellaneous Multiple-Choice
Practice Questions
Miscellaneous Free-Response
Practice Exercises
AB Practice Examinations
AB One
AB Two
AB Three
BC Practice Examinations
BC One
BC Two
BC Three
Appendix: Formulas and Theorems for Reference
Index
Table of Contents provided by Publisher. All Rights Reserved.