Note: Supplemental materials are not guaranteed with Rental or Used book purchases.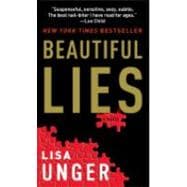 Beautiful Lies
ISBN13:
9780307388995
by
UNGER, LISA
Vintage Crime/Black Lizard
Questions About This Book?
What version or edition is this?
This is the Reprint edition with a publication date of 4/29/2008.
What is included with this book?
The New copy of this book will include any supplemental materials advertised. Please check the title of the book to determine if it should include any CDs, lab manuals, study guides, etc.
Summary
Ridley Jones has been living a lie. A mysterious package showed up on her doorstep one morning and the beautiful lie she used to call her life was over. Suddenly, everyone in she knows feels like a stranger. She has no idea who's on her side and who has something to hideeven her new lover, Jake, might have disturbing secrets of his own. Now she's determined to find out the truth, even if it means risking her life. Ridley embarks on a breathtaking pursuit where every choice she makes sets off a whirlwind of consequences that are as frightening as they are shocking.
Author Biography
Lisa Unger lives in Florida with her husband and daughter.


From the Hardcover edition.
Excerpts
Chapter One
It's dark in that awful way that allows you to make out objects but not the black spaces behind them. My breathing comes ragged from exertion and fear. The only person I trust in the world lies on the floor beside me. I lean into him and hear that he's still breathing but it's shallow and hard won. He's hurt, I know. But I can't see how badly. I whisper his name in his ear but he doesn't respond. I feel his body but there's no blood that I can tell. The sound of his body hitting the floor minutes before was the worst thing I've ever heard.
I feel the floor around him, looking for his gun. After a few seconds I feel the cool metal beneath my fingertips and I almost weep with relief. But there's no time for that now.
I can hear the rain falling outside the burned-out building, its loud, heavy drops smacking on canvas. It's falling inside, too, trickling in through gaping holes in the roof down through floors of rotted wood and broken staircases. He moves and issues a low groan. I hear him say my name and I lean in close to him again.
"It's okay. We're going to be okay," I tell him, even though I don't have any reason to believe this is true. Somewhere outside or up above us a man I thought I loved, along with other men whom I couldn't identify, are trying to kill us, to protect an awful truth that I've discovered. I am hurt myself, in so much pain that I might pass out if I didn't know it meant dying here in this condemned building on the Lower East Side of Manhattan. There's something embedded in my right thigh. It's possibly a bullet, or a large spike of wood, or maybe a nail. It's so dark I can just barely see the large hole in my jeans, and the denim is black with my blood. I'm dizzy, the world tilting, but I'm holding on.
I hear them up above us now, see the beams of their flashlights crossing in the dark through the holes in the floors. I try to control my breathing, which to my own ears sounds as loud as an oncoming train. I hear one of the men say to the others, "I think they fell through. They're on the bottom." There was no answer but I can hear them making their way down over creaking wood.
He stirs. "They're coming," he says, his voice little more than a rasp. "Get out of here, Ridley."
I don't answer him. We both know I'm not leaving. I pull at him and he tries to get up, but the pain registers on his face louder than the scream I know he suppressed to protect us for a few minutes more. If we're not walking out of here together, we're not walking out at all. I drag him, even though I know I shouldn't be moving him, over behind an old moldy couch that lies on its back by the wall. It's not far but I can see his face white and gritted in terrible pain. As I move him, he loses consciousness again and in an instant feels fifty pounds heavier. But I've seen all four of his limbs move and that's something. I realize that I'm praying as I pull him, my leg on fire, my strength waning. Please God, please God, please God, over and over again like a mantra.
The way the couch is lying, it forms a crawl space against the wall just big enough for the two of us. I pull him in there and lie on my belly beside him. I pull an old crate over toward the edge of the couch and look through the wooden slats. They're closer now and I'm sure they've heard us because they've stopped talking and turned their flashlights off. I hold the gun in both hands and wait. I've never fired a gun before and I don't know how many bullets are left in this one. I think we're going to die here.
"Ridley, please, don't do this." The voice echoes in the dark and comes from up above me. "We can work this out."
I don't answer. I know it's a trick. Nothing about this can be worked out now; we're all too far gone. There have been plenty of chances to close my eyes and go back to the sleep of my life as it was, but I haven't taken any of them. Do I wish now that I had? It's hard to answer that question, as the wraiths move closer.
"Six," he whispers.
"What?"
"You have six bullets left."
From the Hardcover edition.
---

Excerpted from Beautiful Lies by Lisa Unger
All rights reserved by the original copyright owners. Excerpts are provided for display purposes only and may not be reproduced, reprinted or distributed without the written permission of the publisher.