Note: Supplemental materials are not guaranteed with Rental or Used book purchases.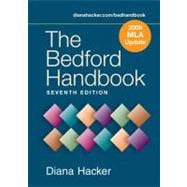 The Bedford Handbook 7e with 2009 MLA Update
ISBN13:
9780312595043
by
Hacker
Related Products
Summary
Click here to find out about the 2009 MLA Updates and the 2010 APA Updates . Built on Diana Hacker's vision and developed with the help of expert composition teachers, the seventh edition ofThe Bedford Handbookis the indispensable classroom and reference tool it always was only better. Now with the strongest coverage of research writing in a full-sized handbook, the seventh edition helps students meet one of the core challenges of academic writing: maintaining their own voice while writing from sources. This edition also adds innovative tips from writing center tutors, sound advice for writing across the curriculum, and substantially more help for writing with and writing about visuals.
Author Biography
DIANA HACKER's handbooks, used at almost half of the colleges and universities in the country, are the most widely adopted in America. A member of the English faculty at Prince George's Community College in Maryland for almost 35 years, Diana Hacker personally class-tested her handbooks with nearly four thousand students. Diana Hacker's other handbooks, all published by Bedford/St. Martin's, include A Writer's Reference, Fifth Edition (2003); Rules for Writers, Fifth Edition (2004); and A Pocket Style Manual, Fourth Edition (2004).
Table of Contents
Preface for Instructors
How to Use this Book and Its Web Site

PART I. THE WRITING PROCESS
1. Generate ideas and sketch a plan.
2. Rough out an initial draft.
3. Make global revisions; then revise sentences.
SAMPLE ESSAY
4. Build effective paragraphs.

PART II. DOCUMENT DESIGN
5. Become familiar with the principles of document design.
6. Use standard academic and business formats.
7. Create effective electronic documents.

PART III. CLEAR SENTENCES
8. Prefer active verbs.
9. Balance parallel ideas.
10. Add needed words.
11. Untangle mixed constructions.
12. Repair misplaced and dangling modifiers.
13. Eliminate distracting shifts.
14. Emphasize key ideas.
15. Provide some variety.

PART IV. WORD CHOICE
16. Tighten wordy sentences.
17. Choose appropriate language.
18. Find the exact words.

PART V. GRAMMATICAL SENTENCES
19. Repair sentence fragments.
20. Revise run-on sentences.
21. Make subjects and verbs agree.
22. Make pronouns and antecedents agree.
23. Make pronoun references clear.
24. Distinguish between pronouns such as I and me.
25. Distinguish between who and whom.
26. Choose adjectives and adverbs with care.
27. Choose standard English verb forms.
28. Use verbs in the appropriate tense and mood.

PART VI. ESL TROUBLE SPOTS
29. Be alert to special problems with verbs.
30. Use the articles a, an, and the appropriately.
31. Be aware of other potential trouble spots.

PART VII. PUNCTUATION
32. The comma
33. Unnecessary commas
34. The semicolon
35. The colon
36. The apostrophe
37. Quotation marks
38. End punctuation
39. Other punctuation marks

PART VIII. MECHANICS
40. Abbreviations
41. Numbers
42. Italics (underlining)
43. Spelling
44. The hyphen
45. Capital letters

PART IX. CRITICAL THINKING
46. Writing about texts
*SAMPLE ESSAY
47. Constructing reasonable arguments
SAMPLE ESSAY
48. Evaluating arguments
49. Writing in the disciplines

PART X. RESEARCHED WRITING
50. Conducting research
51. Evaluating sources
52. Managing information; avoiding plagiarism
53. Choosing a documentation style

Writing MLA Papers
54. Supporting a thesis
55. Citing sources; avoiding plagiarism
56. Integrating sources
57. MLA documentation style
58. MLA manuscript format
SAMPLE ESSAY
59. Writing about literature
Writing APA Papers
59. APA papers
*SAMPLE ESSAY

Writing Chicago Papers
60. Chicago papers
SAMPLE ESSAY

PART XI. GRAMMAR BASICS
62. Parts of speech
63. Sentence patterns
64. Subordinate word groups
65. Sentence types

Glossary of Usage
Answers to Tutorials and Lettered Exercises
Index


*new to this edition