Note: Supplemental materials are not guaranteed with Rental or Used book purchases.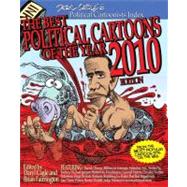 Questions About This Book?
What version or edition is this?
This is the 1st edition with a publication date of 9/4/2009.
What is included with this book?
The eBook copy of this book is not guaranteed to include any supplemental materials. Typically only the book itself is included.
Summary
The year's funniest and most powerful political cartoons, all captured in one riproaring volume Compiled by Daryl Cagle, owner of the nation's #1 political cartoon Web site, cagle.com The year's best takes on the economy, the war, bank bailouts, and more... much more A best-seller for five straight years... the one political book that connects with liberals, conservatives, and moderates alike 2010 edition comming out earlier than ever and at a reduced price Political cartoons convey ideas with an impact that can't be achieved with words alone. They reveal history as it's shouted from newspaper editorial pages, recording America's immediate feelings as it responds to the news of the day. Since Ben Franklin's day, political cartoons have made Americans laugh and cry. Today, they have legions of fans, from millions of news wonks, to thousands of Social Studies teachers who use them in classrooms. Today, after a year's worth of non-stop coverage on the world's economic crisis and Oboma's new stimulus package, the passion for politics is running hotter than ever. The Best Political Cartoons of the Year 2009 rides that passion, presenting an absolutely unique visual history of the past year. Compiled by MSNBC's Daryl Cagle, owner of the world's #1 political cartoon web site, this isn't just the premier "journal of record" for a great American art form: it's a hilarious, utterly compelling read. This year's edition brings together hundreds of cartoons from the nation's best-known artists, newcomers whose singular voices demand to be heard, and international cartoons most Americans never see. Here are the year's best takes on the Economy, Bank Bailouts, and Foreclosures... on Barack Obama and his promises... on A-Rod Fraud and Michael Phelps... on the Dying Newspapers and Car Companies... on 2009's most unforgettable events.
Author Biography
Daryl Cagle is the daily editorial cartoonist for MSNBC.com. Daryl's editorial cartoon site with MSNBC.com (www.cagle.com) is the most popular cartoon website of any kind on the Internet. It is also the most widely used education site in social studies classrooms around the world.
For the past 30 years, Daryl has been one of America's most prolific cartoonists. Raised in California, Daryl went to college at UC Santa Barbara and then moved to New York City, where he worked for 10 years with Jim Henson's Muppets, illustrating scores of books, magazines, calendars, and all manner of products.
In 2001, Daryl started a new syndicate, Cagle Cartoons, Inc. (www.caglecartoons.com), which distributes the cartoons of sixty editorial cartoonists and columnists to more than 800 newspapers in the United States, Canada, and Latin America. Daryl is a past president of the National Cartoonists Society and current president of the National Cartoonists Society Foundation. He is a frequent guest on Fox News, CNN, and MSNBC. Daryl is a popular and entertaining public speaker. Interested in having Daryl speak to your group? Contact us through www.caglecartoons.com for more information.
Brian Fairrington, a graduate of Arizona State University, earned a bachelor's degree in political science and a master's degree in communications.
Brian is one of the most accomplished young cartoonists in the country. Brian was the recipient of the Locher Award, the Charles M. Schulz Award, and several Society of Professional Journalists awards and Gold Circle Awards. He is a regular on the Phoenix-based television talk show Horizon, for which one of his appearances garnered an Emmy award. Brian has also been a guest on Imus in the Morning and was recently featured on CBS News Sunday Morning.
Brian's cartoons are nationally syndicated to more than 800 newspapers and publications in America with Caglecartoons.com. His cartoons have appeared in The New York Times, USA Today, and Time, as well as on CNN, MSNBC, and Fox News. Additionally, his cartoons regularly appear on www.cagle.msnbc.com.
Brian is a native of Arizona and is married to the wonderful Stacey Heywood; they have four children.
Table of Contents
First African American President
Plane Crash In Hudson River
Blagojevich
Michael Phelps Likes Pot
A-Rod Fraud
Goofy Geithner
Obama's Cabinet
Foreclosures
Terror In India
Bank Bailouts
Poisonous Peanuts
NY Post Cartoon
OctoMom
Obama's Stimulus
Gaza Conflict
Economy
InMemoriam
Bank Bailouts
Lying Burris
Mortgage Help
Wall Street
Car Companies
Shovel-Ready
Earmarks
Barbie Turns 50
No Jobs
Ringleader Rush Limbaugh
Stem Cells
Obama's Promises
Twitter
Bye, Bye Bernie Madoff
AIG Outrage
Dying Newspapers
Toxic Assets
Terror in Mexico
Table of Contents provided by Publisher. All Rights Reserved.