Note: Supplemental materials are not guaranteed with Rental or Used book purchases.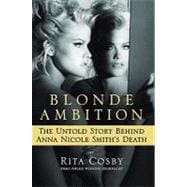 Blonde Ambition : The Untold Story Behind Anna Nicole Smith's Death
ISBN13:
9780446406116
by
Cosby, Rita
Summary
YOU PROBABLY THINK YOU KNOW ALL THERE IS TO KNOW. ANNA NICOLE SMITH LOST HER SON. SHE ACCIDENTALLY OVERDOSED. SHE WAS A DRUG ADDICT. YOU DON'T KNOW A THING... She was famous for being famous- Americana at its Scarlet Letter-wearing best. A bodacious young girl from Texas , Anna remade herself into the centerfold of the world. She was a "dumb blonde," a stripper, a Playboy Playmate, who boldly took her case against her billionaire husband's family all the way to the U.S. Supreme Court. Her tragic life and untimely death evoke an odd mix of fascination, shock, and dismay. And through it all, there still exists a voracious thirst to discover more about who she actually was...and how shereallydied. In a book that is sure to surprise even the most avid pop culture junkies, Rita Cosby blows the lid off this astounding story. After an in-depth investigation, this is the definitive journalistic account of the Anna Nicole Smith saga-with unearthed secrets and explosive, never-before-told information.
Author Biography
An Emmy-award winning journalist, Rita Cosby hosted the top-rated show on MSNBC, "Rita Cosby: Live & Direct." She also hosted Fox New Channel's highly rated programs, "Fox News Live with Rita Cosby" and "The Big Story Weekend Edition with Rita Cosby." Some of her groundbreaking interviews include: an exclusive interview with Slobodan Milosevic while he was imprisoned at The Hague; an exclusive interview with Yasser Arafat when his compound was under siege; she was the first journalist to see the suspected terrorists held at Guantanamo and witness an actual interrogation; and a rare, private meeting with Pope John Paul II after receiving an exclusive letter from Timothy McVeigh explaining why he carried out the Oklahoma City bombing. Having interviewed more than a dozen world leaders and four US Presidents, she also made headlines for her interviews with Michael Jackson, David Berkowitz and Dr. Jack Kevorkian. She has been a featured guest on hundreds of television and radio shows worldwide and earned her two bachelors' degrees from the University of South Carolina.
Table of Contents
Author's Note
p. vii
Preface
p. ix
Timing Is Everything
p. 1
Next of Kin
p. 28
Life After Death
p. 42
Shopping
p. 62
Committed and Buried in Debt
p. 76
Residency and Eviction
p. 93
Breaking News
p. 116
The Anna Nicole Show
p. 124
The Body
p. 140
The Fight for Anna
p. 158
Rest in Peace
p. 177
DNA
p. 194
A Dramatic Ending
p. 214
Acknowledgments
p. 243
Table of Contents provided by Ingram. All Rights Reserved.