Note: Supplemental materials are not guaranteed with Rental or Used book purchases.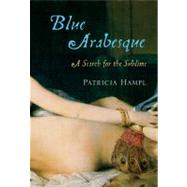 Blue Arabesque : A Search for the Sublime
ISBN13:
9780151015061
by
Hampl, Patricia
Houghton Mifflin Harcourt
Summary
"Patricia Hampl's meditation on the odalisque opens with her discovery of a Matisse painting in the Art Institute of Chicago: an aloof woman gazing at goldfish in a bowl, a mysterious Moroccan screen behind her. Here was a poster girl for twentieth-century feminism, free and untouchable; a welcome secular version of the nuns of Hampl's girlhood. Blue Arabesque explores the allure of that lounging figure so at odds with the increasing rush of the modern era, transporting us to the Cote d'Azur and across to North Africa, from cloister to harem. We encounter writers and artists as diverse as Eugene Delacroix, F. Scott Fitzgerald, and Katherine Mansfield, all of them magnetized, as Matisse was, by the liquid light of the south of France. Returning always to Matisse's obsessive portraits of languid women, Hampl is startled to realize that they were not mere decorative indulgences but something much more."--BOOK JACKET.
Author Biography
Patricia Hampl is Regents Professor at the University of Minnesota.
Table of Contents
A excerpt from what we call Blue Arabesque
appeared in Granta Fall 2004 and was later was selected and reprinted for Best American
Spiritual Writing 2005 Houghton Mifflin
The American Scholar a version of the Katherine
Mansfield chapter under title of ""Relics of
Summer 2001. That version also appeared in Rereading edited
Table of Contents provided by Publisher. All Rights Reserved.
Excerpts
ONECellA spring day, 1972, best I can remember. I had taken the train from St. Paul, along the Mississippi, across green Wisconsin, to Chicago. And now, just checked into my crummy hotel, I was hurrying to meet a friend at the Chicago Art Institute, a place I didnt know. We had agreed on the museum cafeteria, and I was directed by a guard through a series of connected galleries to a staircase. I was lateof course. Rushingof coursepaying no attention to the paintings on the walls as I hurried to get where I was supposed to have been five minutes earlier.Then, unexpectedly, several galleries shy of my destination, I came to a halt before a large, rather muddy painting in a heavy gold-colored frame, a Matisse labeled Femme et poissons rouges, rendered in English, Woman Before an Aquarium. But thats wrong: I didnt halt, didnt stop. I was stopped. Apprehended, even. Thats how it felt. I stood before the painting a long minute. I couldnt move away. I couldnt have said why. I was simply fastened there.I wasnt in the habit of being moved by art. I wasnt much of a museum goer. Id never even taken an art history class, and I thought of myself as a person almost uniquely ungifted in the visual arts. Patricia, dear, Sister Antoinette had said as she swished between the desks of the second graders at St. Lukes School to see what we had drawn on the construction paper she had passed out for the class frieze, you dont need to tape yours on the blackboard with the others. You can do the lettering underneath.I took it as a life assignmentdoing the lettering underneath. Let the others not only make the drawings but look at the drawings. Fingerpaints, I remember dimly, had been delicious. I excelled at slinging raw color on big sheets, rubbing spirals with my fists, scraping squiggles with my nails. But I couldnt draw, couldnt see how to lure images from eye to hand to paper. I could only get things by writing them, reading them. In the beginning, truly for me, was the Word.Maybe only someone so innocent of art history could be riveted by a picture as I was that day by Matisses gazing woman. I had grown up in the magical realism of preVatican II Catholicism, and the possibility of an ordinary person being visited by apparitions was packed into the dark kit of my mind. Bernadette in her wooden clogs picking up kindling; the Virgin appearing out of nowhere in the cleft of a rockwhy not? Being spoken to by a picture? I couldnt deny it.One way or another, ever since that uncanny moment in the Chicago Art Institute when I was searching not for art but for the cafeteria, Ive been staring inwardly at that painting of the thoughtful woman who stares, in turn, at a goldfish bowl. Sheit, the entire wordless logic of Matisses deftly composed rectanglebecame in an instant, and remained, an icon. I would have worn it around my neck like a holy scapular if the museum shop had sold such a thing.Of course I did buy a postcard of the picture. It is propped still on my
---

Excerpted from Blue Arabesque: A Search for the Sublime by Patricia Hampl
All rights reserved by the original copyright owners. Excerpts are provided for display purposes only and may not be reproduced, reprinted or distributed without the written permission of the publisher.