Note: Supplemental materials are not guaranteed with Rental or Used book purchases.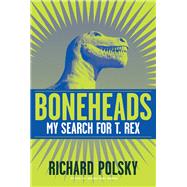 Summary
From the author of I Bought Andy Warhol comes this fascinating glimpse into the wild world of fossil collecting. Polsky's seriously funny new book leads us into the South Dakota badlands where he discovers a lost tribe the Boneheads and becomes one of them. This oddball group of dinosaur huntrs is intent on bagging the Holy Grail of the professiona Tyrannosaurus rex skeleton.
Table of Contents
The Allure of Rex
p. 1
Introduction
p. 3
The Fossil Trail: From Manhattan to Tucson
p. 5
All Hail the Fossil King
p. 13
The Legacy of Sue
p. 22
Meeting Maurice Williams
p. 31
Beginnings of Fossil Fever
p. 39
A Short History of Paleo-Characters
p. 42
Drinking Vintage T. Rex Red
p. 50
Museum Daze
p. 58
Hill City, South Dakota
p. 64
The Curse of T. rex
p. 69
The Teepee Circles at Paleo Park
p. 79
A Town called Faith
p. 87
The Dinosaur that Ate New York
p. 93
The Dinosaurs Are Waiting
p. 100
Pay Dirt
p. 107
So Much for Immortality
p. 116
The Fossil King Returns
p. 119
Roaming in Buffalo, South Dakota
p. 121
The Bonehead Brothers
p. 129
Stan Does it Again
p. 138
Fool's Gold
p. 147
Trouble with Identification
p. 156
The Luck of Bucky
p. 164
Dino Eggs, Over Easy
p. 174
Waiting on the King
p. 181
Burial Stones
p. 189
Auction Fever
p. 195
Deliverance
p. 205
Little Richard
p. 213
Epilogue
p. 222
Acknowledgements
p. 227
Sources
p. 229
Table of Contents provided by Ingram. All Rights Reserved.