Note: Supplemental materials are not guaranteed with Rental or Used book purchases.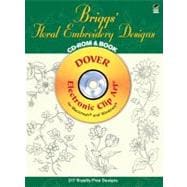 Briggs' Floral Embroidery Designs CD-ROM and Book
ISBN13:
9780486996103
by
Unknown
Summary
Lovely designs from a late-19th-century archive of needlework patterns include accurate outlines for lilies, tulips, geraniums, pansies, apple blossoms, and a host of other florals. Single blooms are ideal for cushion and tablecloth centers; graceful sprays are just the thing for decorative corners and edgings on sheets and placemats. 219 black-and-white illustrations.
Table of Contents
Acorn
Apple Blossom
Ash, Mountain
Azalea
Begonia
Blue Bell
Buttercup
Carnation
Chestnut
Chrysanthemum
Clematis, Wild
Convolvulus
Cornflower
Daffodil
Dahlia
Daisy
Daisy, Field
Daisy, Ox-eye
Fern
Fern, Maidenhair
Fern, Mixed
Forget-me-not
Fuchsia
Geranium
Gladiola
Harebell
Hawthorn
Heather
Honeysuckle
Hyacinth, Wild
Iris
Ivy
Jasmine
Jessamine
Lavender
Lilac
Lily
Lily, Arum
Lily, Japanese
Lily, Tiger
Marguerite
Marigold
Musk
Narcissus
Oak Leaf
Orchid
Pansy
Pansy, Wild
Passion Flower
Peony
Picotee
Pimpernel
Poppy
Poppy, Bud
Rhododendron
Rose, Briar
Rosebud
Rose, Cabbage
Rose, Garden
Rose, Moss
Rose, Wild
Rush
Rush, Flowering
Shamrock
Snowdrops
Strawberries
Sunflower
Sweet Pea
Thistle
Tulip
Vine
Violets
Virginian Creeper
Wallflower
Wheat