Note: Supplemental materials are not guaranteed with Rental or Used book purchases.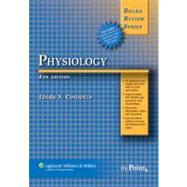 Questions About This Book?
What version or edition is this?
This is the 4th edition with a publication date of 7/24/2006.
What is included with this book?
The Used copy of this book is not guaranteed to include any supplemental materials. Typically, only the book itself is included.
Summary
Thoroughly updated for its Fourth Edition, BRS Physiology is an excellent aid for students preparing for the USMLE Step 1. The book concisely reviews key physiological principles and includes clinical correlations throughout to emphasize connections between basic physiology and clinical medicine. Numerous illustrations, tables, and flow charts help students visualize material quickly and aid in long-term retention. End-of-chapter USMLE-style questions and a comprehensive end-of-book exam test the student's problem-solving skills, and clearly explained answers guide the student through the correct steps in reasoning. This edition features increased coverage of pathophysiology, new questions, and a new two-color design and artwork.
Table of Contents
Preface
vii
Acknowledgments
ix
1
(32)
1
(1)

| | |
| --- | --- |
| | Transport Across Cell Membranes |

2
(3)
5
(2)

| | |
| --- | --- |
| | Diffusion Potential, Resting Membrane Potential, and Action Potential |

7
(6)

| | |
| --- | --- |
| | Neuromuscular and Synaptic Transmission |

13
(4)
17
(4)
21
(1)

| | |
| --- | --- |
| | Comparison of Skeletal Muscle, Smooth Muscle, and Cardiac Muscle |

22
(11)
23
(10)
33
(35)
33
(4)
37
(12)
49
(7)

| | |
| --- | --- |
| | Higher Functions of the Cerebral Cortex |

56
(1)

| | |
| --- | --- |
| | Blood--Brain Barrier and Cerebrospinal Fluid |

57
(1)
58
(10)
60
(8)

| | |
| --- | --- |
| | Cardiovascular Physiology |

68
(51)

| | |
| --- | --- |
| | Circuitry of the Cardiovascular System |

68
(1)
68
(5)

| | |
| --- | --- |
| | Cardiac Electrophysiology |

73
(5)

| | |
| --- | --- |
| | Cardiac Muscle and Cardiac Output |

78
(10)
88
(2)

| | |
| --- | --- |
| | Regulation of Arterial Pressure |

90
(4)

| | |
| --- | --- |
| | Microcirculation and Lymph |

94
(3)
97
(3)

| | |
| --- | --- |
| | Integrative Functions of the Cardiovascular System: Gravity, Exercise, and Hemorrhage |

100
(19)
105
(14)
119
(32)

| | |
| --- | --- |
| | Lung Volumes and Capacities |

119
(2)
121
(7)
128
(2)
130
(5)
135
(1)
136
(1)

| | |
| --- | --- |
| | Ventilation/Perfusion Defects |

137
(2)
139
(2)

| | |
| --- | --- |
| | Integrated Responses of the Respiratory System |

141
(10)
143
(8)

| | |
| --- | --- |
| | Renal and Acid--Base Physiology |

151
(50)
151
(4)

| | |
| --- | --- |
| | Renal Clearance, Renal Blood Flow, and Glomerular Filtration Rate |

155
(4)

| | |
| --- | --- |
| | Reabsorption and Secretion |

159
(4)
163
(4)
167
(3)

| | |
| --- | --- |
| | Renal Regulation of Urea, Phosphate, Calcium, and Magnesium |

170
(1)

| | |
| --- | --- |
| | Concentration and Dilution of Urine |

171
(5)
176
(1)
176
(10)
186
(1)
186
(15)
189
(12)

| | |
| --- | --- |
| | Gastrointestinal Physiology |

201
(33)

| | |
| --- | --- |
| | Structure and Innervation of the Gastrointestinal Tract |

201
(1)

| | |
| --- | --- |
| | Regulatory Substances in the Gastrointestinal Tract |

202
(4)

| | |
| --- | --- |
| | Gastrointestinal Motility |

206
(5)

| | |
| --- | --- |
| | Gastrointestinal Secretion |

211
(10)
221
(13)
228
(6)
234
(46)
234
(2)

| | |
| --- | --- |
| | Cell Mechanisms and Second Messengers |

236
(4)

| | |
| --- | --- |
| | Pituitary Gland (Hypophysis) |

240
(5)
245
(3)

| | |
| --- | --- |
| | Adrenal Cortex and Adrenal Medulla |

248
(7)

| | |
| --- | --- |
| | Endocrine Pancreas---Glucagon and Insulin |

255
(4)

| | |
| --- | --- |
| | Calcium Metabolism (Parathyroid Hormone, Vitamin D, Calcitonin) |

259
(4)
263
(1)
264
(3)
267
(13)
272
(8)
Comprehensive Examination
280
(25)
Index
305