Note: Supplemental materials are not guaranteed with Rental or Used book purchases.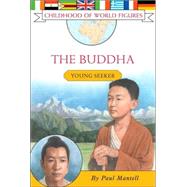 The Buddha; Young Seeker
ISBN13:
9781416915430
by
Paul Mantell
Summary
The man we call the Buddha was born as Siddhartha in Nepal around 563 b.c. to the king and queen of Shakya. After his birth, a great seer decreed that the baby would be holy, and early on Siddhartha exhibited great intelligence and empathy. His father wanted him to become king, not a holy man, but Siddhartha was not satisfied by his pampered life, and was moved by the hardships of the commoners. Despite his father's wishes, Siddhartha ultimately left behind his kingdom and all his worldly possessions in his search for enlightenment.This biography focuses on the childhood of the Buddha: a man with a fascinating history and an enormous contemporary following.
Table of Contents
| | | | |
| --- | --- | --- | --- |
| Introduction | | 1 | |
| Chapter 1 A Miraculous Birth | | 7 | |
| Chapter 2 A Golden Childhood | | 18 | |
| Chapter 3 Yasodhara | | 33 | |
| Chapter 4 The Great Contest | | 44 | |
| Chapter 5 A Golden Cage | | 58 | |
| Chapter 6 Life as It Is | | 71 | |
| Chapter 7 A Fork in the Road | | 85 | |
| Chapter 8 Gautama the Beggar | | 105 | |
| Chapter 9 The Middle Way | | 117 | |
| Chapter 10 The First Turning of the Wheel | | 131 | |
| Chapter 11 The Sangha | | 141 | |
| Chapter 12 Home Again | | 155 | |
| Chapter 13 Devadatta's Revenge | | 161 | |
| Chapter 14 The End of the Beginning | | 172 | |
| Chapter 15 Buddhism After the Buddha | | 179 | |
| Glossary | | 185 | |
| For More Information | | 201 | |