Note: Supplemental materials are not guaranteed with Rental or Used book purchases.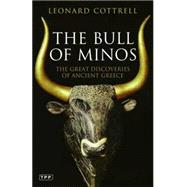 The Bull of Minos The Great Discoveries of Ancient Greece
ISBN13:
9781845119423
by
Cottrell, Leonard
Summary
This is the story of two of the most heroic, and controversial, figures in archaeology: Heinrich Schliemann, who discovered the remains of Troy, and Arthur Evans who unearthed the great city of King Minos. Ranking alongside Carter's discovery of Tutankhamun's tomb, these discoveries at Troy and Knossos enabled a new understanding of Prehistoric Greece. They also proved that what until then had only been myths and daydreams of achaeologists and historians were historically real. The Cretans did indeed worship the cult of the bull. Achilles and Agamemnon really did live. Replete with drama and adventure, The Bull of Minos tells of the 3,000-year old civilizations that were revealed in their full glory, of the extraordinary men who toiled in their dusty ruins, and of the magic and mystery of life in an ancient world of gods and warriors.
Author Biography
Leonard Cottrell (1913-1974) was also commentator, writer and producer for the BBC He is the author of several books, includingThe Lost Pharaohs, Enemy of Rome, Queens of the Pharaohs and Realms of Gold.
Table of Contents
"The story of the heroic discoveries grips him and communicates itself to his readers, who must welcome a book both scholarly and easy, painstaking and alive." --Freya Stark, Time and Tide
"This book is a stimulating introduction to the Mycenaean Age of Greece." --Sir John Forsdyke, Sunday Times
"Cottrell has not only passionately studied the literature of Aegean archaeology, but he has visited most of the important sites and conveys vividly his sense of excitement and discovery." --Guardian
[Cottrell is] at his best when communicating that fresh and fateful sense of life which must have prevailed in very ancient times when gods walked the earth like men. It is this feeling of epiphany which makes Mr. Cottrell's book a most worthwhile popularisation of its subject." --E.B. Garside