Note: Supplemental materials are not guaranteed with Rental or Used book purchases.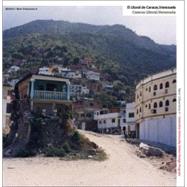 Caracas Litoral, Venezuela/El Litoral de Caracas, Venezuela
ISBN13:
9781568984469
by
Plunz, Richard
Princeton Architectural Pr
Summary
Caracas Litoral, Venezuela looks at the challenges, obstacles, and opportunities facing the reconstruction of coastal communities near Caracas, after mudslides devastated these areas in December 1999. Already in the midst of informal land development, affluent weekend residents from Caracas had awkwardly occupied this dramatic and precarious strip of coastland between the Gulf of Mexico and the Avila Mountain also shared with the national airport and second largest seaport. In a city where most of the urban population lives in informal housing, the contested nature of redevelopment emergent social, economic, and cultural patterns confronting traditional patterns of settlement could easily be predicted. Fully bilingual, in English and Spanish, this book explores opportunities that unite the various constituencies through innovative programming, sustainable geological/hydrological infrastructure, and economically viable housing and commercial development.
Table of Contents
Foreword / Prefacio
p. 5
Fall Studio Introduction / Introduccion al estudio de otono
p. 10
Time Capsule / La capsula del tiempo
p. 14
Vargas State and the Institutional Problems of the Central Coast / El Estado Vargas y los problemas institucionales del Litoral Central
p. 20
Unintentional Boulton / Boulton involuntario
p. 25
Housing Policies for Venezuela / La politica de vivienda para Venezuela
p. 33
From Barrio Dweller to Entrepreneur: Informal Urban Microenterprises in Caracas / De habitante de un barrio a empresario: Microempresas urbanas informales en Caracas
p. 40
Underachieving Infrastructure / Infrastructura inadecuada
p. 52
Integrating Natural and Man-made Flows / Integrando flujos naturales y los hechos por el hombre
p. 58
Local Development through Global Infrastructure / Desarrollo local a traves de infraestructurals locales
p. 66
Urban Generators Network / Red de generadores urbanos
p. 72
Eco-Avila / Eco-Avila
p. 78
Rejuvenating Vargas: New Information Technology Infrastructure / Rejuveneciendo el estado Vargas: Nueva infraestructura de tecnologia informatica
p. 92
Localities And Self-adjustable Networks / Localidades y redes de auto-ajuste
p. 104
Time(d) Lines / Lineas temporales
p. 116
Stretched City / Ciudad estirada
p. 130
Table of Contents provided by Ingram. All Rights Reserved.