Note: Supplemental materials are not guaranteed with Rental or Used book purchases.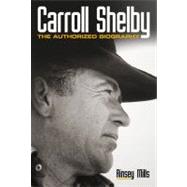 Carroll Shelby : The Authorized Biography
ISBN13:
9780760340561
by
Mills, Rinsey
Summary
When Ford wanted to add some spice to itrs"s newly introduced Mustang, it turned to former racer Texan Carroll Shelby. The resulting cars proved to be the definitive performance Mustangs of the muscle-car era. The choice made sense. Shelby had proven himself a force to be reckoned with on the racetrack, in the tuning shop, and in the auto industry. By the time Ford hired Shelby to create a high-performance version of its Mustang, the man was already an automotive legend. Early in his career, Shelbyrs"s accomplishments as a race car driver included breaking land speed records at Bonneville in 1954 for Austin-Healey and winning Le Mans in 1959 alongside teammate Roy Salvadori. As a team manager, Carroll was a part of the FIA World Grand Touring Championship as well as the Ford GT victories at Le Mans. When his health forced him to give up racing in 1960, Carroll turned his attention to design. He had a vision of creating a race car mating a lightweight European chassis with American V-8 power. The result was what is considered perhaps the greatest sports car and one of the fastest road cars ever constructed-the Shelby Cobra. The Shelby Mustangs he built for Ford in concert with his own Cobras made Carroll Shelby a household name in the 1960s. Throughout the decades, Shelby has remained at the leading edge of automotive performance. After undergoing successful heart transplant surgery, a grateful Carroll decided to use his reputable name for a good cause. In October 1991, he created the Carroll Shelby Childrenrs"s Foundation, dedicated to providing assistance for acute coronary and kidney care for children in need. In 1992, Carroll Shelby was inducted into the Automotive Hall of Fame. Shelby continues to impact the world of racing and automobile design. He is likely the only person to have worked at a visible level with all three American automobile manufacturers. His charisma, vision, and ability to know the best person for the job have made him a master organizer and team leader able to produce consistently impressive results. Even today, Fordrs"s premier Mustang carries the Shelby name and iconic snake logo. This book is the complete, authorized biography of Carroll Shelby, the story every enthusiast has always wanted to read. Shelbywebsite: www.shelbyautos.com
Table of Contents
Foreword
p. 7
The Boy from East Texas
p. 9
The Army Air Force
p. 19
Children, Trucks, and Chicken
p. 27
Racing for Real
p. 35
Foreign Representative
p. 47
Record-Breaking and the Mexican Road Race
p. 55
Guiberson's Ferraris
p. 61
Italian Summer
p. 66
Moving On
p. 77
Unrestricted National Champion
p. 82
In Hemingway's Footsteps
p. 96
Carroll Shelby Sport Cars
p. 100
Mainly Maseratis
p. 106
Looking to the Future
p. 113
Back to The Bahamas and a Kidnapping in Cuba
p. 122
A Season in Europe
p. 140
The Writing on the Wall
p. 153
Works Driver
p. 158
Victory at Le Mans
p. 167
Aston Takes the Championship
p. 177
El Paso by Sundown, Nassau by Night
p. 187
"Lucky" Experiences
p. 192
The Last Laps
p. 200
Starting Afresh
p. 208
Out into the Sunshine
p. 215
The Cobra is Born
p. 225
Let the Racing Begin
p. 236
The Watershed Year
p. 244
Further Ambitions
p. 269
World Championship Bid
p. 292
Over to Europe
p. 305
A New Era
p. 340
Upping the Ante
p. 362
Getting the Job Done
p. 387
Trials and Tribulations
p. 402
The Price of Success
p. 418
One More Time
p. 443
Fresh Horizons
p. 463
Off to Africa
p. 486
Dodging Around
p. 504
Rejuvenation
p. 510
The First One
p. 515
Millennium Man
p. 530
Author's Acknowledgements
p. 536
Index
p. 540
Table of Contents provided by Ingram. All Rights Reserved.