Note: Supplemental materials are not guaranteed with Rental or Used book purchases.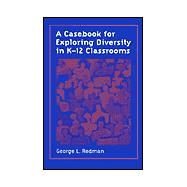 A Casebook for Exploring Diversity in K-12 Classrooms
ISBN13:
9780137458783
by
Redman, George
Related Products
Summary
Designed as a supplemental text for foundations, multicultural education, and general methods courses. This book contains concise, focused cases about genuine classroom situations regarding issues of diversity/multiculturalism which immediately engage students and allow greater flexibility for instructors. The book can be used in two ways: 1) to create in students a need to know about definitions of concepts, research, promising practice, and theory, and 2) to extend thinking about basic concepts. The approach of the text is consistent with the trend toward constructivism in teacher education; a trend in which teachers are invited to become active inquirers in their work in schools.
Table of Contents
Part 1 Introduction
1
(8)
Part 2 Socioeconomic Status
9
(16)

| | |
| --- | --- |
| | Case 1 A New Student and a Lesson in Geography |

11
(3)

| | |
| --- | --- |
| | Case 2 Gangs and the Victims of Violence |

14
(2)

| | |
| --- | --- |
| | Case 3 How Should I Grade Danielle? |

16
(3)

| | |
| --- | --- |
| | Case 4 Rewarding Respectful Behavior |

19
(6)
Part 3 Language
25
(16)

| | |
| --- | --- |
| | Case 5 You'll Need Both Black Vernacular and Standard English |

27
(2)

| | |
| --- | --- |
| | Case 6 They Speak English and Spanish Well, but a Learning Disability Creates Problems in Reading and Writing |

29
(3)

| | |
| --- | --- |
| | Case 7 A Bilingual Teacher's Aide Assesses His New School |

32
(9)
Part 4 Ethnicity
41
(32)

| | |
| --- | --- |
| | Case 8 Let's All Make Up the Rules for Our Classroom |

43
(2)

| | |
| --- | --- |
| | Case 9 Other Cultures Celebrate Thanksgiving, Too |

45
(3)

| | |
| --- | --- |
| | Case 10 When Will I Ever Use This? Mathematics and Social Justice |

48
(2)

| | |
| --- | --- |
| | Case 11 Overlook the Stereotypes--It's Art |

50
(2)

| | |
| --- | --- |
| | Case 12 Presidents of Mount Rushmore: Another Perspective |

52
(2)

| | |
| --- | --- |
| | Case 13 Native American Jewelry |

54
(2)

| | |
| --- | --- |
| | Case 14 I'm Glad You're Back |

56
(2)

| | |
| --- | --- |
| | Case 15 Students Right an Injustice |

58
(2)

| | |
| --- | --- |
| | Case 16 North American Folk Heroes |

60
(2)

| | |
| --- | --- |
| | Case 17 Culture and Learning Styles |

62
(2)

| | |
| --- | --- |
| | Case 18 Respect? Let's Talk About It |

64
(9)
Part 5 Gender
73
(18)

| | |
| --- | --- |
| | Case 19 Reinforcing Specifically |

75
(2)

| | |
| --- | --- |
| | Case 20 Fridays Are Video Days |

77
(2)

| | |
| --- | --- |
| | Case 21 Developing Skills of Critical Analysis: Exposing the Myths of Films and Fairy Tales |

79
(3)

| | |
| --- | --- |
| | Case 22 Dwight, What Do You Think? |

82
(9)
Part 6 Affectional Orientation
91
(12)

| | |
| --- | --- |
| | Case 23 Not in My Group--He's Gay! |

93
(2)

| | |
| --- | --- |
| | Case 24 In Islam, Homosexuality Is a Sin and a Crime |

95
(8)
Part 7 Religion
103
(12)

| | |
| --- | --- |
| | Case 25 Isn't the Christmas Tree a Christian Symbol? |

105
(2)

| | |
| --- | --- |
| | Case 26 My Persuasive Essay Is "Why We Should Follow Jesus" |

107
(8)
Part 8 Special Needs
115
(14)

| | |
| --- | --- |
| | Case 27 We Only Meant It As a Joke |

117
(2)

| | |
| --- | --- |
| | Case 28 Structuring for Success in a Mainstreamed Classroom |

119
(2)

| | |
| --- | --- |
| | Case 29 Anthony, Please Don't Push: Designing an IEP |

121
(8)
Part 9 Parent and Community Involvement
129
(12)

| | |
| --- | --- |
| | Case 30 It Takes a Village |

131
(2)

| | |
| --- | --- |
| | Case 31 College Student Tutors, Field Research, and Professional Development |

133
(8)
Part 10 Technology and Multiculturalism
141
(10)

| | |
| --- | --- |
| | Case 32 Computers and Culturally Diverse Learners |

143
(2)

| | |
| --- | --- |
| | Case 33 Inaccessibility of Web Sites to Blind Students |

145
(6)
Appendix A Creating Additional Context for the Cases
151
(6)
Appendix B Banks's Approaches for the Integration of Multicultural Content
157
(2)
Bibliography
159