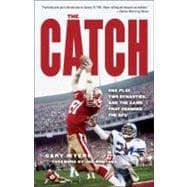 Summary
Veteran sports journalist Myers presents an amazing retelling of one of football's greatest moments, when an improbable catch leads to the San Francisco 49ers' victory--and to the Dallas Cowboys' fall from grace.
Author Biography
GARY MYERS started covering the NFL in 1978 and was in the press box at Candlestick Park for The Catch on January 10, 1982, as the beat writer covering the Cowboys for the Dallas Morning News. In 1989, he not only joined the New York Daily News, but also began a thirteen-season run as the inside information reporter for HBO's popular Inside the NFL. Myers has also hosted the YES Network's This Week in Football since 2002.



From the Hardcover edition.
Table of Contents
Foreword
p. xi
Introduction: Sprint Right Option
p. 1
"Respect That ..."
p. 19
The Genius
p. 34
The Legand
p. 59
Montana to Clark
p. 95
The Great White Hope
p. 127
The Drive After the Game
p. 153
The Tackle
p. 172
Teammates
p. 184
I Left My Heart in San Francisco
p. 197
The Catch
p. 214
Acknowledgments
p. 243
Index
p. 247
Table of Contents provided by Ingram. All Rights Reserved.