Note: Supplemental materials are not guaranteed with Rental or Used book purchases.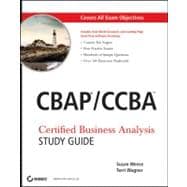 Questions About This Book?
What version or edition is this?
This is the 1st edition with a publication date of 5/10/2011.
What is included with this book?
The New copy of this book will include any supplemental materials advertised. Please check the title of the book to determine if it should include any CDs, lab manuals, study guides, etc.
Summary
This book prepares candidates for both the Certified Business Analysis Professional (CBAP) as well as the new Certification of Competency in Business Analysis (CCBA) exam, both offered by the International Institute of Business Analysis (IIBA). The book will cover the Business Analysis standards and best practices as defined in the A Guide to Business Analysis Body of Knowledge, Version 2 (BABOK). Candidates will benefit from the detailed discussion of the wide-range of BA topics, concepts, and key terms and will present the material in a logical manner: each section builds upon previous sections and a chapter on previous chapters.Exam candidates will gain the skills to assure exam preparedness, as the book will provide a detailed review of the six Business Analysis knowledge areas and the underlying competencies of successful BAs. The book assists candidates in aligning their business analysis experience with the BABOK. Practice exam questions, topic summaries, and exam tips and tricks will provide a solid framework for personalized study to prepare for and achieve exam success.Topics Covered include: Planning and Monitoring Elicitation Requirements Management and Communication Enterprise Analysis Requirements Analysis Solution Assessment and ValidationEach chapter will include a list of exam topics covered, followed by in-depth discussion of those objectives, complete with hands-on Real World Scenarios sidebars. The chapter will conclude with an Exam Essentials section and comprehensive Review Questions. The companion CD features leading-edge exam prep software with test engine of practice questions and electronic flashcards, as well as 3 full-length bonus exams.
Author Biography
Susan Weese
(Monument, CO), CBAP, PgMP, PMP, is founder of Rhyming Planet Inc., a Colorado-based IT Project Management/Business Analysis consulting firm. Susan has over 25 years of software and project management experience, and currently focuses her consulting activities on project management and requirements development. As a trainer and curriculum designer, She designs, builds and delivers standard and customized project, process and requirements development training courses for major IT training firms and individual corporate clients in both public sessions and at onsite client venues.
Terri Wagner (Aurora, CO) CBAP, PMP is owner/managing member of Mentor Source, Inc., a Colorado-based project management consulting and training company. She has co-authored and technical edited several project management and business analysis books, including the Project Manager Street Smarts (978-0470479599) by Sybex. She has also taught project management, portfolio management, program management, business leadership, interpersonal skills, quality management, and other topics to state agencies, governmental entities, corporate clients, and at the graduate level in the university system.
Table of Contents
Introduction xix
Assessment Test xxxii
Chapter 1 Foundation Concepts 1
What Is Business Analysis? 2
The Business Analyst's Role 3
Additional Roles: Generalist, Specialist, and Hybrid 4
Essential Skills of Effective Business Analysts 4
The Business Analyst and the Project Manager 6
Dealing with Key Stakeholders 7
Exploring the Business Analysis Knowledge Areas 9
Knowledge Area: Business Analysis Planning and Monitoring 10
Knowledge Area: Elicitation 11
Knowledge Area: Requirements Management and Communication 11
Knowledge Area: Enterprise Analysis 11
Knowledge Area: Requirements Analysis 12
Knowledge Area: Solution Assessment and Validation 12
How Are the Knowledge Areas Organized? 13
Exploring Requirements 14
Determining the Business Analysis Approach 15
Defining the Requirements Management Process 15
Classifying Requirements 16
Understanding How This Applies to Your Projects 21
Summary 24
Exam Essentials 25
Key Terms 26
Review Questions 27
Answers to Review Questions 31
Chapter 2 Controlled Start: Business Analysis Planning and Monitoring 33
Business Analysis Planning and Monitoring 34
The Business Analyst's Task List 35
When Does Business Analysis Planning and Monitoring Take Place? 35
Plan the Business Analysis Approach 37
Conduct Stakeholder Analysis 49
Plan Business Analysis Activities 59
Plan Business Analysis Communication 67
Plan Requirements Management Process 75
Manage Business Analysis Performance 81
How This Applies to Your Projects 88
Summary 90
Exam Essentials 91
Key Terms 92
Review Questions 93
Answers to Review Questions 97
Chapter 3 Controlled Start: Enterprise Analysis 99
Enterprise Analysis 100
The Business Analyst's Task List 101
When Does Enterprise Analysis Take Place? 102
Define the Business Need 102
Assess Capability Gaps 110
Determine Solution Approach 117
Define the Solution Scope 121
Define Business Case 126
How This Applies to Your Projects 132
Summary 134
Exam Essentials 135
Key Terms 137
Review Questions 138
Answers to Review Questions 142
Chapter 4 Overarching Tasks: Requirements Management and Communication 145
Requirements Management and Communication 146
The Business Analyst's Task List 148
When Does Requirements Management
and Communication Take Place? 149
Manage Solution Scope and Requirements 150
Manage Requirements Traceability 158
Maintain Requirements for Reuse 166
Prepare a Requirements Package 169
Communicate Requirements 176
How This Applies to Your Projects 181
Summary 183
Exam Essentials 184
Key Terms 186
Review Questions 187
Answers to Review Questions 191
Chapter 5 Controlled Middle: Elicitation 193
Requirements Elicitation 194
The Business Analyst's Task List 196
When Does Elicitation Take Place? 197
Prepare for Elicitation 197
Conduct Elicitation Activity 203
Document Elicitation Results 219
Confirm Elicitation Results 222
How This Applies to Your Projects 225
Summary 228
Exam Essentials 229
Key Terms 230
Review Questions 231
Answers to Review Questions 235
Chapter 6 Controlled Middle: Requirements Analysis 237
Requirements Analysis 238
The Business Analyst's Task List 240
When Does Requirements Analysis Take Place? 240
Prioritize Requirements 241
Organize Requirements 248
Specify and Model Requirements 253
Define Assumptions and Constraints 271
Verify Requirements 273
Validate Requirements 280
How This Applies to Your Projects 284
Summary 285
Exam Essentials 286
Key Terms 288
Review Questions 289
Answers to Review Questions 293
Chapter 7 Controlled End: Solution Assessment and Validation 295
Solution Assessment and Validation 296
The Business Analyst's Task List 298
When Does Solution Assessment and Validation Take Place? 298
Assess Proposed Solution 299
Allocate Requirements 303
Assess Organizational Readiness 308
Define Transition Requirements 313
Validate Solution 318
Evaluate Solution Performance 322
How This Applies to Your Projects 327
Summary 330
Exam Essentials 331
Key Terms 333
Review Questions 334
Answers to Review Questions 338
Chapter 8 Underlying Competencies 341
Essential Skills of Effective Business Analysts 342
When Are the Underlying Competencies Used? 343
Analytical Thinking and Problem-Solving Skills 344
Behavioral Characteristics 348
Business Knowledge 349
Software Applications 352
Communication Skills 353
Interaction Skills 356
How This Applies to Your Projects 362
Summary 363
Exam Essentials 363
Key Terms 366
Review Questions 367
Answers to Review Questions 371
Appendix A Advice on Completing Your Exam Application 373
CBAP® Experience Requirements 374
CCBA™ Experience Requirements 375
Calculate Your Experience Hours 377
Additional Exam Eligibility Requirements 378
The Exam Application Process 380
Appendix B Knowledge Areas, Tasks, and Elements 383
Review the Six Knowledge Areas 384
Knowledge Areas, Tasks, and Elements 385
Appendix C Mapping Techniques, Stakeholders, and Deliverables to Knowledge Areas and Tasks 391
Techniques 392
Stakeholders 398
Deliverables 403
Appendix D Quick Summary of Business Analysis Techniques 409
Business Analysis Techniques 410
The 34 General Techniques 411
The 15 Knowledge-Area-Specific Techniques 413
Appendix E Quick Summary of Business Analysis Deliverables 417
Business Analysis Deliverables 418
Appendix F About the Companion CD 423
What You'll Find on the CD 424
Sybex Test Engine 424
Electronic Flashcards 424
PDF of the Glossary of Terms 424
Adobe Reader 424
System Requirements 424
Using the CD 425
Troubleshooting 425
Customer Care 426
Index 427