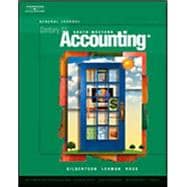 Questions About This Book?
What version or edition is this?
This is the 8th edition with a publication date of 3/4/2005.
What is included with this book?
The Used copy of this book is not guaranteed to include any supplemental materials. Typically, only the book itself is included.
Summary
Century 21 Accounting General Journal (Green Text) begins with a two-column general journal, and then introduces students to special journals in cycle two. This Introductory Text includes chapters 1-16. The new Student Companion CD-ROM is packaged free with each text. The student CD is exclusively available with Century 21, and includes: Competitive Event Prep, Automated Accounting data files, Electronic flash cards of key terms, Extra accounting forms, Web links, PowerPoint presentations, Math worksheets, Portfolio assessment, Spanish and English dictionaries, and much, much more! This new edition of Century 21 Accounting now includes Peachtree, QuickBooks, Microsoft Excel, and Xtra! references throughout the text.
Table of Contents
| | |
| --- | --- |
| | PART 1 Accounting for a Service Business Organized as a Proprietorship |

2
(228)

| | |
| --- | --- |
| | Starting a Proprietorship: Changes That Affect the Accounting Equation |

4
(22)

| | |
| --- | --- |
| | Accounting in the Real World: Gold's Gym |

5
(21)
6
(4)

| | |
| --- | --- |
| | How Business Activities Change the Accounting Equation |

10
(4)

| | |
| --- | --- |
| | How Transactions Change Owner's Equity in an Accounting Equation |

14
(5)
19
(7)

| | |
| --- | --- |
| | Analyzing Transactions into Debit and Credit Parts |

26
(28)

| | |
| --- | --- |
| | Accounting in the Real World: American Automobile Association (AAA) |

27
(27)
28
(4)

| | |
| --- | --- |
| | Analyzing How Transactions Affect Accounts |

32
(6)

| | |
| --- | --- |
| | Analyzing How Transactions Affect Owner's Equity Accounts |

38
(8)
46
(8)

| | |
| --- | --- |
| | Recording Transactions in a General Journal |

54
(34)

| | |
| --- | --- |
| | Accounting in the Real World: Travelocity |

55
(33)

| | |
| --- | --- |
| | Journals, Source Documents, and Recording Entries in a Journal |

56
(7)

| | |
| --- | --- |
| | Journalizing Buying Insurance, Buying on Account, and Paying on Account |

63
(5)

| | |
| --- | --- |
| | Journalizing Transactions That Affect Owner's Equity and Receiving Cash on Account |

68
(6)

| | |
| --- | --- |
| | Starting a New Journal Page |

74
(5)
79
(9)

| | |
| --- | --- |
| | Posting from a General Journal to a General Ledger |

88
(28)

| | |
| --- | --- |
| | Accounting in the Real World: Amazon.Com |

89
(27)

| | |
| --- | --- |
| | Preparing a Chart of Accounts |

90
(6)

| | |
| --- | --- |
| | Posting from a General Journal to a General Ledger |

96
(6)

| | |
| --- | --- |
| | Completed General Ledger, Proving Cash, and Making Correcting Entries |

102
(8)
110
(6)
116
(34)

| | |
| --- | --- |
| | Accounting in the Real World: Books-A-Million |

117
(30)
118
(6)
124
(5)

| | |
| --- | --- |
| | Dishonored Checks and Electronic Banking |

129
(5)
134
(6)
140
(7)

| | |
| --- | --- |
| | Reinforcement Activity 1 --- PART A An Accounting Cycle for a Proprietorship: Journalizing and Posting Transactions |

147
(3)

| | |
| --- | --- |
| | Work Sheet for a Service Business |

150
(28)

| | |
| --- | --- |
| | Accounting in the Real World: The AICPA |

151
(27)
152
(5)

| | |
| --- | --- |
| | Planning Adjusting Entries on a Work Sheet |

157
(5)

| | |
| --- | --- |
| | Extending Financial Statement Information on a Work Sheet |

162
(5)

| | |
| --- | --- |
| | Finding and Correcting Errors on the Work Sheet |

167
(5)
172
(6)

| | |
| --- | --- |
| | Financial Statements for a Proprietorship |

178
(22)

| | |
| --- | --- |
| | Accounting in the Real World: Tommy Hilfiger |

179
(21)

| | |
| --- | --- |
| | Preparing an Income Statement |

180
(7)

| | |
| --- | --- |
| | Balance Sheet Information on a Work Sheet |

187
(7)
194
(6)

| | |
| --- | --- |
| | Recording Adjusting and Closing Entries for a Service Business |

200
(30)

| | |
| --- | --- |
| | Accounting in the Real World: The Walt Disney Company |

201
(27)

| | |
| --- | --- |
| | Recording Adjusting Entries |

202
(4)

| | |
| --- | --- |
| | Recording Closing Entries |

206
(7)

| | |
| --- | --- |
| | Preparing a Post-Closing Trial Balance |

213
(8)
221
(7)

| | |
| --- | --- |
| | Reinforcement Activity 1 --- PART B An Accounting Cycle for a Proprietorship: End-of-Fiscal-Period Work |

228
(2)

| | |
| --- | --- |
| | PART 2 Accounting for a Merchandising Business Organized as a Corporation |

230

| | |
| --- | --- |
| | Journalizing Purchases and Cash Payments |

232
(36)

| | |
| --- | --- |
| | Accounting in the Real World: OfficeMax |

233
(35)

| | |
| --- | --- |
| | Journalizing Purchases Using a Purchases Journal |

234
(8)

| | |
| --- | --- |
| | Journalizing Cash Payments Using a Cash Payments Journal |

242
(6)

| | |
| --- | --- |
| | Performing Additional Cash Payments Journal Operations |

248
(6)

| | |
| --- | --- |
| | Journalizing Other Transactions Using a General Journal |

254
(6)
260
(8)

| | |
| --- | --- |
| | Journalizing Sales and Cash Receipts Using Special Journals |

268
(28)

| | |
| --- | --- |
| | Accounting in the Real World: Best Buy |

269
(27)

| | |
| --- | --- |
| | Journalizing Sales on Account Using a Sales Journal |

270
(6)

| | |
| --- | --- |
| | Journalizing Cash Receipts Using a Cash Receipts Journal |

276
(9)

| | |
| --- | --- |
| | Recording Transactions Using a General Journal |

285
(4)
289
(7)

| | |
| --- | --- |
| | Posting to General and Subsidiary Ledgers |

296
(42)

| | |
| --- | --- |
| | Accounting in the Real World: palmOne. Inc. |

297
(41)

| | |
| --- | --- |
| | Posting to an Accounts Payable Ledger |

298
(9)

| | |
| --- | --- |
| | Posting to an Accounts Receivable Ledger |

307
(8)

| | |
| --- | --- |
| | Posting from Journals to a General Ledger |

315
(5)

| | |
| --- | --- |
| | Posting Special Journal Totals to a General Ledger |

320
(7)

| | |
| --- | --- |
| | Correcting Errors in Subsidiary Ledger Accounts |

327
(4)
331
(7)

| | |
| --- | --- |
| | Preparing Payroll Records |

338
(28)

| | |
| --- | --- |
| | Accounting in the Real World: The Green Bay Packers |

339
(27)

| | |
| --- | --- |
| | Preparing Payroll Time Cards |

340
(5)

| | |
| --- | --- |
| | Determining Payroll Tax Withholding |

345
(6)

| | |
| --- | --- |
| | Preparing Payroll Records |

351
(5)
356
(4)
360
(6)

| | |
| --- | --- |
| | Payroll Accounting, Taxes, and Reports |

366
(36)

| | |
| --- | --- |
| | Accounting in the Real World: Intel |

367
(31)
368
(5)

| | |
| --- | --- |
| | Recording Employer Payroll Taxes |

373
(5)

| | |
| --- | --- |
| | Reporting Withholding and Payroll Taxes |

378
(5)

| | |
| --- | --- |
| | Paying Withholding and Payroll Taxes |

383
(8)
391
(7)

| | |
| --- | --- |
| | Reinforcement Activity 2 --- PART A An Accounting Cycle for a Corporation: Journalizing and Posting Transactions |

398
(4)

| | |
| --- | --- |
| | Distributing Dividends and Preparing a Work Sheet for a Merchandising Business |

402
(42)

| | |
| --- | --- |
| | Accounting in the Real World: Lowe's |

403
(41)

| | |
| --- | --- |
| | Distributing Corporate Earnings to Stockholders |

404
(5)

| | |
| --- | --- |
| | Beginning an 8-Column Work Sheet for a Merchandising Business |

409
(6)

| | |
| --- | --- |
| | Planning and Recording a Merchandise Inventory Adjustment |

415
(4)

| | |
| --- | --- |
| | Planning and Recording an Allowance for Uncollectible Accounts Adjustment |

419
(4)

| | |
| --- | --- |
| | Planning and Recording Depreciation Adjustments |

423
(4)

| | |
| --- | --- |
| | Calculating Federal Income Tax and Completing a Work Sheet |

427
(11)
438
(6)

| | |
| --- | --- |
| | Financial Statements for a Corporation |

444
(34)

| | |
| --- | --- |
| | Accounting in the Real World: Gap, Inc. |

445
(33)

| | |
| --- | --- |
| | Preparing an Income Statement |

446
(9)

| | |
| --- | --- |
| | Analyzing an Income Statement |

455
(6)

| | |
| --- | --- |
| | Preparing a Statement of Stockholders' Equity |

461
(3)

| | |
| --- | --- |
| | Preparing a Balance Sheet |

464
(9)
473
(5)

| | |
| --- | --- |
| | Recording Adjusting and Closing Entries for a Corporation |

478

| | |
| --- | --- |
| | Accounting in the Real World: Apple |

479
(29)

| | |
| --- | --- |
| | Recording Adjusting Entries |

480
(7)

| | |
| --- | --- |
| | Recording Closing Entries for Income Statement Accounts |

487
(7)

| | |
| --- | --- |
| | Preparing a Post-Closing Trial Balance |

494
(6)
500
(8)

| | |
| --- | --- |
| | Reinforcement Activity 2 --- PART B An Accounting Cycle for a Corporation: End-of-Fiscal Period Work |

508
Appendix A: Statement of Cash Flows
1
(1)
Appendix B: Best Buy's Fiscal 2004 Annual Report and Form 10-K
1
(1)
Appendix C: Accounting Concepts
1
(1)
Appendix D: Using a Calculator and Computer Keypad
1
(1)
Appendix E: Recycling Problems
1
(1)
Appendix F: Answers to Audit Your Understanding
1
(1)
Glossary
1
(1)
Index
1