Note: Supplemental materials are not guaranteed with Rental or Used book purchases.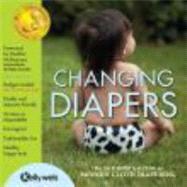 Changing Diapers : The Hip Mom's Guide to Modern Cloth Diapering
ISBN13:
9780983562214
by
Wels, Kelly
Summary
The decision about diapering is a big one after all, most parents end up changing between 5,000-8,000 diapers per baby. Now that's a lot of diapers! With the state of the economy and the green movement more moms tend to be looking at cloth diapers as a way to save money and the environment. Upon researching you will find that "modern" cloth diapers are really hip, functional, and work just as well, if not better than disposables. You are probably asking - Cloth Diapers?!? You have GOT to be kidding me! I have researched and digested the cloth diapering information overload and decoded it into simple English. First and foremost this book was written with an approach and direction to keep things simple. There is no right or wrong way to cloth diaper your baby. As with anything in life you will find out what works best for you and your baby. Don't worry- there isn't a cloth diaper police you will find whatever diapering system (whether cloth or disposable) by experiencing diapering first hand.
Table of Contents
Foreword
p. i
The Poop on Modern Cloth Diapering: An Introduction
p. 3
Don't Poo-poo It Until You Know More
Why Listen to Me?
Diaper Overload
Who in the World Cloth Diapers Their Babies These Days?
Join the Movement
Why Choose Cloth Diapers?
p. 17
It's Best for Baby
You Can Save Big Bucks
You Can Be Eco-Friendly
Despite What You Think, Cloth Is Convenient
Yes, Cloth Diapering Is Fun for Many Moms
Snappis, Doublers, AIOs, and Pockets: Understanding Basic Cloth Diaper Talk
p. 47
Cloth Diapering 101
What You Need to Know about Cloth Diaper Fabrics
Brands, Debates, and Dates: Getting Started with Cloth
p. 83
Diaper Like a Pro
Choosing the Right Brand for You and Your Baby
Velcro-style or Snaps? The Debate Sticks Around
From Newborn to Toddler: Diapering for the Ages and Stages
p. 97
Newborns to Three Months
Four Months to One Year
One Year and Up
The Back-to-Work and Daycare Diapering Dilemma
p. 105
Traveling with Cloth Diapers
Using Cloth Diapers in the Hospital
And Baby Makes Two (or More): Cloth Diapering Multiples and Other Special Little Ones
p. 119
How Many Diapers Should a Mom of Twins Buy?
What Brands Are Best for Multiples?
Special Needs Babies Are Fine with Cloth
Conquering Leaks, Rashes, and the Nighttime Wet Mess
p. 129
Cloth Diapers Leak, Don't They?
Break Out This Rash of Information
Conquer the Nighttime Wet Mess
Daddies and Diapers
p. 139
Airing Dirty Laundry: How to Wash Your Cloth Diapers
p. 157
How to Handle Wet and Soiled Diapers
Doing Laundry
Removing Odors
Extra Stuff You'll Need
p. 177
Wet Totes and Wet Bags
Wipes
Swim Diapers
Gotcha Covered
p. 183
Resources
Cloth Diaper Resources
p. 187
Deciphering Brands
p. 195
Notes
p. 205
About the Author
p. 209
Extras
p. 211
My Fluffy Thoughts
p. 217
Index
p. 219
Fashion Index
p. 223
Table of Contents provided by Ingram. All Rights Reserved.