Note: Supplemental materials are not guaranteed with Rental or Used book purchases.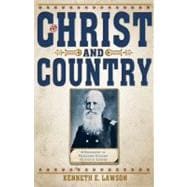 For Christ & Country: A Biography of ˙brigadier General Gustavus Loomis
ISBN13:
9781935507475
by
Lawson, Kenneth
Summary
Brigadier General Gustavus Loomis (1789-1872) served for almost six decades in the uniform of the United States Army. A veteran of five wars, Loomis was a professional soldier respected by his peers and feared by his enemies. But Gustavus Loomis, a country boy from Thetford, Vermont was more than a career military officer. Loomis was a sincere and dedicated Christian. His faith in Jesus Christ was visible and undeniable. In his long life, Loomis always placed God first, followed by devotion to his family and then to service to his country. He was a man of the military who saw frequent combat and who spoke about Jesus to all who would listen. His home in garrison and his tent in the field were places of psalm singing and scripture reading. His bravery in the face of the enemy gave him high commendations, but his real passion was for the Lord and for his family. While some ridiculed him for his support of revivals, none ever questioned his professionalism as a soldier and an officer.
Author Biography
Kenneth E. Lawson is a career Army chaplain currently serving at Fort McCoy, Wisconsin with the rank of Colonel. He is a graduate of the Army Command and General Staff College and the Air Force Air War College. He earned a M.A. degree in Church History and a Ph.D. in American History and serves as the Historian for the Associated Gospel Churches, Greenville, SC.
Table of Contents
Introduction
p. 9
The Early Years
p. 13
The West Point Years, 1808-1811
p. 31
The First Tour of Duty at Fort Columbus, 1811-1813
p. 43
Combat Operations on the New York-Canadian Border
p. 59
Quartermaster Duties; U.S. Coastal Survey; Marriage
p. 79
Military Duties in Florida and Louisiana
p. 93
Creek Indians; Florida; New Orleans
p. 111
Fort Crawford and the Black Hawk War, 1831-1833
p. 131
Various Assignments on the Western Frontier
p. 157
The Second Seminole War, 1837-1842
p. 179
Indian Territories, 1842-1848
p. 217
The Mexican American War
p. 239
Assignments in the West and Northwest
p. 251
Texas, 1851-1856
p. 273
The Third Seminole War
p. 289
In Connecticut on Paid Leave from the Army, 1858-1861
p. 311
Recruiting and Training Union Troops in CT and RI
p. 329
Fort Columbus, New York
p. 341
Fort Columbus, New York and the End of the Civil War
p. 363
Retirement and Death, 1867-1872
p. 385
Selected Bibliography
p. 399
Index
p. 413
Table of Contents provided by Ingram. All Rights Reserved.