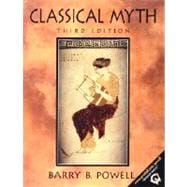 List Price: $75.00
In Stock Usually Ships in 24 Hours
Questions About This Book?
What version or edition is this?
This is the 3rd edition with a publication date of 1/1/2001.
What is included with this book?
The Used copy of this book is not guaranteed to inclue any supplemental materials. Typically, only the book itself is included.
Summary
For courses in Classical Mythology in Classics, English, or other departments.Comprehensive and scholarly, this well-designed and class-tested text presents Greek and Roman myths in a lively and easy-to-read manner. It features fresh translations, numerous illustrations (ancient and modern) of classical myths and legends, and commentary that emphasizes the anthropological, historical, religious, sociological, and economic contexts in which the myths were told.
Table of Contents
Preface
xix
PART I Definitions and Background
1
(13)
2
(2)
4
(6)
4
(3)
7
(2)
9
(1)
10
(4)

| | |
| --- | --- |
| | The Cultural Context of Classical Myth |

14
(33)
14
(4)
18
(10)

| | |
| --- | --- |
| | The Early/Middle Bronze Age (3000--1600 B.C.) |

19
(1)

| | |
| --- | --- |
| | The Mycenaean Age (1600--1200 B.C.) |

20
(1)

| | |
| --- | --- |
| | The Dark Age (1200--800 B.C.) |

21
(1)

| | |
| --- | --- |
| | The Archaic Period (800--480 B.C.) |

22
(2)

| | |
| --- | --- |
| | The Classical Period (480--323 B.C.) |

24
(3)

| | |
| --- | --- |
| | The Hellenistic Period (323--31 B.C.) |

27
(1)
28
(14)
28
(5)
33
(5)
38
(1)
39
(1)
40
(2)
42
(5)

| | |
| --- | --- |
| | The Development of Classical Myth |

47
(25)

| | |
| --- | --- |
| | The Beginnings of Greek Myth |

47
(4)

| | |
| --- | --- |
| | The Influence of Near Eastern Myth |

51
(8)
52
(4)
56
(2)
58
(1)

| | |
| --- | --- |
| | Greek Myth in the Archaic Period |

59
(3)

| | |
| --- | --- |
| | Greek Myth in the Classical Period |

62
(4)

| | |
| --- | --- |
| | Greek Myth in the Hellenistic Period |

66
(1)

| | |
| --- | --- |
| | The Roman Appropriation of Greek Myth |

67
(5)
PART II Divine Myths

| | |
| --- | --- |
| | Myths of Creation: The Rise of Zeus |

72
(34)
72
(3)

| | |
| --- | --- |
| | The Children of Gaea: The Titans and Their Cousins |

75
(4)
75
(2)
77
(1)

| | |
| --- | --- |
| | Hyperion's Children: Sun, Moon, Dawn |

77
(2)
79
(5)

| | |
| --- | --- |
| | The Birth of Aphrodite, Monsters, and Sea Deities |

80
(4)

| | |
| --- | --- |
| | Zeus Against Cronus: The Battle With the Titans |

84
(4)

| | |
| --- | --- |
| | Zeus's Battle With Typhoeus |

88
(2)

| | |
| --- | --- |
| | Zeus's Battle With the Giants |

90
(2)

| | |
| --- | --- |
| | Prominent Themes in the Greek Creation Story |

92
(2)
94
(12)

| | |
| --- | --- |
| | Observations: The Succession Myth in Hesiod and the Near East |

101
(5)

| | |
| --- | --- |
| | Myths of Creation: The Origins of Mortals |

106
(28)

| | |
| --- | --- |
| | Prometheus, Maker of Mortals |

106
(2)

| | |
| --- | --- |
| | The Sumerian Creation of Man from Mud |

107
(1)

| | |
| --- | --- |
| | Prometheus, Protector of Mortals |

108
(4)
112
(8)

| | |
| --- | --- |
| | Observations: Women as Containers |

117
(3)
120
(3)
123
(6)

| | |
| --- | --- |
| | Ziusudra, Atrahasis, and Noah |

123
(2)

| | |
| --- | --- |
| | Lycaon, Deucalion, and Pyrrha |

125
(4)

| | |
| --- | --- |
| | Prominent Themes in Greek Stories of Human Origins |

129
(5)

| | |
| --- | --- |
| | Myths of the Olympian Gods: Zeus and Hera |

134
(17)
136
(8)
144
(3)

| | |
| --- | --- |
| | Zeus and Hera at Home on Olympus |

147
(4)

| | |
| --- | --- |
| | Observations: Greek Anthropomorphism |

149
(2)

| | |
| --- | --- |
| | Myths of the Olympian Gods: The Male Deities |

151
(41)

| | |
| --- | --- |
| | Poseidon, Lord of the Deep |

152
(2)
154
(1)

| | |
| --- | --- |
| | Apollo the Far-Darter, God of Prophecy |

154
(16)

| | |
| --- | --- |
| | The Birth of Apollo on Delos |

157
(2)
159
(3)

| | |
| --- | --- |
| | Observations: The Delphic Oracle |

162
(2)
164
(4)

| | |
| --- | --- |
| | Observations: Apollo, God of Shamans |

168
(2)

| | |
| --- | --- |
| | Hephaestus, God of Smiths |

170
(2)

| | |
| --- | --- |
| | Ares, Incarnation of Blood Lust |

172
(3)

| | |
| --- | --- |
| | Hermes, Trickster God of Way Farers |

175
(17)
190
(2)

| | |
| --- | --- |
| | Myths of the Olympians: The Female Deities |

192
(24)

| | |
| --- | --- |
| | Demeter, Mistress of Wheat |

193
(1)
193
(11)

| | |
| --- | --- |
| | Aphrodite, Goddess of Sexual Love |

193
(2)

| | |
| --- | --- |
| | Hermaphroditus and Priapus |

195
(1)
195
(3)
198
(6)

| | |
| --- | --- |
| | Artemis, Mistress of Animals |

204
(6)

| | |
| --- | --- |
| | Orion, Actaeon, and Callisto |

207
(3)

| | |
| --- | --- |
| | Athena, Mistress of the City |

210
(6)
213
(3)

| | |
| --- | --- |
| | Myths of Fertility: Demeter and the Great Goddess |

216
(32)
217
(3)

| | |
| --- | --- |
| | Observations: The Dying God and the Sacred Marriage |

220
(1)
220
(4)
224
(2)
226
(3)
229
(15)

| | |
| --- | --- |
| | Observations: The Myth of Demeter and Persephone |

241
(3)
244
(4)

| | |
| --- | --- |
| | Myths of Fertility: Dionysus |

248
(35)

| | |
| --- | --- |
| | The Birth and Early Youth of Dionysus |

250
(1)

| | |
| --- | --- |
| | The Wanderings of Dionysus |

251
(3)
254
(2)
256
(1)
257
(14)

| | |
| --- | --- |
| | Dionysus' Journey to the Land of the Dead |

271
(4)

| | |
| --- | --- |
| | Observations: The Myths of Dionysus |

271
(4)
275
(2)

| | |
| --- | --- |
| | Dionysus, God of the Theater |

277
(6)

| | |
| --- | --- |
| | Myths of Death: Encounters with the Underworld |

283
(30)
283
(3)

| | |
| --- | --- |
| | Odysseus' Journey to Death's Realm |

286
(9)
295
(1)

| | |
| --- | --- |
| | Aeneas' Descent to the Underworld |

296
(9)
305
(4)
309
(4)
PART III Legends

| | |
| --- | --- |
| | Introduction to Heroic Myth |

313
(9)
314
(1)
315
(1)
316
(4)

| | |
| --- | --- |
| | The Quest for Eternal Life |

318
(1)

| | |
| --- | --- |
| | Observation: The Hero Caught Between Nature and Culture |

319
(1)

| | |
| --- | --- |
| | Folktale Motifs in Heroic Myths |

320
(2)

| | |
| --- | --- |
| | Perseus and Myths of the Argive Plain |

322
(23)
323
(6)
323
(4)

| | |
| --- | --- |
| | The Crimes of the Danaids |

327
(1)

| | |
| --- | --- |
| | Observations: Springs and the Dangers of Woman |

328
(1)
329
(16)

| | |
| --- | --- |
| | Danae and the Shower of Gold |

329
(3)

| | |
| --- | --- |
| | Perseus the Gorgon-slayer |

332
(3)
335
(4)
339
(1)

| | |
| --- | --- |
| | Observations: Perseus and Folktale |

339
(3)
342
(3)
345
(38)
346
(5)

| | |
| --- | --- |
| | Observations: Twins and Divine Birth |

349
(2)
351
(3)

| | |
| --- | --- |
| | Marriage, Madness, and Murder |

354
(2)
356
(15)

| | |
| --- | --- |
| | Observations: Heracles' Labors |

368
(3)
371
(1)
372
(7)

| | |
| --- | --- |
| | The Return of the Heraclids |

379
(4)

| | |
| --- | --- |
| | Observations: Heracles Kallinikos, ``Handsome in Victory'' |

379
(4)

| | |
| --- | --- |
| | Theseus and the Myths of Athens |

383
(35)

| | |
| --- | --- |
| | Cecrops, Erichthonius, and the Daughters of Cecrops |

383
(5)

| | |
| --- | --- |
| | Observations: The Festival of the Dew Carriers |

385
(3)
388
(3)
391
(6)

| | |
| --- | --- |
| | Observations: Ovid's Literary Myth |

396
(1)
397
(21)
397
(1)
398
(2)

| | |
| --- | --- |
| | Arrival at Athens, Bacchylides 18 |

400
(2)
402
(1)

| | |
| --- | --- |
| | Observations: The Amazons |

403
(1)
404
(7)

| | |
| --- | --- |
| | Observations: The Folktale of ``Potiphar's Wife'' |

411
(1)

| | |
| --- | --- |
| | The Exploits of Theseus and Pirithous |

412
(2)
414
(1)

| | |
| --- | --- |
| | Observations: Myth and Propaganda |

414
(4)
418
(26)
419
(2)
421
(5)
426
(1)
426
(3)
429
(3)
432
(2)
434
(2)

| | |
| --- | --- |
| | Observations: Archaeology and Cretan Myth |

436
(8)

| | |
| --- | --- |
| | Oedipus and the Myths of Thebes |

444
(29)

| | |
| --- | --- |
| | The Founding of Thebes: Cadmus and the Dragon |

444
(8)

| | |
| --- | --- |
| | The Twins Amphion and Zethus |

449
(1)

| | |
| --- | --- |
| | Observations: The Two Foundings of Thebes |

450
(2)
452
(7)

| | |
| --- | --- |
| | Observations: Heroic Sufferer for Truth---Or Victim of Curiosity? |

458
(1)
459
(8)
460
(3)
463
(1)
463
(4)
467
(3)

| | |
| --- | --- |
| | Observations: Revenge of the Parthenos |

469
(1)
470
(3)

| | |
| --- | --- |
| | Jason and the Myths of Iolcus and Calydon |

473
(36)

| | |
| --- | --- |
| | Prelude to the Argonautica |

474
(3)

| | |
| --- | --- |
| | Phrixus, Helle, and the Golden Fleece |

474
(1)
475
(2)
477
(12)
478
(2)
480
(1)
481
(1)

| | |
| --- | --- |
| | Medea and the Golden Fleece |

482
(5)
487
(1)

| | |
| --- | --- |
| | Observations: Jason, the Deflated Hero |

487
(2)

| | |
| --- | --- |
| | After the Voyage of the Argo |

489
(11)
489
(1)

| | |
| --- | --- |
| | Jason and Medea in Corinth |

490
(9)

| | |
| --- | --- |
| | Observations: Medea, Sorceress and Wife |

499
(1)
500
(9)

| | |
| --- | --- |
| | Observations: Heroic Myths of the Hunt and the Hunter |

506
(3)

| | |
| --- | --- |
| | The Trojan War: The House of Atreus; The Anger of Achilles |

509
(36)
510
(3)

| | |
| --- | --- |
| | Pelops, Oenomaus, and Hippodamia |

510
(1)
511
(2)
513
(3)

| | |
| --- | --- |
| | Leda and the Swan; The Dioscuri |

513
(1)
514
(2)

| | |
| --- | --- |
| | The Wedding of Peleus and Thetis |

516
(2)
518
(2)
520
(11)
520
(2)
522
(3)
525
(2)
527
(4)
531
(14)
534
(4)
538
(4)

| | |
| --- | --- |
| | Observations: Homer, Inventor of Plot and Character |

542
(3)

| | |
| --- | --- |
| | The Trojan War: The Fall of Troy; The Return of Agamemnon |

545
(21)
545
(1)

| | |
| --- | --- |
| | The Judgment of the Arms of Achilles |

545
(10)
548
(3)
551
(4)
555
(11)
557
(3)
560
(2)
562
(1)

| | |
| --- | --- |
| | Observations: A Parable of Progress |

563
(3)
566
(29)

| | |
| --- | --- |
| | Odysseus' Journey from Troy |

567
(16)

| | |
| --- | --- |
| | The Cicones and the Lotus Eaters |

567
(1)
567
(12)

| | |
| --- | --- |
| | Aeolus, the Laestrygonians, and Circe |

579
(1)

| | |
| --- | --- |
| | Sirens, Scylla and Charybdis, The Cattle of Helius, and Calypso |

580
(2)

| | |
| --- | --- |
| | Observations: Historical and Mythical Travel |

582
(1)
583
(12)
583
(2)

| | |
| --- | --- |
| | Ithaca, Argus, and Euryclea |

585
(1)

| | |
| --- | --- |
| | Penelope, Telemachus, and the Suitors |

586
(5)

| | |
| --- | --- |
| | Observations: Symbols of Rebirth in the Folktale of the Man Who Came Home, Tested by Woman and the World |

591
(4)
595
(34)
596
(8)
596
(3)

| | |
| --- | --- |
| | Roman Deities Equated with Greek |

599
(3)

| | |
| --- | --- |
| | Gods of the Family and the State |

602
(2)
604
(10)

| | |
| --- | --- |
| | Roman Politics and History |

604
(1)

| | |
| --- | --- |
| | The Origins of Rome: Vergil and the Aeneid |

605
(7)

| | |
| --- | --- |
| | Observations: An Epic of National Rebirth |

612
(2)

| | |
| --- | --- |
| | Legends of the Roman Monarchy |

614
(11)
614
(4)

| | |
| --- | --- |
| | The Rape of the Sabine Women |

618
(1)

| | |
| --- | --- |
| | Titus Tatius, Tarpeia, and the Death of Romulus |

618
(1)

| | |
| --- | --- |
| | The Horatii and the Curiatii |

619
(1)

| | |
| --- | --- |
| | The Etruscan Dynasty and Tullia |

619
(3)

| | |
| --- | --- |
| | Lucretia and the End of Monarchy |

622
(3)

| | |
| --- | --- |
| | Heroes of the Early Republic |

625
(4)
625
(1)
625
(1)
625
(1)
626
(1)

| | |
| --- | --- |
| | Observations: An Imaginary Past Preserves the Present |

626
(3)
PART IV Interpretation

| | |
| --- | --- |
| | Theories of Myth Interpretation |

629
(30)
629
(8)
631
(2)

| | |
| --- | --- |
| | Historical Allegory: Euhemerism |

633
(1)
634
(3)

| | |
| --- | --- |
| | Medieval and Renaissance Theories |

637
(2)

| | |
| --- | --- |
| | Theories of the Enlightenment |

639
(3)

| | |
| --- | --- |
| | Theories of the Ninnteenth and Twentieth Centuries |

642
(12)
642
(1)
643
(3)
646
(2)
648
(3)
651
(2)
653
(1)
654
(5)
Appendix Roman and Greek Forms of Classical Names; Spelling and Pronunciation
659
(4)
Index
663
(18)
Greek and Roman Gods Chart
681
(1)
Chronological Chart
682